Duality ZF in Hometown News
Wednesday, September 16, 2009
By: Matthew Doucette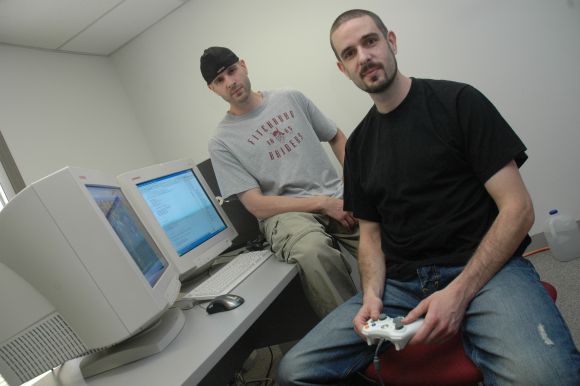 Duality ZF story makes local news. Matthew (l) and Jason Doucette (r).
(Tina Comeau photo)
Thought I would share this one, because personal stories are sometimes more interesting than technology. Our local newspaper ran a story about us after hearing that we placed 2nd in Canada, and 7th in the world, in the Dream Build Play 2009 contest. These are shocking numbers when you consider Duality ZF is a true-to-its-roots shoot'em up and that it competed against over 350 entries from over 100 countries. Here's some quotes:
When Jason Doucette was in elementary school he started compiling a game code, which was basically a list of do's and don'ts when developing a video game.

When he and his twin brother Matthew were in Grade 2 or 3, they were programming computers, and by Grade 4 they were programming video games.
When the brothers reached university, however, those around them tried to sway them away from their passion. Playing video games was a waste of their time, they were told, and developing video games was a waste of their talent.
The brothers entered the game in Microsoft's 2009 Dream Build Play competition. The challenge is open to independent and hobbyist game developers. Of the more than 350 entries from over 100 countries, the Doucette brothers' Duality ZF was among the Top 20 finalists. The game appears seventh on the list.
Full article can be found on novanewsnow.com or thevanguard.ca.
About the Author: I am Matthew Doucette of Xona Games, an award-winning indie game studio that I founded with my twin brother. We make intensified arcade-style retro games. Our business, our games, our technology, and we as competitive gamers have won prestigious awards and received worldwide press. Our business has won $180,000 in contests. Our games have ranked from #1 in Canada to #1 in Japan, have become #1 best sellers in multiple countries, have won game contests, and have held 3 of the top 5 rated spots in Japan of all Xbox LIVE indie games. Our game engines have been awarded for technical excellence. And we, the developers, have placed #1 in competitive gaming competitions -- relating to the games we make. Read about our story, our awards, our games, and view our blog.