Duality ZF Featured Over 100 Times
Monday, January 4, 2010
By: Matthew Doucette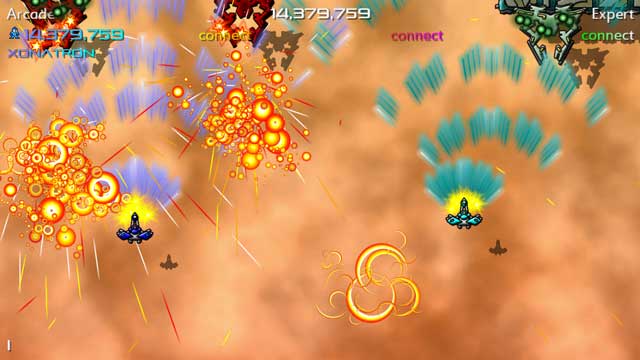 Duality ZF: Sky Stage 5 featuring Dual Play: One player controlling two figthers simultaneously.
Happy New Year! Duality ZF, our award winning shmup, has been featured over 100 times in the media (link removed)! 110 times to be exact, at the time of this writing. Our press coverage (link removed) page links back to all review sites that covered us. Congratulations to Wasted Seconds for taking the 100th spot with an insane write-up of our insane game, properly titled, Duality ZF Insanity! We won't quote the whole article, but it starts off, "Now, I don't normally curse a lot in these types of posts, but this is different..."!
Throughout all these previews, Duality ZF has been compared to some of the best shmups, ever:
Duality ZF looks like Raiden on Red Bull - richardhutnik (link)
Geometry Wars Killer - Kris Hemeon, unofficial Duality ZF beta-tester, private conversation*
It's 1941 on crack, fast forward a few hundred years - irsocal (link)
We even got a mention in tweets from Gulti Games, developers of 0 day Attack on Earth (Xbox), Raiden Fighter Aces (Xbox), and Space Invaders Extreme (PSP): 6923509930, 6923455598, 6923419246, 6794367798, ... Also, a few of the developers at Gulti Games were also developers on the original Raiden arcade games. Just, wow!
Amazing comments and recognition for a small indie team. Please let us know what you think.
*It's important to note that our comparison to Geometry Wars was before we showcased our multidirectional control mode to our beta testers. The comment came shortly after Kris Hemeon played our new Survival mode, a one-life, see-how-long-you-can-last pure hell mode. Here's a March 2009 tech demo of Survival mode. It was the intensity of the gameplay, the instant kill deaths, the high score running, and things of that nature that made the comparison to Geometry Wars. Our game is fast paced and exciting. But, Duality ZF is not a dual-stick arena shmup; No game that "kills" Geometry Wars will be one. You can never out-do your competition by doing what they've already done, you have to do something different. Geometry Wars has done arena shooters best. You cannot beat them at their own game. Also, Geometry Wars was not, and will not be, on our radar in terms of inspiration towards Duality ZF. If we had to pick a few, the Raiden and Thunder Force series would surely stand out.
Don't Miss:
If you have not seen it already, please check out some Duality ZF Boss Rush gameplay. And watch out for our next shmup, Decimation X, coming soon!
About the Author: I am Matthew Doucette of Xona Games, an award-winning indie game studio that I founded with my twin brother. We make intensified arcade-style retro games. Our business, our games, our technology, and we as competitive gamers have won prestigious awards and received worldwide press. Our business has won $190,000 in contests. Our games have ranked from #1 in Canada to #1 in Japan, have become #1 best sellers in multiple countries, have won game contests, and have held 3 of the top 5 rated spots in Japan of all Xbox LIVE indie games. Our game engines have been awarded for technical excellence. And we, the developers, have placed #1 in competitive gaming competitions -- relating to the games we make. Read about our story, our awards, our games, and view our blog.