My Grandfather, Sylvain Agapit d'Eon
__________
SYLVAIN AGAPIT d'EON, 1876-1951
WEST PUBNICO CAPTAIN
AND FISHING INDUSTRY ENTREPRENEUR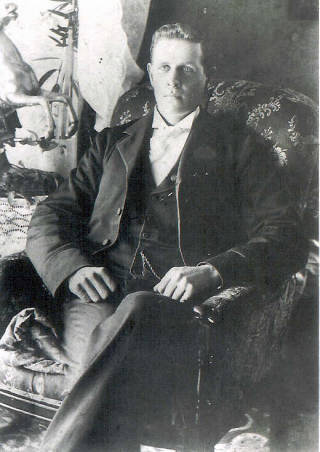 Sylvain Agapit d'Eon, b May 27, 1876, d July 14, 1951.
My maternal Grandfather, Sylvain Agapit d'Eon (better know as "Gapit") was born May 27, 1879 in Upper West Pubnico. He was the son of Augustin Duon (nicknamed, "My Son") and Anne Francoise d'Entremont. Anne Francoise was the daughter of Jean ("Square") d'Entremont, who in turn was the son of Bénoni. Bénoni was one of three brothers who returned to Nova Scotia after the deportation and resettled in West Pubnico. Bénoni was born in Ministiquesche, now Barrington N.S. and was taken into exile to Massachusetts in 1756 with his family. He was the first Acadian to become Justice of the Peace.
Grandpére Gapit had one brother, Charles A d'Eon, called "Charles à My Son," and four sisters. His sisters were Louise, who married Henri à Jacques Amirault, and moved to Yarmouth; Jane Rose and Celestine who both died in childbirth; and Addie who moved to New York.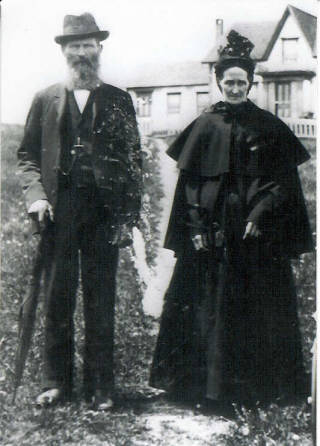 Augustin &Anne Francoise Duon (parent of Agapit & Charles); (house in background now owned by Augustin's great, great grandson, Allan d'Eon)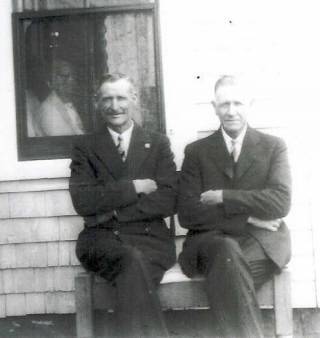 Charles & Agapit d'Eon. You can see their mother in the window. (Photo courtesy of Denyse Harrison.)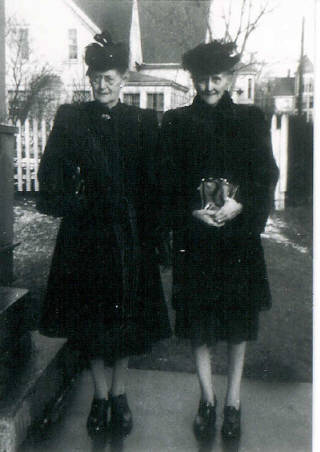 Agapit's sisters, Louise and Addie.
As a young child of about 11, Grandpére Gapit moved into the home of Jérémie & Rosalie d'Entremont, a childless couple and he became their adopted son. He remained there for the rest of his life.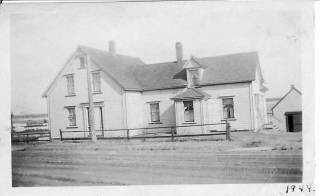 House where Agapit moved at 11 yrs old, as of 2003, owned by Sylvie d'Eon, wife of Augustin d'Eon, son of Agapit.
As a young man, Agapit d'Eon's first fiancé was Jane d'Entremont, who died of "consumption" December 12, 1901 at the age of 22. In October of the following year, 1902, Grandpére married Jane's sister, Odelle d'Entremont, who was born June 13, 1882 and died March 24, 1944. Both women were daughters of Frànco, son of Dominique d'Entremont. Agapit and Odelle had the following six children:
1) Adolph d'Eon born September 1, 1903 and died March 31, 1992. He married first, November 22, 1931, Regine d'Entremont and married second, November 16, 1942, Yvonne d'Eon.
2) Edgar d'Eon, born January 21, 1906, and died single at the age of 25, on April 5, 1931. He died as a result of a fall while visiting relatives in Boston, Massachusetts.
3) Jane Rose d'Eon, born January 15, 1909 and died January 20, 1993. She married on October 26, 1936, Donald d'Entremont.
4) Madeline d'Eon (my mother who still lives in Pubnico) born May 31, 1918 and married September 2, 1943, Benoit Amirault à Leandé ("Bousique").
5) Nellie d'Eon born November 18,1920 and died June 18, 1994. She married on October 20, 1945, Alphonse d'Entremont.
6) Augustin ("Jiggs") d'Eon born March 3, 1922 and died February 19, 1998. He married October 4, 1948, Sylvie Amirault.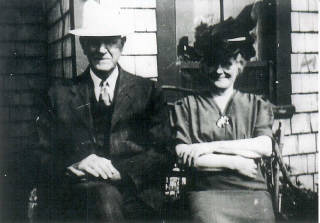 Agapit & his wife, Odelle
Grandpére Gapit was captain of deep sea-fishing vessels for a number of years. These vessels were owned by his brother in law, Henri à Jacques Amirault, who had married Gapit's sister Louise. Henri had quite a big fishing fleet. Desiré d'Eon (Grandpére's nephew) publisher of "Le Petit Courier", in his book, "Histoire de Chez-nous", names ten of his vessels. We know that Grandpére Gapit was captain of the "Eddie James" built in Shelburne in 1903, and that he was later captain of the "Edith F.S. built in La Have in 1905.
The crew of the Edith F.S., Captain Agapit in centre front holding is hat. (Photo courtesy of Sylvie d'Eon.)
Seated left to right: Willie d'Entremont a Vincent killed in WWI, Captain Sylvain Agapit d'Eon à My Son, my grandfather, Man with straw hat is Antoine d'Eon, Edmond d'Eon a Joe à Conquie, Charles à Eustache d'Eon (Comer). Standing: Ti Jerome d'Entremont (Rester's father), Caliste d'Entremont, Charles d'Entremont à Felix, Felix d'Entremont, Denis d'Eon, Leopold d'Eon à Elie. Upper left side: Charles d'Eon (Grandfather's brother), Cook Gus a Marin d'Eon, Louis Amirault known as Scott), Henri a Nicholas Surette, Frank &Jérémie d'Entremont known as Me & My,, Man with hat & cigar unknown, Young boy in centre of photo is Abel à Elie d'Eon.
Henri Amirault owned a wharf and a building at Abbott's Harbour. Henri sold these to Raymond à Conqui d'Entremont when he (Henri) became associated with the late JF Ehrgott and moved to Yarmouth to established the Yarmouth Traders Co., Fish Buyers and General Merchants. (This business was later sold to Sweeney's Fisheries.) Grandpére Gapit would have been 46 to 48 years old when he bought the wharf at Abbott's Harbour from Raymond sometime around 1925-27.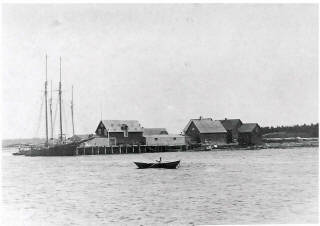 The Wharf at Abbott's Harbour.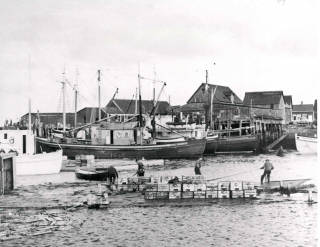 The wharf and buildings at Abbott's Harbour (Quaqueniche) that Agapit owned. (Photo courtesy of Sylvie d'Eon.)
At this location Grandpére build a large and prosperous business connected in all ways with the fishery. In the 1930's Grandpére was manager of the "Consolidated Lobster Co" of Gloucester, Massachusetts, which I will discuss later. He was also in the salt fish business with his brother, Charles d'Eon. In the summer he would buy fresh fish from local boats and salt it in barrels in Abbott's Harbour (Quaqueniche). Peter d'Entremont with his team of oxen would transport the fish to Charles d'Eon's fish store in Upper West Pubnico. There they would dry the fish on flakes and bone and box it to be shipped to the G. E. Barbour Company of New Brunswick. Mom remembers writing her father's letters to G.E. Barbour notifying them of how much fish was being sent. She told me the boxes the fish was transported in were stamped "S.A.D." for Sylvain Agapit d'Eon. The G.E. Barbour Company would ship this fish to the West Indies and bring back rum and molasses. Mom told me that they had to get the priest's permission to dry fish on Sundays. In 1934, she was working at the "fish store" for $2 a week. Domitille Amirault worked there from 1937-1974 (37 years) and remembers earning around $4-$6 an hour when she retired. We believe the plant closed down in 1977-1978. The "fish store" was left to Henri d'Eon, son of Charles d'Eon ("à My Son"), upon the death of his father. Henri's brother, John E. d'Eon, managed the business for Henri. Towards the end, they were working on commission for the Co-Op. The "fish store" building is now located at the Village Historique Acadien de la Nouvelle Ecosse at Lower West Pubnico. [Note: The term "store" in relation to fishing in West Pubnico, and in some other Acadian communities, does not refer to a "store" where things are bought and sold. The Charles A d'Eon Fish Store was a building where fish was boned and packed for shipping.]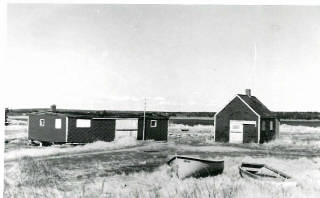 The "Fish Store" owned by Charles & Agapit. (Photo courtesy of Charmaine d'Entremont,)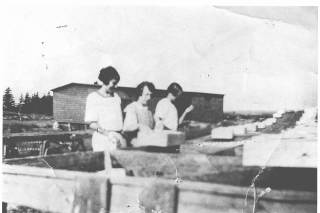 Women working on flakes around 1920. (Photo courtesy of Paulette Surette.)
As mentioned earlier, Grandpére Gapit was manager of the Consolidated Lobster Company with its head office in Gloucester, Massachusetts. He owed two wharfs at Abbott's Harbour, an ice house, a fish packing plant, a smokehouse, a store from which he sold oil clothing for fishing, soft-drinks, chocolate bars, etc. and other buildings in the vicinity connected with the business. In the winter months, he would buy lobsters from the local boats and shipped them to Gloucester. The Consolidated Lobster Company owned an office and equipment building at Abbott's Harbour and three smacks (small boats). The smacks were named Chester T. Marshall, Fannie and Consolidated. The smacks had 4 compartments filled with water to hold the lobsters. These lobsters were transported to Gloucester and to Saint Andrew's New Brunswick.
It is clear from the Argyle tax assessment rolls that over the years Agapit d'Eon became one of the most prosperous citizens of West Pubnico. In 1912, when he is first listed as a "captain" his assessment was fairly modest. By 1926, both Agapit and his brother, Charles A d'Eon were amongst the top four or five property owners in West Pubnico. Their assessments remained much the same until 1939 when Agapit's surpassed that of his brother. For a number of years after this, his assessments indicate that he was the wealthiest man in West Pubnico.
The operations of Agapit's large and booming enterprise at Abbott's Harbour was at its peak for just over twenty years. On March 2, 1944 a devastating fire at Abbott's Harbour brought a major set-back to the business. Grandpére Gapit lost the ice house, fish packing plant and smokehouse as well as all of his crates, ropes and the fishermen's supplies housed in those buildings. The following newspaper account provides a number of details:
Abbott Harbor Fire

Razes 4 Buildings

Community Battles Blaze Through

Howling Gale, Menaces Whole Area

PUBNICO, March 2 - Fire raging along the waterfront at Abbott Harbor this morning, and which at one time threatened to wipe out the entire section, destroyed four large buildings before it was brought under control.

Buildings which were razed by the flames included the large ice house of S.A. Deon, office and equipment building of the Consolidated Lobster Company, the fish packing plant and smoke house, owned by S.A. Deon, and a cook house and bunk house owned by Bradford Smith, Barrington Passage.

The damage is estimated at between $10,000 and $15,000.

When discovered about 7:30 this morning, the fire was burning fiercely on the roof of the Deon ice house and had made such headway that is was soon beyond control. Mr. and Mrs. Ezra Atkinson first sighted the blaze and immediately sent word to West Pubnico and the firefighting equipment from that place was dispatched to the scene of the fire. It was stated a frozen pipeline forced the engine out of commission and they were forced to battle the flames with buckets as the only firefighting equipment.

At this time, in the teeth of a howling gale which swept across the point of land, where the buildings were located, the fire menaced everything in its path, including lobster traps, crates and boats, all of them on the shore, as few had been launched for the spring season.

BATTLE FLAMES

First building to go was the S.A. Deon icehouse and the building belonging to the Consolidated Lobster Co., housing their office and equipment for buying lobsters. This was close to the icehouse and soon burned to the ground. Fire spreading to the windward had soon enveloped the large fish packing plant and smokehouse belonging to S.A. Deon: this building being used in recent years for storing crates, lobster bait and fishing supplies. The old cookhouse and bunkhouse belonging to Bradford Smith, Barrington Passage, were all burned to the ground. This was used some years ago by the South Shore Packers before they sold their property to Brad Smith.

The eastern end of the lobster factory where Mr. and Mrs. Atkinson had their kitchen and office, caught fire several times and on several occasions it looked as though the fire would get out of control and only stubborn fighting on the part of the men, who had only buckets, saved this string of buildings. Had they burned, all the property at Abbott Harbor would have been wiped out, since lying directly in the path of the wind and flames were the remaining buildings belonging to S.A. Deon and most of the fishermen's gear.

FISHERMEN'S SUPPLIES LOST

Mr. Deon suffers quite a loss since his buildings contained a quantity of crates, rope and fishermen's supplies. His loss is estimated at well over $5,000. The building belonging to Bradford Smith was a new building and contained all their office equipment and would easily represent a $3,000 loss. Damage to the building of Bradford Smith, which was left standing, was extensive but it can be repaired. Fishermen were still watching the smouldering embers this afternoon and pouring water on the buildings close by, which they had saved. Only one boat caught fire, that belonging to George Prouty and was extinguished before it had done any damage. The fire was thought to have caught from sparks from a chimney. Mr. and Mrs. Atkinson had only moved into their quarters for the spring on Tuesday of this week, having come from their home at Clark's Harbour Tuesday afternoon, only to be driven out in the gale this morning.

Actual Abbott Harbour Fire newspaper article.
My Grandfather's loss from this fire would have been a substantial one. Five thousand dollars, the estimate given in the article was a large sum of money in 1944, when many people worked for between $2 and $5 per week. My uncle Léonce Amirault, who was 16 years old at the time of the fire, remembers being called to be part of the fire-fighting crew. He was in charge of the Wajax Pump, a portable fire pump. During the fire, a spark flew in his left eye which resulted in vision problems that have persisted over the years.
March of 1944 must have been a very difficult time for my grandfather. It was only about three weeks after the fire, on March 26, 1944, that my grandmother died. She had been ill for a year or two. Their son, Augustin d'Eon, was also overseas at this time, serving in World War II.
Grandpére Gapit continued in business even after this major set-back. The Tax Assessment Rolls for the Municipality of Argyle show him to have been the richest man in West Pubnico, even after the fire. His tax assessment decreases a few years before his death, but this is a result of much of the business having been transferred to his sons, Adolph and Augustin.
One has to remember these were war years and there were no government grants for the upkeep of wharves or for rebuilding. By now, the remaining buildings were in need of repair, therefore Adolph and Augustin decided to sell the business. It was purchase by H.E. Hamlin of New York, who owned "Haven Seafood". Hamlin later sold it to Michell Atkinson. In 1976 Sylvain d'Eon ("Gapit's Grandson") became the proprietor and in 1984 Comeau Seafood purchased it from Sylvain. As of 2003, it is stilled owned by Comeau Seafood.
Grandpére had some other business interests. For a time in the 1930's, he raised silver foxes and sold pelts to E.J. Fox in Boston. He was a shareholder and manager of "Ledge Harbour Lobster Cannery of Nova Scotia", and he represented the Boston Lobster Company in this district. Grandpére was also community minded, and involved in other organizations outside of his business. He was a member of the CMBA (Catholic Mutual Benefit Association), Branch 206, that was first organized in Montreal, March 4, 1889. This was a non-profit organization that served the function filled by insurance companies today. Members paid dues and were assisted with a stipulated weekly payment during times of sickness or disability. This CMBA Hall at West Pubnico later became "Salle Saint-Pierre", and is now owned by "Inshore Fisheries."
Picture coming soon.
The CMBA (Catholic Mutual Benefit Association) Hall. (Picture taken November 18, 1918.)
Picture coming soon.
The Ledge Harbour Packing Co. (Photo courtesy of Rosaline LeBlanc.)
Because of his success in business Grandpére influenced some other enterprises in West Pubnico as well. Most local people today are familiar with d'Eon's Bakery of West Pubnico, which has become a local institution.
"By the 1920, … Arthur d'Eon decided that the time was right for him to go into business on is own. It was a very humble beginning, he rented an old house in Middle West Pubnico … and prepared to go into baking, but first he needed supplies. His brother-in-law, Mandé d'Entremont, now 97 … remember how Arthur d'Eon started. Capt Agapit d'Eon of West Pubnico was skipper of a boat belonging to Parker-Eakins Ltd. of Yarmouth at this time, and arrangements were made for Arthur d'Eon to obtain credit to buy flour, shortening, sugar, etc. from the Yarmouth merchant through the good name of Capt. Agapit d'Eon."

- Laurent d'Entremont, Vanguard article, May 12, 1992
The bakery, as most local people would know, became a very successful business. Arthur d'Eon, by the way, was not a close relative of Agapit.
The period from 1915-1940, before the fire, were Grandpére's most successful years in business. It was during this time that he was able to purchase his first car. This was the third automobile to be purchased in Pubnico. This car was a 1918 Gray Fort. My mother remembers going for Sunday drives in this car to Cape Sable Island or Meteghan. These were day excursions where they would take along their lunch. Grandpére also had one of the few telephones in the village. Mom remembers that the phone was strictly for business and emergencies. She often had to deliver important message to the neighbours. Often this was news of family members dying or being injured in the New England States. (A lot of Pubnico people had moved to the United States by this time, for reasons of employment.) She was an adult before she was allowed to use the telephone herself. My mother was sent to a private school in Meteghan called the "Couvent de Sacré Coeur". She started in September, and that November when her older brother Adolph got married, she could not attend the wedding as it was too far to travel.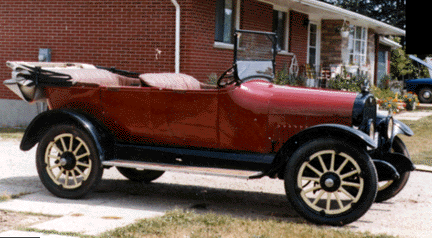 A 1918 Gray Dort like Agapit owned. Picture from The Car Patch.
Picture coming soon.
Couvent de Sacré Coeur (loaned Roseline LeBlanc.)
Uncle Léonce (my father's brother) told me two interesting stories about Grandpére Gapit. Grandpére used to attend an annual Church Picnic at West Pubnico (possibly at one time the CMBA picnic.) One year at one of these picnics he was approached by a young man selling tickets on a draw. Agapit asked him how many tickets he had sold, and the young man answered, "One." Grandpére then asked him how many tickets he had to sell altogether and was told "Fifty." Grandpére bought the rest of the tickets only to lose the draw to the person who bought the other ticket. Another time when Grandpére came home from the bank one day and was counting his money, he realized the bank had made a mistake. He returned to the bank only to be told he should have counted his money before he left the bank. After realizing that the bank manager would not going to address the problem, he became annoyed, slammed $200 on the counter and said, "Well, you gave me $200 too much and I'm leaving it here because it is not mine and you can do whatever you want with it".
Grandpére Agapit was still active and working in 1948 at the age of 72. That was the year I was born, and my parents were living with him at the time. In fact, he was the one who named me "Genesta", a name he had encountered through his business associates. He died at home in 1951 at the age of 75.
Le Petit Courrier, July 19, 1951, published an obituary for Grandpére which is loosely translated below:
DIED - SYLVAIN A. D'EON - We regret to announce the death of Mr. Sylvain Agapit d'Eon, who died suddenly, at his home, last Saturday morning, July 14 at the age of 75. For several years the deceased had not been in good health, but continued to direct his business affairs. For about a week before his death, he did not feel well, but still did not take to his bed. He died suddenly, Saturday, while his daughter, Mrs. Benoit Amirault (Madeline), was serving him breakfast.

The deceased was the son of the late Mr. and Mrs. Augustin d'Eon. As a young man he was a captain, engaged in the offshore cod fishery. For twenty years after that he was engaged in the mercantile fish business with his brother, Charles A d'Eon, and for a number of years purchased lobsters for the Consolidated Lobster Co. at Abbott's Harbour, where he had purchase the business establishment of Raymond N. d'Entremont.

He leaves to mourn, two sons Adolphe of West Pubnico, and Augustin who lived with him; three daughters, Mrs. Donald d'Entremont (Jane Rose); Mrs. Alphonse d'Entremont (Nellie); both of West Pubnico; and Mrs. Benoit Amirault (Madeleine) who also lived with her father; a brother, Charles d'Eon, Upper West Pubnico; and a sister, Mrs. Louise Amirault of Yarmouth.

Agapit d'Eon was an important businessman, both in West Pubnico and in the Municipality at large. His business interests provided employment to many West Pubnico people and he stands as one of the pioneers of the mercantile fishery in Yarmouth County.

Original Le Petit Courrier newspaper article.
Halifax Herald published this obituary for Grandpére:
He followed the sea in his younger days and was captain of a deep sea-fishing vessel for some years. Later he was manager of the first Co-Operative Lobster Cannery of N.S. He also operated a fish business with his brother Charles A d'Eon. For the past 20 years before he died, he represented the Boston Lobster Company in this district and he was a member of the C.M.B.A.
(
This page was last modified on Sunday, April 17, 2005 at 06:55 PM.
)