Wipeout - Reversi AI (1998)
Friday, May 9, 2008
By: Matthew Doucette
WipeOut is an Othello/Reversi engine, and an example of my artificial intelligence programming.
Description:
The main goal of the WipeOut project was to create the strongest Othello playing computer program within the time constraints. WipeOut was designed, tested, and implemented over a time period of only 30 hours for my Comp 3653 Software Engineering course at Acadia University, including the research of the game Othello, the design of the 30 hour schedule, and the 2,000 word written report. The Comp 3653 Software Engineering course focused only on software engineering, so the AI work was self-taught.
If you can beat it, please contact us!
Someday, I intend to convert WipeOut to a Windows-based application and program some fairly basic algorithms, that I did not have the time to implement in this version, which will improve it's strength immensely.
Screenshots: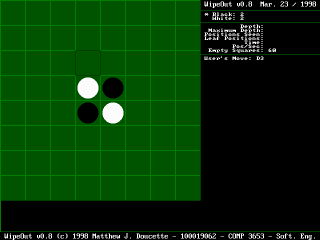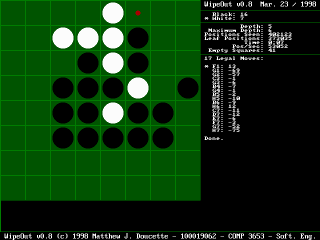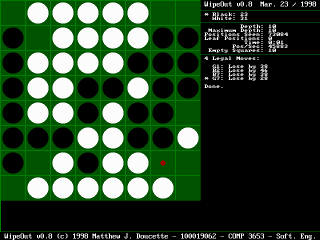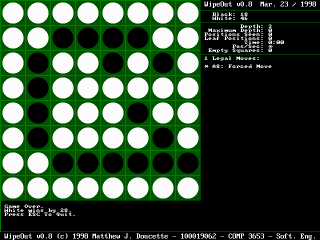 | Your Move | 17 Possible Moves For White | Perfect Play By White Wins 28 | Game Over; White Wins By 28 |
Downloads:
WipeOut Source

(22 KB; Turbo Pascal source in .txt file; .zip)

(WipeOut source does not include units requiring for compilation, some of which are my own.)
About the Author: I am Matthew Doucette of Xona Games, an award-winning indie game studio that I founded with my twin brother. We make intensified arcade-style retro games. Our business, our games, our technology, and we as competitive gamers have won prestigious awards and received worldwide press. Our business has won $190,000 in contests. Our games have ranked from #1 in Canada to #1 in Japan, have become #1 best sellers in multiple countries, have won game contests, and have held 3 of the top 5 rated spots in Japan of all Xbox LIVE indie games. Our game engines have been awarded for technical excellence. And we, the developers, have placed #1 in competitive gaming competitions -- relating to the games we make. Read about our story, our awards, our games, and view our blog.