Editing Google Toolbar Dictionary
Sunday, February 11, 2007
By: Jason Doucette
I just accidentally added a misspelled word to the Google Toolbar Spell Check dictionary. There is no option to edit the dictionary. But, someone named Jeff also ran into the same problem before, and has shown how to edit the dictionary, so that he can remember how the next time that it happens. I am posting it here for the same reason.
Basically, you just need to navigate to (replace USERNAME with your own username):
C:\Documents and Settings\USERNAME\Application Data\Google
There's a User Dictionary.txt file in there:

Location of Google Toolbar user dictionary.
Just edit it by double clicking it. This will launch Notepad, and you will see it is merely a listing of words that you have added to the dictionary. Go find the misspelled word you just added at the very bottom, and delete that line.
Please note that Application Data is a hidden folder. If you do not see it, from Windows Explorer, you need to go into Tools --> Folder Options... -->View tab --> Advanced Settings --> Files and Folders --> Hidden files and folders, and select "Show hidden files and folders":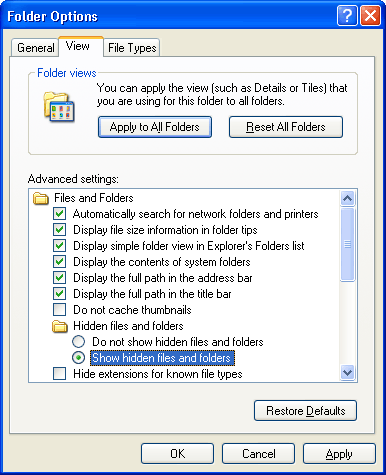 Windows Explorer --> Tools --> Folder Options... --> View tab
Note that making hidden files visible is not a good idea if you are not computer savvy. Alternatively, you can just type or paste in the path you need to traverse to, and Windows Explorer will let you view the files within the hidden folder.
About the Author: I am Jason Doucette of Xona Games, an award-winning indie game studio that I founded with my twin brother. We make intensified arcade-style retro games. Our business, our games, our technology, and we as competitive gamers have won prestigious awards and received worldwide press. Our business has won $190,000 in contests. Our games have ranked from #1 in Canada to #1 in Japan, have become #1 best sellers in multiple countries, have won game contests, and have held 3 of the top 5 rated spots in Japan of all Xbox LIVE indie games. Our game engines have been awarded for technical excellence. And we, the developers, have placed #1 in competitive gaming competitions -- relating to the games we make. Read about our story, our awards, our games, and view our blog.