First Duality ZF Interview
Wednesday, May 13, 2009
By: Matthew Doucette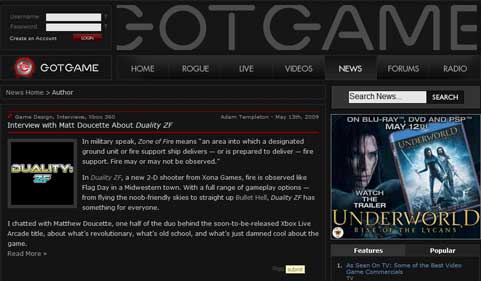 Check out our first interview on Duality ZF. I take on a series of questions from Adam Templeton of GotGame.
"I chatted with Matthew Doucette, one half of the duo behind the soon-to-be-released Xbox Live [Community Game] title, about what's revolutionary, what's old school, and what's just damned cool about the game."
As the old (and severely butchered) mantra goes, 8 ships spewing plasma at a menacing swarm of metallic foes are better than 1.
Let us know what you think, and if you want an interview opportunity, please contact us.
Duality ZF is our Xbox 360 video game hitting Xbox LIVE soon, in the summer of 2009. Price: 400 Microsoft Points.
About the Author: I am Matthew Doucette of Xona Games, an award-winning indie game studio that I founded with my twin brother. We make intensified arcade-style retro games. Our business, our games, our technology, and we as competitive gamers have won prestigious awards and received worldwide press. Our business has won $190,000 in contests. Our games have ranked from #1 in Canada to #1 in Japan, have become #1 best sellers in multiple countries, have won game contests, and have held 3 of the top 5 rated spots in Japan of all Xbox LIVE indie games. Our game engines have been awarded for technical excellence. And we, the developers, have placed #1 in competitive gaming competitions -- relating to the games we make. Read about our story, our awards, our games, and view our blog.