Duality ZF: Featured on IndieGames.com
Friday, May 15, 2009
By: Matthew Doucette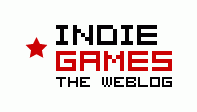 Duality ZF got mentioned on IndieGames.com! This is the biggest name that has covered us, so far. They are the #1 indie game site on the Internet. It's an honor!
"What really attracted me to this game is how polished it looks, plus some of those game modes... 4 player dual control? 8 ships blasting around the screen at the same time? Bullet Hell mode? Erm... gimme?"
If you want to preview our game, please do. We have footage on Vimeo and YouTube. Vimeo offer downloads of the original source file, login required, if you want to host the footage yourself. For example, our April 2009 Trailer on Vimeo has a 60MB 720p HD Windows Media download. Plus, we are up for interviews; Please contact us.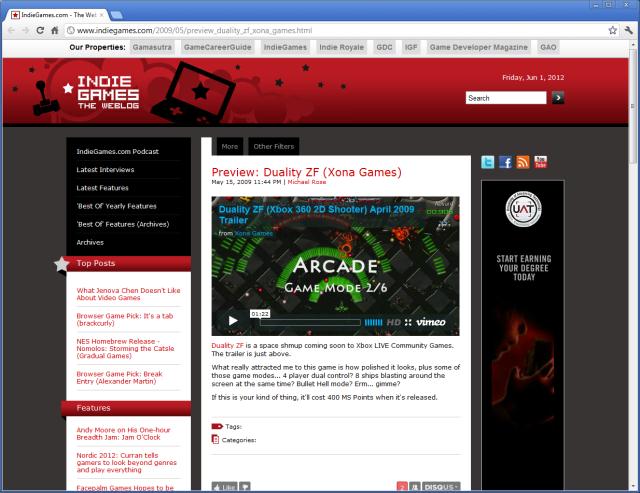 Duality ZF featured on IndieGames.com.
Duality ZF is our Xbox 360 video game hitting Xbox LIVE Community Games soon, in the summer of 2009. Price: 400 Microsoft Points.
About the Author: I am Matthew Doucette of Xona Games, an award-winning indie game studio that I founded with my twin brother. We make intensified arcade-style retro games. Our business, our games, our technology, and we as competitive gamers have won prestigious awards and received worldwide press. Our business has won $190,000 in contests. Our games have ranked from #1 in Canada to #1 in Japan, have become #1 best sellers in multiple countries, have won game contests, and have held 3 of the top 5 rated spots in Japan of all Xbox LIVE indie games. Our game engines have been awarded for technical excellence. And we, the developers, have placed #1 in competitive gaming competitions -- relating to the games we make. Read about our story, our awards, our games, and view our blog.