Duality ZF, Best Deal on Xbox Marketplace?
Tuesday, May 19, 2009
By: Matthew Doucette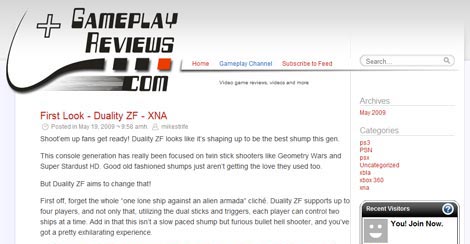 Our latest coverage: Gameplay Reviews previews Duality ZF. Some highlights:
Shoot'em up fans get ready! Duality ZF looks like it's shaping up to be the best shump this gen.
Duality ZF supports up to four players, and not only that, utilizing the dual sticks [...], each player can control two ships at a time. Add in that this isn't a slow paced shump but furious bullet hell shooter, and you've got a pretty exhilarating experience.
The typical problem with a shump is that it has too much going on making it imposible for players to keep track of everything on the screen at once, but, in the case of this game, that isn't an issue thanks to the artwork. The crisp, colorful art style makes it easy to see what's going on. From the footage, you can see that they've avoided the typical problem of not being able to tell what's a projectile.
With 96 [scoreboards], you can bet Duality ZF will become the 'go to' game for score chasing with your friends.

Duality ZF is launching on [Xbox LIVE Community Games] this summer, and with its price tag of 400 MS points, this could be the best deal on the Xbox Marketplace.
Duality ZF is our upcoming Xbox 360 2D shooter video game. It will be released into Xbox LIVE Community Games in the summer of 2009. Price: 400 Microsoft Points.
About the Author: I am Matthew Doucette of Xona Games, an award-winning indie game studio that I founded with my twin brother. We make intensified arcade-style retro games. Our business, our games, our technology, and we as competitive gamers have won prestigious awards and received worldwide press. Our business has won $190,000 in contests. Our games have ranked from #1 in Canada to #1 in Japan, have become #1 best sellers in multiple countries, have won game contests, and have held 3 of the top 5 rated spots in Japan of all Xbox LIVE indie games. Our game engines have been awarded for technical excellence. And we, the developers, have placed #1 in competitive gaming competitions -- relating to the games we make. Read about our story, our awards, our games, and view our blog.