Duality ZF #2 in Canada #7 in World in Dream Build Play 2009
Saturday, September 5, 2009
By: Matthew Doucette
Duality ZF placed 2nd in Canada and 7th in the world, in Dream Build Play 2009, out of over 350 entries from over 100 countries.
Here are the Dream Build Play 2009 top 20:
Dust: An Elysian Tail – United States
HurricaneX2 Evolution – China
Kaleidoscope – Canada
Max Blastronaut – United States
Rotor'scope - The Secret of the Endless Energy – Spain
Sol Survivor – United States
Duality ZF – Canada :)
Powa Volley – France
Echoes – Australia
Cloudberry Kingdom – United States
Mirror – Canada
BAMBOONO – Japan
Guru-Guru – Venezuela
Magnetic Mind – Germany
Square Off – Australia
Avatar Golf – United States
Creed Arena – Australia
Band of Bears: A 1-4 Player Cooperative Adventure – Canada
What The?! – United States
Masters of Belial – United Kingdom
The top six win a showcase at PAX 2009, which is huge, where the winners will be chosen. Duality ZF is our game. We are honored to be among such amazing, high production value games. Congratulations to all of the top 20 finalists.
Entries by Country:
United States = 6
Canada = 4
Australia = 3
China / France / Germany / Japan / Spain / United Kingdom / Venezuela = 1 each
The quality of the entries this year far outweigh the quality of last year's Dream Build Play 2008 Challenge's entries. So to be in the top 5.7 percentile (the top 20) is quite significant. Duality ZF at #7 actually made the top 2.0 percentile!
Dream Build Play 2009 #1..6:
2023-NOV-05 UPDATE: Many of these videos have been pulled offline and YouTube deprecated their embed code.
Dust: An Elysian Tail – United States: "Dust: An Elysian Tail" is a side-scrolling, action role-playing game. The player controls Dust, a man searching for himself. Set in the beautiful yet mysterious world of Falana, this game chronicles protagonist Dust's journey to liberate an oppressed village, and rediscover his past. He is aided by an ancient sword, Ahrah, and his helpful if unreserved sidekick, Fidget. Meticulously hand-animated and painted, this episode of Elysian Tail welcomes exploration, platforming, and above all else, mastery of a fighting system that rewards skilled gamers. Casual and younger players will appreciate options tailored to allow them to enjoy the narrative without frustration, while seasoned players will enjoy collection, a deep combo and experience system, and increasingly challenging encounters.
HurricaneX2 Evolution – China: "HurricaneX2 Evolution" is a thrilling 3D Kung Fu fighting game. You play as the role of Hua, who has a great talent in martial art, and will encounter exciting challenges from many different Kung Fu masters in various places of interest in ancient China, such as temple, tomb and palace. During the game, the players can also learn from a large set of new abilities and Kung Fu moves, such as Tai Chi, Wing Chun, Shaolin, and etc, so the player can customize the hero to suit their own play style which is very satisfying as well.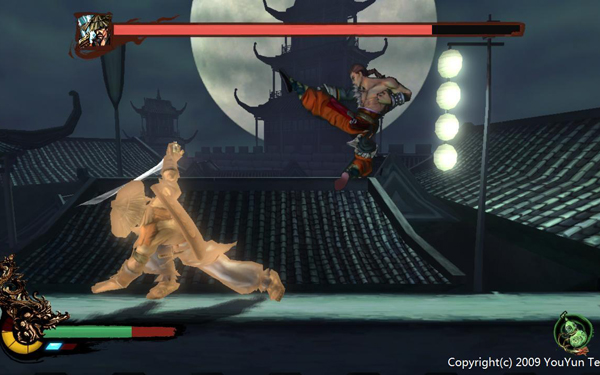 (no video available)
Kaleidoscope – Canada: The world of "Kaleidoscope" has been shroud in darkness; all that was once lush and colorful is now dreary and colorless. Players take on the role of Tint, an unusual inhabitant of Kaleidoscope, and traverse the surreal environment in search of color pigments. Color pigments are the key to restoring Kaleidoscope's vivid scenery. Kaleidoscope is a charming 2D platforming experience with a strong focus on rejuvenation and exploration. At the beginning of each level, the world is in complete grayscale and the background music is very minimalistic. As you collect pigments, the world begins to color in and the music progresses into a very complex track. Pigments not only color in the world, they also fuel Tint's abilities.
Max Blastronaut – United States: "Max Blastronaut" is a four-player brawler/shooter set in space on miniature planets. You play the role of Max Blastronaut as you rid the universe of the Dredge Faction. Planetary gravity lets projectiles orbit, allowing the player to attack enemies from any direction. This allows unique enemies and experiences that can only be discovered by mastering the Orbit Shot mechanic - different enemies require different methods of attack
Rotor'scope - The Secret of the Endless Energy – Spain: "Rotor'scope – The Secret of the Endless Energy" in an addictive and challenging puzzle game in which the player's intelligence, logic and spatial perception are put to the test. Players, along with the main characters, Traveller and Julie, will visit a world where classic science fiction meets Victorian Art, in the course of the investigation of the strange disappearance of a famed scientist 300 years before. On their way they will have to gather clues, explore different locations and manipulate all kinds of mechanisms through the Rotor'scope, a funny small device capable of manipulating virtually any object by presenting its user with a different puzzle each time.
Sol Survivor – United States: "Sol Survivor" is a turret defense style game, putting players into the role of a Sol Paragon commander in a desperate struggle against the evil Ascendency. Players construct turrets and control powerful orbital support abilities to hold back advancing waves of enemies. The game takes place in a remote region of a fictional galaxy, and involves several land-based environments in which to do battle. Sol Survivor's gameplay expands upon concepts explored by predecessors in the genre by keeping players active and engaged at all times
Dream Build Play 2009 #7..20:
Duality ZF – Canada: "DUALITY ZF" is a 4-player DUAL PLAY arcade 2D shoot''em up. Control two ships at once. Eight independently controlled fighters at once (via 4-player DUAL PLAY). Duality weapon system; morphs from spread to laser and back; controlled by triggers. All three are shoot''em up firsts.
Powa Volley – France: "Powa Volley" is a 2D volley game with eight original characters, each having a unique ability that can give the player an advantage in a point. You can play on four different fields, each having special visuals and gameplay elements. And you can choose to play in different game modes, such as quick play, classic mode, story mode, tournament and you can improve your skills with five challenging mini games.
Echoes – Australia: "Echoes" is an innovative arcade game in which players must avoid echoes of their past selves while racing to collect crystals. A variety of bonus modes offer different takes on the core mechanic and a detailed trophy system ensures there's plenty to do, even after you've completed all 64 levels in the game. The player controls Charlie, a girl who was transported to another world when she had a seizure in art class. Featuring a rich and unique art style, the game brings to life this other world: a place that's much more fun than a schoolroom lesson about Dali.
Cloudberry Kingdom – United States: "Cloudberry Kingdom" is both a satirical take on, and homage to, the platformer genre. Players take on the role of anti-hero. Hired out by various bad guys, their job is to test castles before hordes of generic heroes run through them to save the princess. The key gameplay element is that the player is testing levels never before seen: not by them, not by their friends, not even by us. At first glance Cloudberry Kingdom is a simple platformer with solid mechanics and intense single player and co-op gameplay. However, at its core is a random level generator that can create challenging and interesting levels of almost any difficulty, while simultaneously ensuring that every level is possible to beat.
Mirror – Canada: Discover the world of iterated function systems in this game/gallery combo. Mirrors and Nodes are placed in each level. You must guess the position of the Nodes when reflected across the Mirrors. With multiple Mirrors, Nodes are reflected across all Mirrors in numerical order. Score is based on accuracy. Meet each level's score goal to unlock new art. Unlocked art can be viewed individually or as a slide show.
BAMBOONO – Japan: "BAMBOONO" is an action game focusing on cooperative coordinated teamwork. Players must run for the goal dodging enemies. The game's feature is to control two characters at the same time (only if playing Single Mode). Both analog sticks are used to move them. Left one is used move the Girl character. Another one is used move The Boy character. The Girl character jumps when push left trigger, the Boy character jumps, when push right trigger. When playing Couple Mode, control is different. Each players control each characters. Characters accelerate with both analog sticks. Characters jump with pushing both trigger.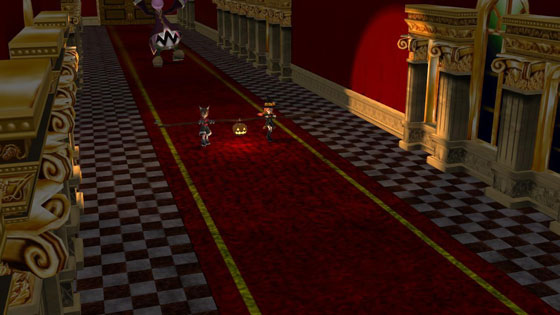 (no video available)
Guru-Guru – Venezuela: "Guru-Guru" is a physics based action platform game with a unique style and personality and gesture-based controls. Players will come across several kinds of enemies, mechanisms and puzzles while navigating different sceneries following an ancient story. In the game world he will roll, jump, and hang on to the round cage he will be in, making use of his extremities. Handling the controls gives the player the benefit of an intuitive reaction, which integrates him with the adventure of the game, associating his gestures with the panda's movements with a very simple gameplay mechanic.
Magnetic Mind – Germany: In "Magnetic Mind" you play a little guy that finds itself in a real world, where everything is huge. The guy (player) doesn´t know what happened, because he lost his whole memory of the last days. The player controls the guy through this world and has to find out, what has happened to him. He can also Jump and Climb up walls. There are also chains/ropes, where the guy can swing. The guy has also a ring on its finger, with that he can control large Objects. It is an anti-gravitation ring that helps to lift up larger objects and to carry them everywhere. There is also a possibility to control vehicles, like a skateboard. With all of these possibilities, the guy has to find his way through the levels that consists of many physically traps and puzzles.
Square Off – Australia: For centuries, humanity has fended off the attacks of an alien aggressor, a vicious species whose mission is to colonize Earth and use her valuable resources to revitalize its own ravaged planet. The war has been so brutal, the invaders so relentless, that the human race has wearied of the fight. Now, on the brink of announcing the terms of their surrender, the leaders of the world have been told to halt transmission. A scientist long since confined to the bleakest wing of one of the last remaining institutions for the mentally deranged has something to declare. In one of his wildest dissociative episodes, several years ago, he designed a killing machine so deadly that it terrified even him. He hid the designs away, afraid of what they might unleash, but the time has come now to bring them out, and maybe...just maybe...save the world. Working in the dim light of an abandoned laboratory, a trainee technician with trembling hands embeds the DNA of a captured alien inside the nucleus of a cell extracted from the professor's own brain, and the first of a squadron of Square Avengers is spawned. Can the professor's hybrid-mutants save the human race from eternal enslavement to a savage master?
Avatar Golf – United States: Hit the links as your Avatar in style. "Avatar Golf" is a pick up and play arcade golf game for gamers of all ages and skill levels. Play golf as your Avatar or choose a random Avatar for variety. There are six uniquely themed 18-hole courses for a total of 108 holes of virtual golf; eight-player online and four-player local multiplayer. Create courses in the easy-to-use course designer, then share your courses with friends over Xbox LIVE.
Creed Arena – Australia: "Creed Arena" is an action "run and shoot" shooter in which the player fights to win fans in order to become the most popular gladiator. The game is based in a semi-futuristic environment. The stadiums contain a combination of dark futuristic architecture and classical / medieval statues and tapestries. Many of the contestants appear to come from places other than earth.
Band of Bears: A 1-4 Player Cooperative Adventure – Canada: Join a ragtag group of adventuring bears as they travel the world in search of gold and glory. With support for up to four players on a single screen, explore exotic locales with your family and friends and work together to solve dastardly puzzles, defeat relentless enemies, and uncover ancient treasures. Grow from wannabe adventurers and earn your reputation as strapping treasure hunters by gaining experience, leveling-up, learning new abilities and discovering secret riches. Band of Bears takes a fresh approach to cooperative gameplay by changing the game based on the number of adventurers. The world provides new puzzles, enemies, and experiences whether you play it solo, with a friend, or with a whole group.
What The?! – United States: "What The?!" is a trivia game presented in the style of a 1970s game show with hundreds of modern trivia questions read aloud to the players. Up to four players can compete against each other in a local game to win lots of ''cash'' and ''prizes''.
Masters of Belial – United Kingdom: "Masters of Belial" is a Team Multiplayer Action RPG game with a multiplayer campaign. This version features twelve heroes with six spells each, and two skirmish PvP maps. With the help of the powerful Daemon King Belial, the truth seekers seek to open the portal to the demonic realms and release the imprisoned Daemons to the world to destroy the angels and bring peace in the lands.
(Source: Dream.Build.Play 2009 Finalists Announced at Penny Arcade Expo)
About the Author: I am Matthew Doucette of Xona Games, an award-winning indie game studio that I founded with my twin brother. We make intensified arcade-style retro games. Our business, our games, our technology, and we as competitive gamers have won prestigious awards and received worldwide press. Our business has won $190,000 in contests. Our games have ranked from #1 in Canada to #1 in Japan, have become #1 best sellers in multiple countries, have won game contests, and have held 3 of the top 5 rated spots in Japan of all Xbox LIVE indie games. Our game engines have been awarded for technical excellence. And we, the developers, have placed #1 in competitive gaming competitions -- relating to the games we make. Read about our story, our awards, our games, and view our blog.