Xona Games on CBC News Website
Wednesday, September 23, 2009
By: Matthew Doucette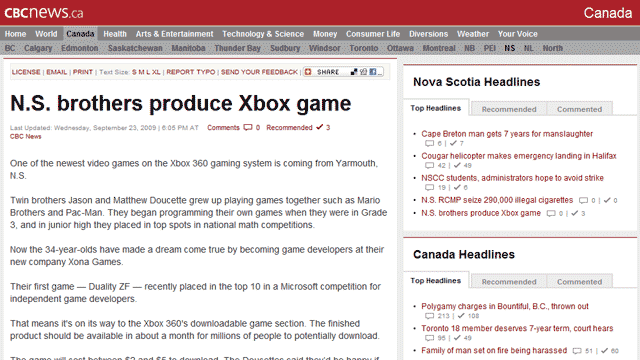 Xona Games and Duality ZF make the CBC News website.
Xona Games makes it on to the CBC News website. This is a takeoff on the previous Ryan Pierce (CBC) interview we posted earlier today.
One of the newest video games on the Xbox 360 gaming system is coming from Yarmouth, N.S.

Twin brothers Jason and Matthew Doucette grew up playing games together such as Mario Brothers and Pac-Man. They began programming their own games when they were in Grade 3, and in junior high they placed in top spots in national math competitions.

Now the 34-year-olds have made a dream come true by becoming game developers at their new company Xona Games.

Their first game — Duality ZF — recently placed in the top 10 in a Microsoft competition for independent game developers.

That means it's on its way to the Xbox 360's downloadable game section. The finished product should be available in about a month for millions of people to potentially download.
Link added by us; Read the entire article here: http://www.cbc.ca/canada/nova-scotia/story/2009/09/23/ns-yarmouth-gamers.html
About the Author: I am Matthew Doucette of Xona Games, an award-winning indie game studio that I founded with my twin brother. We make intensified arcade-style retro games. Our business, our games, our technology, and we as competitive gamers have won prestigious awards and received worldwide press. Our business has won $190,000 in contests. Our games have ranked from #1 in Canada to #1 in Japan, have become #1 best sellers in multiple countries, have won game contests, and have held 3 of the top 5 rated spots in Japan of all Xbox LIVE indie games. Our game engines have been awarded for technical excellence. And we, the developers, have placed #1 in competitive gaming competitions -- relating to the games we make. Read about our story, our awards, our games, and view our blog.