Duality ZF An Independent Games Festival (IGF) Entry
Monday, November 2, 2009
By: Matthew Doucette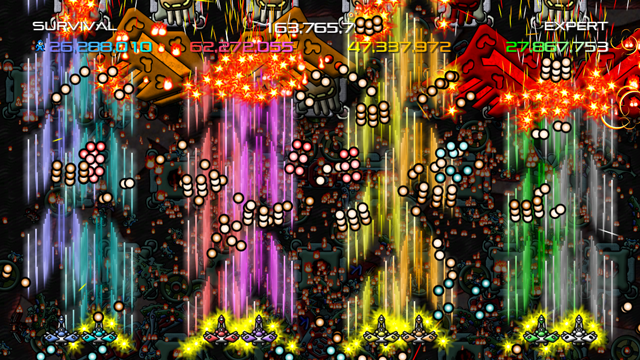 Duality ZF submitted to Independent Games Festival 2010. (Full size.)
(Notice enemy bullets drawn on top of the HUD; never hidden.)
We have officially entered Duality ZF into the 2010 Independent Games Festival. Wish us luck, but we are not expecting to place in this competition. IGF has had some amazing entries. Past winners include Machinarium, Osmos, Crayon Physics Deluxe, World of Goo, Castle Crashers, Everyday Shooter, Braid, Darwinia, Gish, and Alien Homind! These are amazing indie games!

2009-Nov-4 UPDATE (NEW):
There are 306 entries posted on IGF. Here's Duality ZF.
Indie Spirit:
One of the stand out features of IGF is their dedication to what they call the "indie spirit". Indie game contests have had issues dealing with non-indie nature of some entries. This remains me of a few Dream Build Play threads (1,2) where many were displeased with Carneyvale Showtime's 2008 win, due to government and MIT support. I also questioned the nature of the entry. Whose "dream" was coming true? Did they deserve the $40,000 top prize? That said, if the entry was permitted, and it was, it deserved to win. It was clearly the most polished game in the 2008 contest and was beyond XBLA quality. Probably all Xbox LIVE Indie Games are helped by having such a high quality example to showcase. It represents the XBLIG platform very well. And, at the time of its release, it did more of a service to the platform than well over 95% of the releases that were sub-par and hurting more than helping.
Anyway, IGF does their best to avoid controversies on the "indie spirit". Upon entry, I had to check off the following question:
A final question - do you think that your game correctly conveys "the indie spirit"? There are any number of titles which might be technically eligible for the competition, but that are completed with access to corporate financing or with a massive, privately donated budget, and these have occasionally entered in the IGF in the past. Please think carefully about whether you are, by any definition of the word, 'indie' - you probably are, but it never hurts to ask. Tick the box below if you are, and thanks again for submitting!

[ ] I have read and accept these terms and condition
About the Author: I am Matthew Doucette of Xona Games, an award-winning indie game studio that I founded with my twin brother. We make intensified arcade-style retro games. Our business, our games, our technology, and we as competitive gamers have won prestigious awards and received worldwide press. Our business has won $190,000 in contests. Our games have ranked from #1 in Canada to #1 in Japan, have become #1 best sellers in multiple countries, have won game contests, and have held 3 of the top 5 rated spots in Japan of all Xbox LIVE indie games. Our game engines have been awarded for technical excellence. And we, the developers, have placed #1 in competitive gaming competitions -- relating to the games we make. Read about our story, our awards, our games, and view our blog.