Xona Games Featured in Open to the World Magazine
Monday, April 19, 2010
By: Matthew Doucette
Xona Games was featured in Nova Scotia, Open To The World magazine, Spring 2010 issue, for winning Innovacorp's I-3 Technology Start-Up Competition's $100,000 first place prize.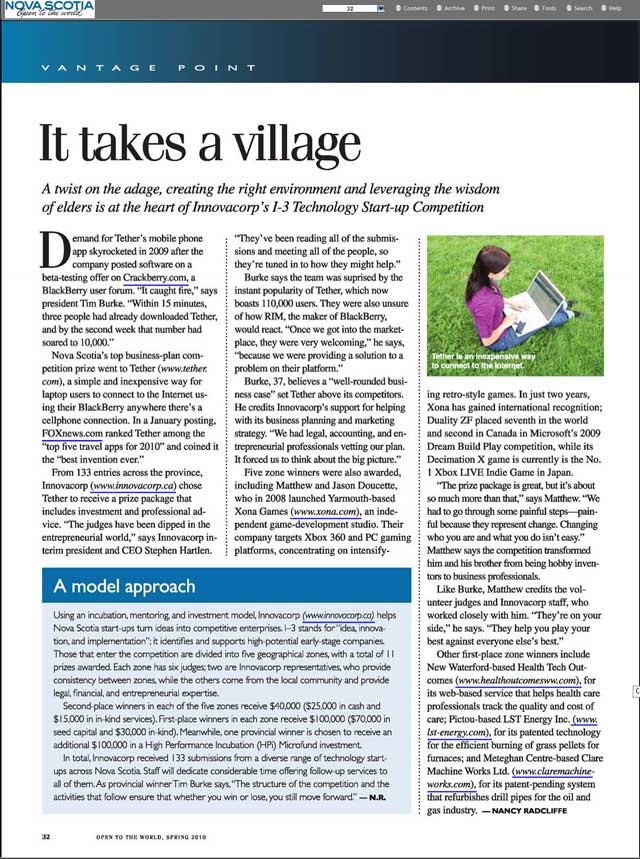 Xona Games featured in Open To The World magazine. (larger image)
View Nova Scotia, Open to the World online.
Our section reads:
Five zone winners were also awarded, including Matthew and Jason Doucette, who in 2008 launched Yarmouth-based Xona Games (www.xona.com), an independent game-development studio. Their company targets Xbox 360 and PC gaming platforms, concentrating on intensifying retro-style games. In just two years, Xona has gained international recognition; Duality ZF placed seventh in the world and second in Canada in Microsoft's 2009 Dream Build Play competition, while its Decimation X game is currently the No. 1 Xbox LIVE Indie Game in Japan.

"The prize package is great, but it's about so much more than that," says Matthew. "We had to go through some painful steps - painful because they represent change. Changing who you are and what you do isn't easy." Matthew says the competition transformed him and his brother from being hobby inventors to business professionals.

Like Burke, Matthew credits the volunteer judges and Innovacorp staff, who worked closely with him. "They're on your side," he says. "They help you play your best against everyone else's best."
Update: Duality ZF has placed in the top 6 in Dream Build Play 2010 and Decimation X is still the #1 top rated and #1 best selling Xbox LIVE Indie Game in Japan!
A big thanks to Nancy Radcliffe for an amazing interview. It was very comfortable, one of our best interviews yet. I could have talked to her all day long!
About the Author: I am Matthew Doucette of Xona Games, an award-winning indie game studio that I founded with my twin brother. We make intensified arcade-style retro games. Our business, our games, our technology, and we as competitive gamers have won prestigious awards and received worldwide press. Our business has won $190,000 in contests. Our games have ranked from #1 in Canada to #1 in Japan, have become #1 best sellers in multiple countries, have won game contests, and have held 3 of the top 5 rated spots in Japan of all Xbox LIVE indie games. Our game engines have been awarded for technical excellence. And we, the developers, have placed #1 in competitive gaming competitions -- relating to the games we make. Read about our story, our awards, our games, and view our blog.