Homebrew Heroes: Retro Gamer Feature
Friday, April 30, 2010
By: Matthew Doucette
Xona Games and Decimation X are featured in Retro Gamer magazine, Issue #75.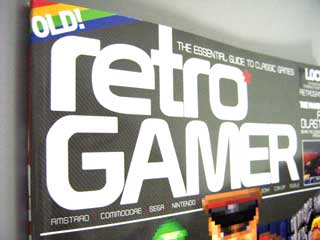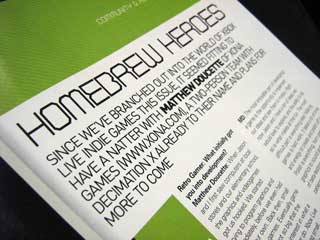 The Retro Gamer magazine cover and our feature: page 101, issue #75.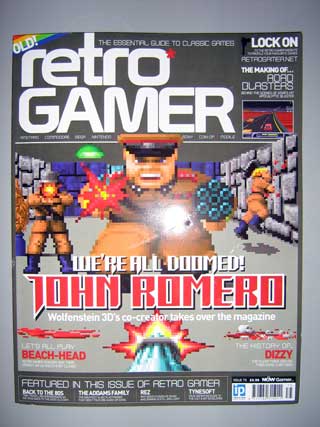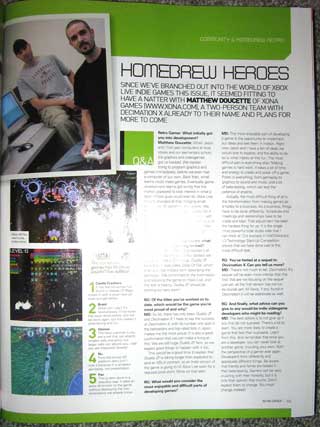 John Romero is back! He's taking over the magazine!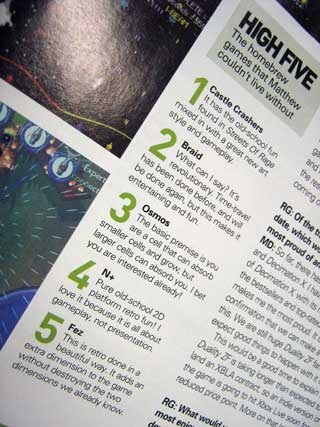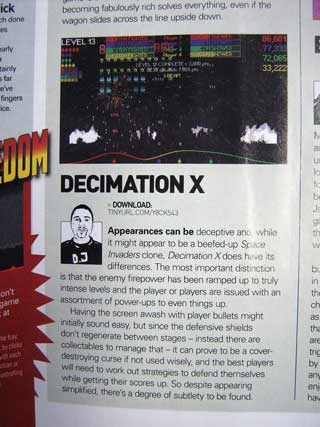 Decimation X review in Retro Gamer.
Here's the full interview (before editing, some links added by us):
This issue the indie section is branching out into the world of Xbox Live Indie Games, so it seemed fitting to have a natter with Matthew Doucette of Xona Games (http://www.xona.com/), a two-person team with Decimation X to their name already and plans for more to come.

Retro Gamer: What was it that initially got you into developing games and why you decided on the Xbox 360 as a platform?

Matthew Doucette: When Jason and I first saw computers at local stores and our elementary school, the graphics and video games got us hooked. We started trying to program graphics and games immediately, before we even had a computer of our own. Back then, small teams could make games. Eventually game development teams got so big that the market appeared to lose interest in what a team of two guys could ever do. Xbox LIVE Arcade changed all that, with bringing out small, downloadable games to the service. We made loose plans to produce games for it. Then, the opportunity got even better with the Dream Build Play contest and Xbox LIVE Indie Games. It was geared towards indie developers, and we couldn't pass it up!

RG: And from those beginnings, what lead to Xona Games being formed?

MD: Dream Build Play 2008 started it all. About two months before the contest we set off to make a 2D shmup, Duality ZF. Back then it was called Zone of Fire, which is an accurate military term describing the gameplay, and explains the "ZF" in the name. We committed to the submission and releasing the game on XBLIG, and the rest is history. Duality ZF should be coming out very soon!

RG: Of the titles you've worked on to date, which would be the game you're most proud of and why?

MD: So far, there has only been Duality ZF and Decimation X. I have to say the success of Decimation X, with its number one spot in the best sellers and top rated lists in Japan makes me the most proud. It is also a great confirmation that we can do what needs to be done, to make a living at this. We are still huge Duality ZF fans, so we expect good things to happen with it too.

This would be a good time to explain that Duality ZF is taking longer than expected to land an XBLA contract, so an indie version of the game is going to hit XBLIG soon for a much reduced price point. More on that later!

RG: What would you consider the most enjoyable and difficult parts of developing a game?

MD: The most enjoyable part of developing a game is the opportunity to implement our ideas and see them in motion. Right now Jason and I have a ton of ideas we would love to explore, and the ability to do so is what makes all this fun.

The most difficult parts is everything else! Making games is hard work. It takes a lot of time and energy to create and polish off a game. Polish is everything, from gameplay to graphics to sound and music, and a lot of beta-testing which can test the patience of anyone.

Actually, the most difficult thing of all is the transformation from making games as a hobby to a business. As a business, things have to be done differently. Schedules and meetings and relationships have to be made and kept. That adjustment has been the hardest thing for us. It is the single most powerful "indie game studio killer" I can think of. Our success in InNOVAcorp's I-3 Technology Start-Up Competition shows that we have done well at this most difficult task.

RG: You've mentioned online about a sequel to Decimation X, can you tell us more about this and what other plans you have at the moment?

MD: There's not much to tell. Decimation X's sequel will be even more retro intensity than the first. We are not focusing on the sequel just yet, as the first version has not run its rounds yet! All flaws, if any, found in Decimation X will be addressed as well.

RG: And finally, what advice can you give to any would-be indie game developers reading?

MD: The best advice is to not give up if you first do not succeed. There's a lot to learn. You are more likely to create a game that fails than succeeds. Learn from this. And remember that once you are a developer, you can never look at another game, including your own, from the perspective of a gamer ever again. Developers think differently and appreciate different things. Be aware that friends and family are biased in their beta-testing. Gamers can be very crushing with their honesty, but it is only their opinion that counts! Don't expect them to change! You must change instead!
About the Author: I am Matthew Doucette of Xona Games, an award-winning indie game studio that I founded with my twin brother. We make intensified arcade-style retro games. Our business, our games, our technology, and we as competitive gamers have won prestigious awards and received worldwide press. Our business has won $190,000 in contests. Our games have ranked from #1 in Canada to #1 in Japan, have become #1 best sellers in multiple countries, have won game contests, and have held 3 of the top 5 rated spots in Japan of all Xbox LIVE indie games. Our game engines have been awarded for technical excellence. And we, the developers, have placed #1 in competitive gaming competitions -- relating to the games we make. Read about our story, our awards, our games, and view our blog.