Xona Games Inspires!
Thursday, September 23, 2010
By: Matthew Doucette
Xona Games getting some love in the NSBI 2009/2019 Annual Report!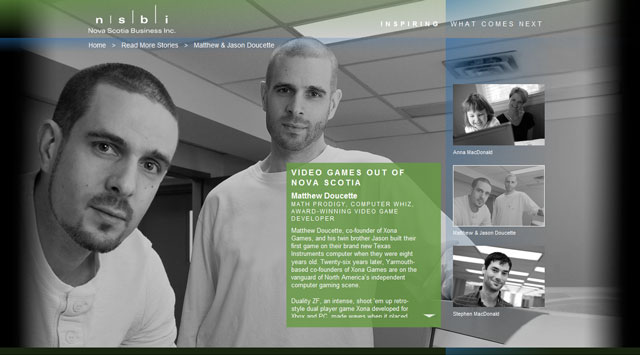 Jason Doucette [left] and Matthew Doucette [right], featured in NSBI 2009/2010 Annual Report.

Here's the full article quoted, links added by us:
Video Games Out of Nova Scotia

Matthew Doucette
MATH PRODIGY, COMPUTER WHIZ, AWARD-WINNING VIDEO GAME DEVELOPER

Matthew Doucette, Game Producer of Xona Games, and his twin brother Jason built their first game on their brand new Texas Instruments computer when they were eight years old. Twenty-six years later, they are on the vanguard of North America's independent computer gaming scene.

Duality ZF, an intense, shoot 'em up retro-style dual player game Xona developed for Xbox and PC, made waves when it placed first in Microsoft's illustrious Dream Build Play competition in Canada, and fifth in the world. Meanwhile Decimation X was the top selling Xbox LIVE Indie game in Japan in 2009. Their success caught the attention of international game publishers, and with the help of NSBI, the brothers have attended international game development conferences in Montreal and California where they've made valuable connections.

The result of their networking? A contract which will see Steam, a major PC game distributor, begin releasing Xona's games later this year. And if Yarmouth feels a world away from the traditional gaming centres of San Francisco and Montreal, Doucette says location is what has given Xona Games its edge.

"In a larger centre, we'd be a drop in a pond. But by staying close to our roots, we've managed to stick out enough to get the attention, recognition and support that helped take us to the next level." Recently selected as winners of InnovaCorp's prestigious I-3 Technology Start-Up competition, the brothers are using their winning capital—all $100 grand—to support the growth of a business they feel they were destined to launch.
And here I thought I could get through life without begin called a "computer whiz"! We were building games by the time we were seven, not eight as mentioned in the article, but we were eight by the time we created "fully complete" games by our standards. Also, Decimation X was only released in 2010.
Check out more pics of us (you know you want to) in our behind the scenes Xona Games photoshoot!
I just want to thank everyone from NSBI for all their help. Helping us get to MIGS'09 and GDC'10 has been amazing for us. A Duality ZF XBLA contract may be in our future as a result!
That is all.
About the Author: I am Matthew Doucette of Xona Games, an award-winning indie game studio that I founded with my twin brother. We make intensified arcade-style retro games. Our business, our games, our technology, and we as competitive gamers have won prestigious awards and received worldwide press. Our business has won $190,000 in contests. Our games have ranked from #1 in Canada to #1 in Japan, have become #1 best sellers in multiple countries, have won game contests, and have held 3 of the top 5 rated spots in Japan of all Xbox LIVE indie games. Our game engines have been awarded for technical excellence. And we, the developers, have placed #1 in competitive gaming competitions -- relating to the games we make. Read about our story, our awards, our games, and view our blog.