XBLIG Dashboard Worries Continued...
Tuesday, November 2, 2010
By: Matthew Doucette
To bring you up to speed, XBLIG developers are upset with the new Xbox LIVE Dashboard update that hides XBLIG outside of the "Games & Demos" tab and places them under a new "Speciality Shops" tab. Here's how it looks:
To find Xbox LIVE Indie Games (XBLIG games), you go to Game Marketplace...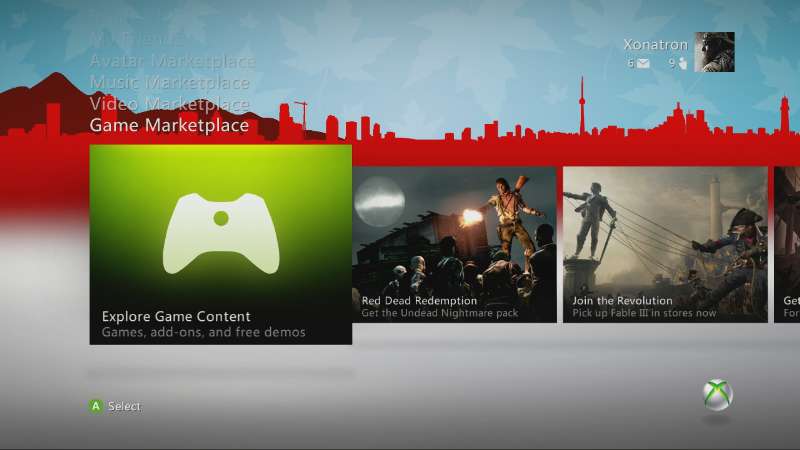 And under Game Marketplace, you skip Games & Demos because we are not found there...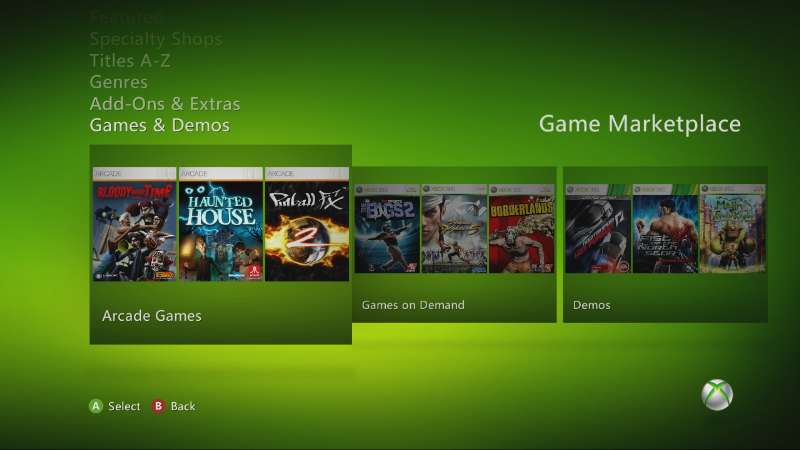 You skip Titles A-Z, searching for Decimation X here will leave you empty...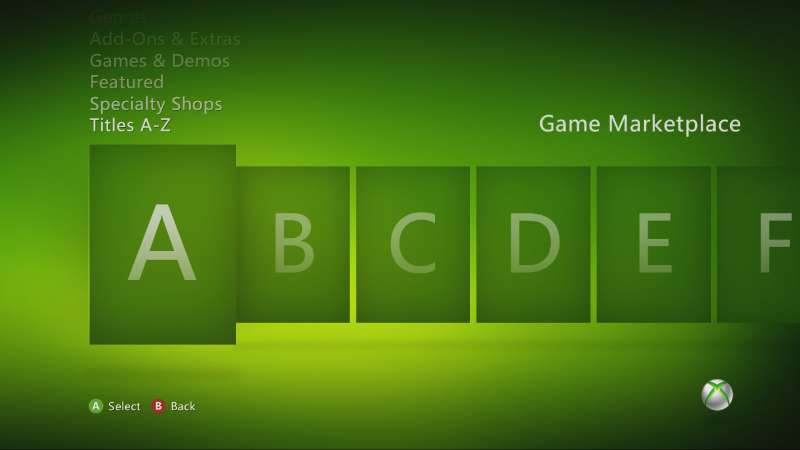 You find us in Specialty Shops, second tab over...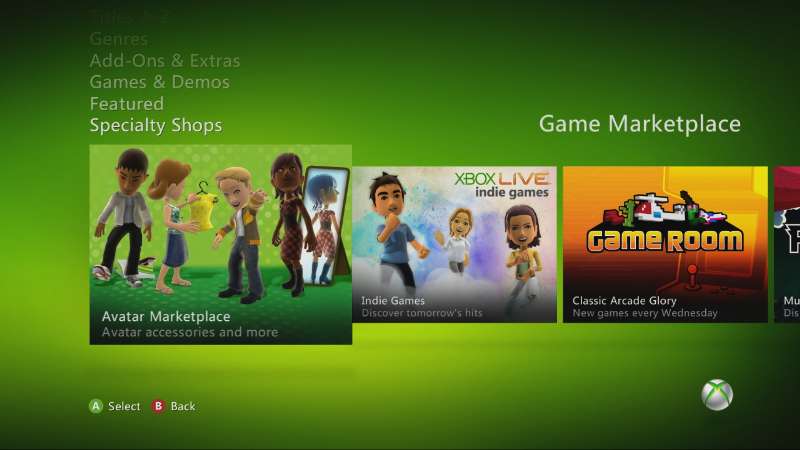 Finally, you have found XBLIG: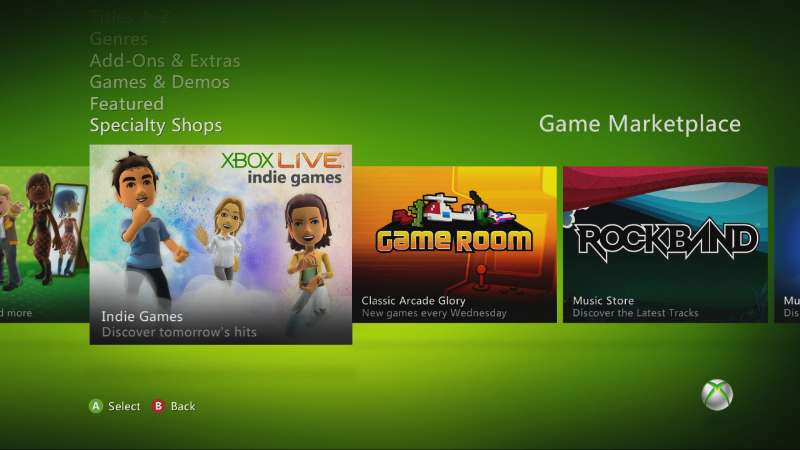 The problem is that our Xbox LIVE Indie Games are no longer under a "Games" category as we once were.
Kris Steele (aka kriswd40) filed a Microsoft Connect issue/bug on the XBLIG Dashboard problem. Please check it out and vote. It has the highest votes up I have seen in a Connect submission:
>>> https://connect.microsoft.com/site226/feedback/details/618834/xbox-live-indie-games-missing-from-games-category <<<
Here is the Connect report, quoted:
After the new Xbox Live Dash update on 11/1/2010, Xbox Live Indie Games are no longer listed under the "Games" category where they previously were. This creates confusion for existing XBLIG customers who cannot find us and prevents us from being found by Xbox Live users searching for games.

Additionally searching for an Indie Game by title in the Games Catalog is not possible as XBLIG results are not returned in the search.

Xbox Live Indie Games should be added back to the Games category as they previously were and search functionality should be restored.
Deeper XBLIG Problem At Hand?
I also proposed a "workaround", quoted here, that touches on a deeper issue I feel may have been the cause of the move and the actual problem at hand:
Based on the assumption (which may be incorrect) that XBLIG was moved on the Dashboard based on it's type of traffic (that fit the "Speciality Shops" style more than the "Games & Demos" style), I have a solution that makes putting XBLIG back under "Games & Demos" a proper move:

The basic idea is to remove the current "face" of XBLIG, which is the "new releases" tab, and bump it out with a "top releases" default tab that is the same as the "new releases" tab only with games of 3.5 star ratings or above included. This would be the new face of XBLIG, showcasing XBLIG as a proper high-quality channel, not judged by it's worse or even average products, but by it's best products. Then, gamers who like the "Games & Demos" tab will like XBLIG, and you will cancel the old self-fulfilling prophecy of the negative spiral XBLIG was under with developers pushing more low quality titles to match the consumer demand which was never controlled with a proper "face". With this new "face", the 3.5+ titles will sell the best, and developers will wish to accomplish that instead of "selling out" with low quality get-rich-quick schemes. The developers cannot control this, they react to demand, it is the platform that much control this. Whatever face you want for XBLIG, the XBLIG platform chooses.

I have a more detailed proposal which covers many other areas. I will share it with anyone who wants to discuss the ideas futher.

This "new face" idea is basically modelled after known working models such as Digg who also have uncontrolled quality of inputted content (most of their submissions are low quality), just like XBLIG.

XBLIG and XBLA can be mutually benefit by this move.

XBLIG was never given a chance to shine based on it's best offerings to the gamers who looking the "Games" section on Xbox LIVE. It requites a model that works with thousands of low quality titles, while also being fair to everyone.

Matthew Doucette, Xona Games
http://xona.com/contact.html
XBLIG Developers Unpleased with New Dashboard In The News:
This issue has also made it's way to the gaming media, here's a few links I have found so far:
Please drop us a line and let us know what you think, or post in the XNA forums that started the discussion.
That is all.
About the Author: I am Matthew Doucette of Xona Games, an award-winning indie game studio that I founded with my twin brother. We make intensified arcade-style retro games. Our business, our games, our technology, and we as competitive gamers have won prestigious awards and received worldwide press. Our business has won $190,000 in contests. Our games have ranked from #1 in Canada to #1 in Japan, have become #1 best sellers in multiple countries, have won game contests, and have held 3 of the top 5 rated spots in Japan of all Xbox LIVE indie games. Our game engines have been awarded for technical excellence. And we, the developers, have placed #1 in competitive gaming competitions -- relating to the games we make. Read about our story, our awards, our games, and view our blog.