Decimation X2: $1,000 Highly Commended Winner in WP7COMP
Friday, May 6, 2011
By: Matthew Doucette


Decimation X2 wins $1,000 "Highly Commended" prize in WP7Comp!
Decimation X2 wins a "highly commended" $1,000* award in Red Gate Software's Windows Phone 7 Competition (press release), putting us in the top eight out of over 100 Windows Phone 7 apps, and the only game to win an award in the entire competition. The competition was to make a WP7 app that will impress fellow developers, which makes winning this an honor. This also marks an interesting accomplishment of Xona Games: Now every game we have worked on, released or not, has won awards.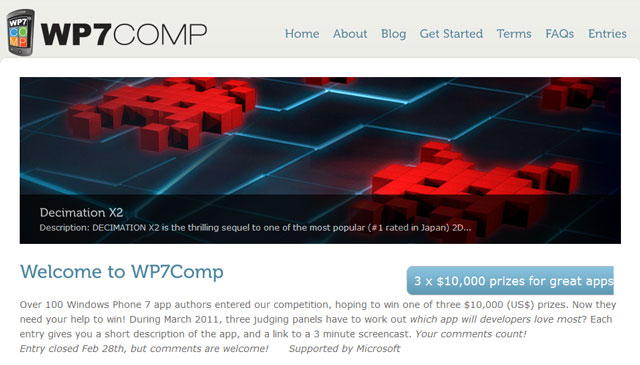 Decimation X2 featured on the front page of WP7Comp.
Originally the prizes were limited to three $10,000 prizes. Extra prizes were created, as explained by Jeremy Parsons of Red Gate:
I'm very pleased to be able to tell you that your entry, Decimation X2, has been chosen for a special $1,000 'highly commended' prize by our judges. Congratulations! These extra prizes were created for a small number of apps that had caught the eye of several judges across the judging panels. One of the comments was, "It's fun, a bit weird, and compulsive." I'd support that, as the (impartial!) competition administrator.
Official Press Release (links added by us):
Red Gate Software's Windows Phone 7 Competition Winners Announced

Congratulations to the three winners, chosen by our three panels of judges, and five additional entries that the judges wanted to acknowledge as highly commended.

Here is the press release announcing the results:

Fennell, McKenzie and Rendle win $10,000 each for Windows Phone 7 apps developers will love

Five others win $1,000 in competition sponsored by Red Gate Software

CAMBRIDGE, UK, May 5, 2011 – Richard Fennell, Simon McKenzie and Mark Rendle have won $10,000 each in Red Gate Software's competition for Microsoft Windows Phone 7 apps that developers will love. Five others received $1,000 awards from Red Gate.

The mandate for the competition was simple: Make a WP7 app that will impress fellow developers. Three panels of judges, aided by social media commentary, selected winners from more than 100 entries in the competition.

Compelling apps to go

Richard Fennell's TFS Build Status Monitor lets users keep tabs on their Team Foundation Server and create and edit work items while on the road. Judges loved the practicality of the app and said it showed creative thought about what would deliver the most value in the mobile environment.

Simon McKenzie's winning app, called MapSnap GPS, lets users turn any picture into a GPS-enabled portable map. Judges said the app "shows how a smartphone can enhance real-world experiences rather than distracting from them."

The Pocket C# app created by Mark Rendle gives C# developers the ability to code using a smartphone. While it doesn't replace software development on the desktop, judges called the app "a life-enhancing service for developers."

More winning apps

Winners of the $1,000 awards are:

Jason Doucette for Decimation X2, a retro shooter game;
Sergei Golubev for the marketplace-monitoring AppTracker;
Rudy Huyn for a design-rich RSS feed reader called Fuse;
Stuart Lodge for the Ruby language scripting app Iron7; and
Gergely Orosz for Cocktail Flow, a cocktail recipe app.

"We're delighted by the response from the .NET development community and thank Microsoft for its support in promoting and helping to judge the competition," says Neil Davidson, Red Gate's co-CEO. "The third ecosystem Microsoft is building provides a huge opportunity for .NET developers to use their skills to develop mobile tools that the community will love."
Source: http://wp7comp.posterous.com/red-gate-softwares-windows-phone-7-competitio
Decimation X2 trailer:
*$1,000 USD came to exactly 906.78 CAD.
About the Author: I am Matthew Doucette of Xona Games, an award-winning indie game studio that I founded with my twin brother. We make intensified arcade-style retro games. Our business, our games, our technology, and we as competitive gamers have won prestigious awards and received worldwide press. Our business has won $190,000 in contests. Our games have ranked from #1 in Canada to #1 in Japan, have become #1 best sellers in multiple countries, have won game contests, and have held 3 of the top 5 rated spots in Japan of all Xbox LIVE indie games. Our game engines have been awarded for technical excellence. And we, the developers, have placed #1 in competitive gaming competitions -- relating to the games we make. Read about our story, our awards, our games, and view our blog.