Xona Games: Featured in Chronicle Herald
Monday, May 30, 2011
By: Matthew Doucette
Xona Games featured in the Chronicle Herald business section (again), article titled, "Game plan":
Game plan
Yarmouth brothers are finding success in 'huge' niche market for their retro video games
By MARTHA WILSON | Thriving in tough times
Mon, May 30 - 4:54 AM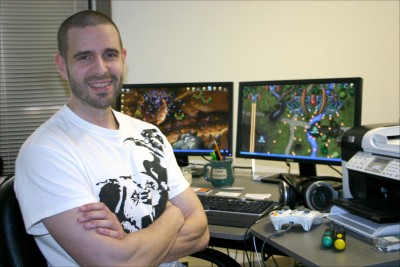 Matthew Doucette in his Yarmouth production studio (BRIAN MEDEL / Yarmouth Bureau)

OF ALL THE nifty-sounding ways of making money (flying planes, winning an Idol competition, prospecting for gold), creating new games would rank near the top.

Yarmouth-based Xona Games, founded by brothers Matthew and Jason Doucette, has created a stir in the gaming industry. Their company has an interesting niche: retro games, which, as Matthew explains, have "a nostalgic feel."

He says, "Our games create this feeling because they are part of a genre born 30 years ago, the 'shoot 'em up' genre, which is basically 2-D spaceship shooter games." Xona's twist has been to amp up the intensity level and graphics of the genre.

Game development is done in-house, with everything except the music done internally. According to Matthew Doucette, "The retro gaming niche is huge, and will likely always be huge because these game play concepts are tried and proven and matured. In the same breath, I have to say that there's a lot of indie developers trying to make their mark in it, so unless you are one of the top games out of literally thousands, you will not be noticed."

He says he's unaware of any other Canadian game studios that share Xona's focus on developing retro games, but adds that there are probably studios in this country that are creating some. Frequently, he points out, you buy and play a game without knowing where it was created.

Xona's games are proven winners, racking up multiple awards and landing on bestseller lists worldwide. In fact, the global nature of their business model is what makes it possible for the company to be based in Yarmouth.

Doucette explains their game distribution: "We sell them via Xbox LIVE, which is Microsoft's digital distribution service on the Xbox 360 and Windows Phone 7. This is without a publisher. So there's the developer, us, and the distributor, Microsoft."

He adds, "It's a global marketplace with global competition, so locations are almost meaningless to us. It never enters the equation."

Eric Crowell, director of the Saint Mary's University Business Development Centre, says this is a striking example of the ways Nova Scotian entrepreneurs can use technology to reach customers around the world.

"By setting up their company in a way that allows them to operate essentially outside geographic restrictions, they are able to create the lifestyle they want," Crowell says. "They get to live in the city of their choice. This is something that's very attractive to many entrepreneurs. For people in Atlantic Canada, it's really helpful to be aware of new business models, new distribution channels, and new approaches, since these can have a tremendous effect on decisions you make going forward."

Crowell suggests looking at the leaders in your own industry as well as in similar fields to see how different businesses are approaching geographic challenges. "Ask yourself, 'Is that something that could work here? Do you really need to be in the United States, or Toronto, or even Halifax? What can the Internet do to offset any downside and connect you to people you need to reach?'"

Watch for changes, too, Crowell says. "We will see more changes going forward, as new services and new models keep springing up. So it's a topic to keep an eye on. No doubt, there are lots of fresh approaches still to come."

Thriving in Tough Times is a series developed by the Saint Mary's University Business Development Centre in Halifax.

- http://www.thechronicleherald.ca/Business/1245958.html
Thanks to Martha Wilson for interviewing and featuring us!
About the Author: I am Matthew Doucette of Xona Games, an award-winning indie game studio that I founded with my twin brother. We make intensified arcade-style retro games. Our business, our games, our technology, and we as competitive gamers have won prestigious awards and received worldwide press. Our business has won $190,000 in contests. Our games have ranked from #1 in Canada to #1 in Japan, have become #1 best sellers in multiple countries, have won game contests, and have held 3 of the top 5 rated spots in Japan of all Xbox LIVE indie games. Our game engines have been awarded for technical excellence. And we, the developers, have placed #1 in competitive gaming competitions -- relating to the games we make. Read about our story, our awards, our games, and view our blog.