Are Games Art? It Doesn't Matter
Thursday, December 6, 2012
By: Matthew Doucette
Are games art?
Here Kevin Hartford interview us, and others from Nova Scotia, Canada, on whether or not games are consider art.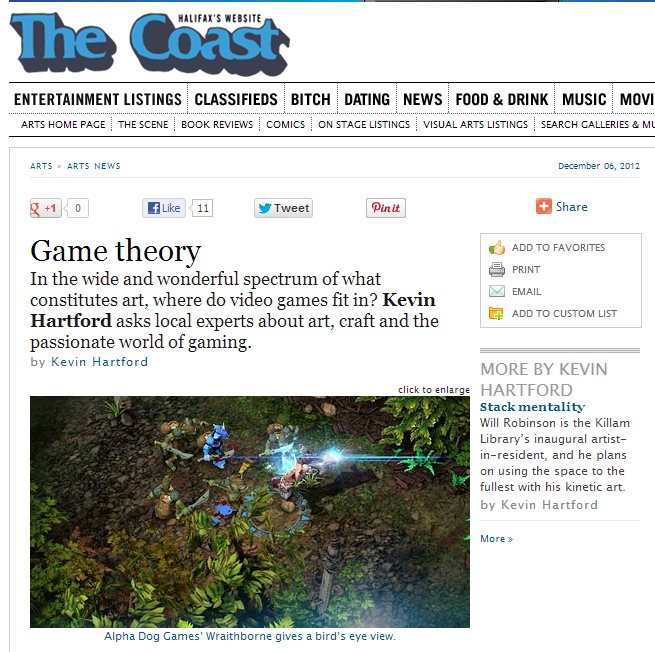 Xona Games interviewed by The Coast on whether or not games are art.
Here's some quotes:
Matthew Doucette, game producer at Yarmouth-based Xona Games, says the games-as-art question is "truly a concern for the critics only. The answer is yes, but that answer is irrelevant in the sense that we spend absolutely no time figuring out or caring which way it is."
A good friend of ours, Jeff Cameron, spoke up:
"If you play them and have an inclusive definition of what art is, you probably think they are art," says Jeff Cameron, tech director for Bedford company Alpha Dog Games. "If you don't play them or restrict your definition of art to things like paintings and sculpture, you probably don't think they qualify."
"It's nothing to get too wound up about," says Jeff Cameron. "I'm more concerned with making cool entertainment for people who love games."
Full story: http://www.thecoast.ca/halifax/game-theory/Content?oid=3507149
About the Author: I am Matthew Doucette of Xona Games, an award-winning indie game studio that I founded with my twin brother. We make intensified arcade-style retro games. Our business, our games, our technology, and we as competitive gamers have won prestigious awards and received worldwide press. Our business has won $190,000 in contests. Our games have ranked from #1 in Canada to #1 in Japan, have become #1 best sellers in multiple countries, have won game contests, and have held 3 of the top 5 rated spots in Japan of all Xbox LIVE indie games. Our game engines have been awarded for technical excellence. And we, the developers, have placed #1 in competitive gaming competitions -- relating to the games we make. Read about our story, our awards, our games, and view our blog.