Score Rush: Top 3 Pick by Microsoft Japan
Tuesday, October 1, 2013
By: Matthew Doucette
Each month, Microsoft Japan picks top three Xbox LIVE Indie Games. In the month of October 2013, Score Rush gained this honor!
The promotion is titled, "This Month's Recommendation" and is exclusive to games in the "best selling all-time" list. It is interesting to note that our games would be even higher on this list had we not been hacked twice, where we had three of the top five games in Japan hacked out of submission. Microsoft did not reverse the hacked ratings. (Shame on you Microsoft. It serves neither of us proper, nor does it help our relationship, to have to continually mention this example each time we speak about one of our most proud accomplishments.)
Since I do not own an Japanese Xbox 360, I cannot show you screenshots of the promotion there. UPDATE: I received a screenshot from a Japanese Xbox 360: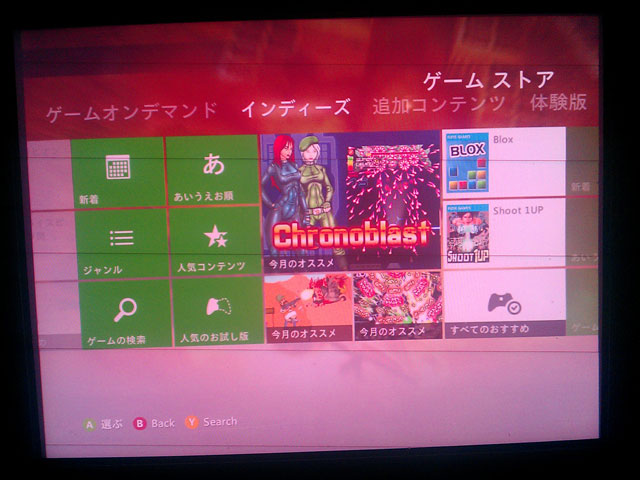 Microsoft Japan's "This Month's Recommendation" promotion on the Xbox 360 dashboard.
Here is the promotion as it exists on xbox.com/ja-JP, Japan's version of xbox.com: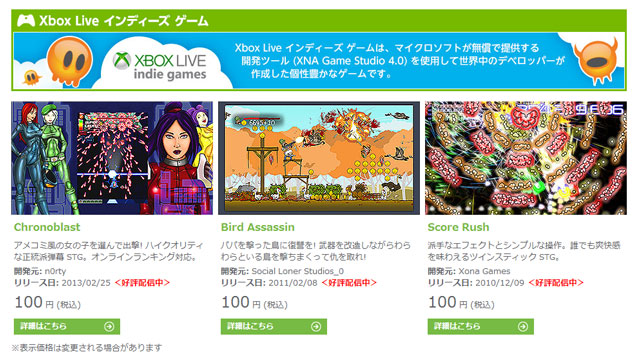 Source: xbox.com/ja-JP/live/recommend/downloadcontents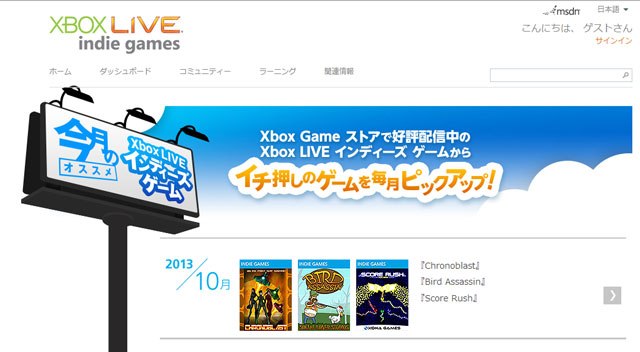 Source: xbox.create.msdn.com/ja-jp/home/about/monthly_recommend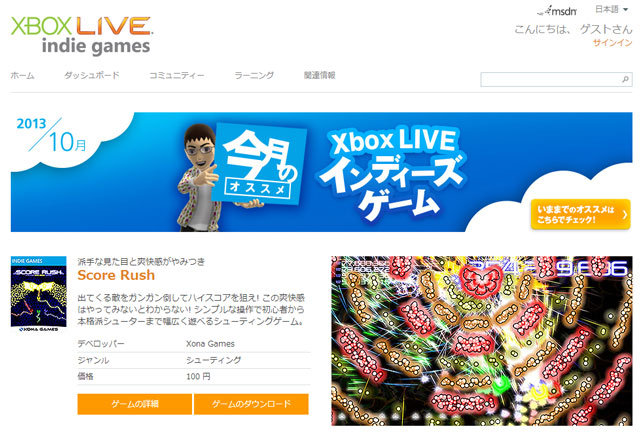 Source: xbox.create.msdn.com/ja-jp/home/about/monthly_recommend_Oct2013
Still getting love from Japan! :)
Also featured in the promotion was Chronoblast by our friend N0rty Games.
About the Author: I am Matthew Doucette of Xona Games, an award-winning indie game studio that I founded with my twin brother. We make intensified arcade-style retro games. Our business, our games, our technology, and we as competitive gamers have won prestigious awards and received worldwide press. Our business has won $190,000 in contests. Our games have ranked from #1 in Canada to #1 in Japan, have become #1 best sellers in multiple countries, have won game contests, and have held 3 of the top 5 rated spots in Japan of all Xbox LIVE indie games. Our game engines have been awarded for technical excellence. And we, the developers, have placed #1 in competitive gaming competitions -- relating to the games we make. Read about our story, our awards, our games, and view our blog.