Score Rush: Featured in Total Miner!
Wednesday, August 19, 2015
By: Matthew Doucette
Our Score Rush has been featured in Total Miner: Forge (Xbox; Twitter) as an Easter egg!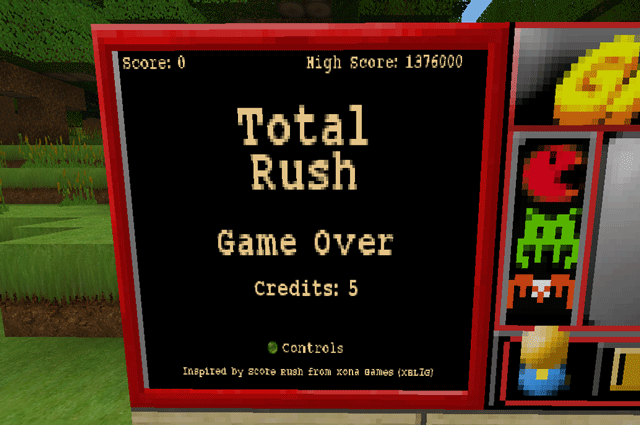 "Total Rush", inspired by Score Rush, inside Total Miner.
Here's the tweet that let us know: https://twitter.com/TotalMiner/status/633896778203426816.
More Easter Eggs!
This marks our third feature as an Easter egg. We were also featured in Serious Sam Double D XXL (XBLA) and Game Type (XBLIG).
That is all!
About the Author: I am Matthew Doucette of Xona Games, an award-winning indie game studio that I founded with my twin brother. We make intensified arcade-style retro games. Our business, our games, our technology, and we as competitive gamers have won prestigious awards and received worldwide press. Our business has won $190,000 in contests. Our games have ranked from #1 in Canada to #1 in Japan, have become #1 best sellers in multiple countries, have won game contests, and have held 3 of the top 5 rated spots in Japan of all Xbox LIVE indie games. Our game engines have been awarded for technical excellence. And we, the developers, have placed #1 in competitive gaming competitions -- relating to the games we make. Read about our story, our awards, our games, and view our blog.