Matthew Doucette Pitching Xona Games at Invest Atlantic
Wednesday, September 23, 2015
By: Matthew Doucette


Invest Atlantic, Atlantic Canada's largest networking event for startups, entrepreneurs, and investors.
Matthew Doucette will be pitching Xona Games in 60 seconds at Invest Atlantic next week. Not much more to say than this. If you would like to attend, register here. Invest Atlantic is Atlantic Canada's largest networking event for startups, entrepreneurs, and investors. The list of pitchers has been posted, and I see some interesting ideas already.
I see a friend of mine, Iaian Archibald, is pitching his new startup, Swell Advantage, which produces a boating app that helps marine navigation and social networking. Designed for recreational boaters, it allows you to see your friends on the water, while hiding your location when you're on land.
Here is the full list:
Pitch101
Exodo – Alessia Bosatra
Xona Games Inc. – Matthew Doucette
BuyMyLemonade.com – Guy Shaham
Agile Sensor Technologies Inc. – Brian Terry
Lux Wind Turbines Inc. – Sean Marsden
Site 2020 – Mitchell Hollohan
Pet Konekt – Justin Javorek
Patchell Brook Equity Analytics Inc. – Chris Purves
Force 3 Innovations – Shawn Leger
Let's Book Swap – Stephanie Fitzner
Valjean – Sabina Wex
bacdrop – Ryan Hartigan
Pitch201
Indigena Skincare – Lisa Walsh
Spring Loaded Technology – Chris Cowper-Smith
Marathon Fluid Systems Ltd. – Karim Bhibah
QRA Corp. – Adam Anshan
NeuroQuest Inc. – Robert Cervelli
EMO Marine Technologies Ltd. – Tom Knox
Swell Advantage Ltd. – Iaian Archibald
Fundmetric – Mark Hobbs
Pitch301
Kredl's Corner Market / Driver Dave's Inc – Dave Wolpin
Marathon Fluid Systems Ltd. – Karim Bhibah
reLiSH Gourmet Burgers – Rivers Corbett
Source: http://www.investatlantic.ca/the-pitchers/
2015-OCT-09 Update:
Here's a pic!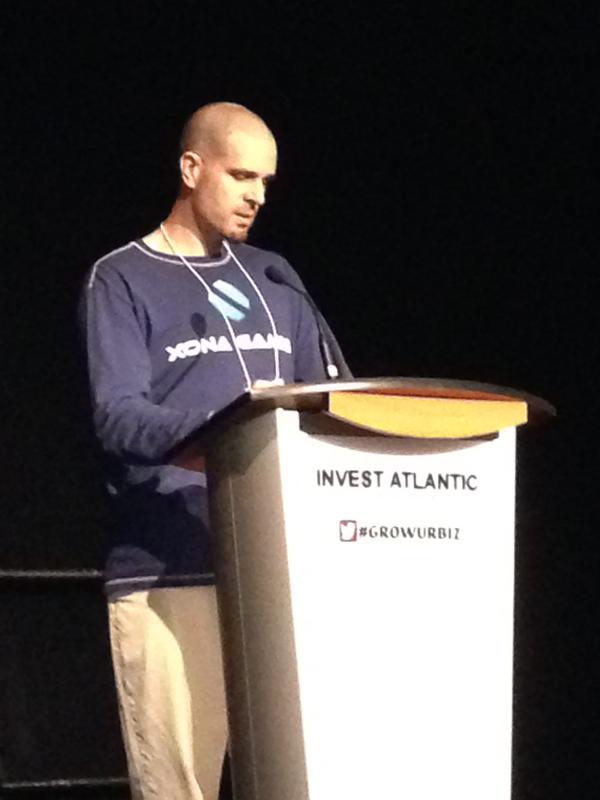 Matthew Doucette pitching Xona Games at Invest Atlantic.
Source: https://twitter.com/Invest_Atlantic/status/648901019414474752
That is all!
About the Author: I am Matthew Doucette of Xona Games, an award-winning indie game studio that I founded with my twin brother. We make intensified arcade-style retro games. Our business, our games, our technology, and we as competitive gamers have won prestigious awards and received worldwide press. Our business has won $190,000 in contests. Our games have ranked from #1 in Canada to #1 in Japan, have become #1 best sellers in multiple countries, have won game contests, and have held 3 of the top 5 rated spots in Japan of all Xbox LIVE indie games. Our game engines have been awarded for technical excellence. And we, the developers, have placed #1 in competitive gaming competitions -- relating to the games we make. Read about our story, our awards, our games, and view our blog.