Xona Games: Featured in Yarmouth Vanguard
Wednesday, June 8, 2016
By: Matthew Doucette
Thanks to Tina Comeau for yet again featuring our studios work in our local paper, the Yarmouth County Vanguard.


Yarmouth County Vanguard features Xona Games.
Here is the article in full:
Yarmouth game developer excited about Xona Games' PS4 release

Tina Comeau
Published on June 08, 2016



Published on June 07, 2016
Yarmouth resident Matthew Doucette of Xona Games sits next to a screen showing the company's latest game, Score Rush Extended, which was released on the PS4 platform last week.
TINA COMEAU PHOTO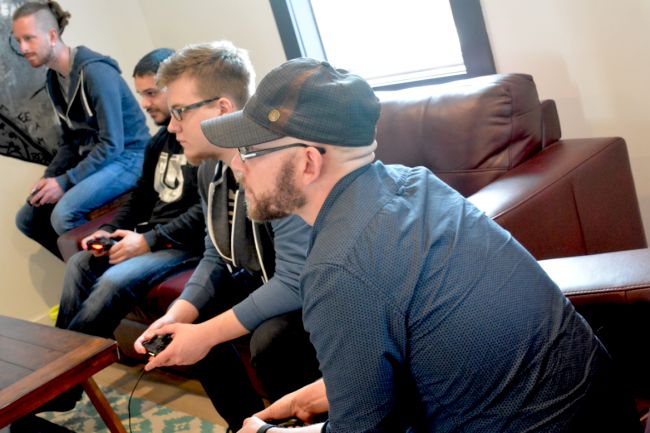 Published on June 08, 2016
Friends gather to play Score Rush Extended in Yarmouth on the day of its PS4 release in Europe.
TINA COMEAU PHOTO

YARMOUTH – On Thursday evening, June 2, many of Matthew Doucette's friends gathered to at The Hub in Yarmouth to play Score Rush Extended, a game developed by Doucette's company Xona Games.

What made this evening even more unique and exciting is on this same day the game was released on PS4 in Europe, after two days earlier, on May 31, having been released on PS4 in North America. The game will also be released in other parts of the world once language translations have been made.

"It's like we're not just marketing the game, we're marketing the company too," Doucette says, who formed Xona Games with his twin brother Jason. "It's the biggest release we've had."

Doucette was invited to post an announcement about the game on the playstation.com blog. You can read it here.

Doucette says Score Rush Extended is a sequel to arcade-style Score Rush, which is an Xbox 360 title Xona Games released years ago.

"It was an experimental game that became #1 in Japan in sales and ratings. Fans requested it be ported to various different platforms and Sony invited us to launch on PS4," he says.

The development of the game for Play Station 4 took two years. And even though Xona Games had released games before, this one is considered the Yarmouth-based company's first "real" release.

"It is the first release that will not be segregated away from the top games on the platform," Doucette says. "It will release directly into the same marketplace as every other PS4 title, including access to all PS4 features. So, this is our first console release with unlockable trophies and online scoreboards. We even play sound effects out of the PS4 controllers and change their color according to gameplay."

Whereas before when Xona Games released games on other game consoles and there was a segregation of smaller indie games elsewhere on the site, Doucette says when Score Rush Extended was released it showed up on PS4 alongside some of the largest and most popular games.

"The biggest game of the year on Play Station is Unchartered 4 and my game was right next to it," he says.

People can purchase the game right on the Play Station store or through playstation.com. There is also a link on xona.com.

Doucette sees this PS4 release as a real turning point for Xona Games.

"This release will define Xona Games. Either this title will succeed or it will not," he says.

"If it succeeds we can multiply this success via other platforms (Xbox One, PC, etc.) and other games (our Decimation X series, Duality, etc.)," he explains. "This is one of the reasons there is little middle ground for gaming studios. They tend to fail or succeed amazingly. Where we fall is up to the market."

Doucette still laughs when he thinks back to a university professor that told him and brother Jason that they were, in effect, wasting their time, talents and smarts on developing video games, something the brothers had been doing since the age of seven.

A lot of their learning has since been done in the so-called real world.

"The state of the gaming industry is always changing. An intriguing part is that the industry will change by the time you start developing your game to the time you release it," Matthew says. "It is just the way it is. However, people still like good games. We hope our games are good enough for the market to enjoy."
That is all!
About the Author: I am Matthew Doucette of Xona Games, an award-winning indie game studio that I founded with my twin brother. We make intensified arcade-style retro games. Our business, our games, our technology, and we as competitive gamers have won prestigious awards and received worldwide press. Our business has won $190,000 in contests. Our games have ranked from #1 in Canada to #1 in Japan, have become #1 best sellers in multiple countries, have won game contests, and have held 3 of the top 5 rated spots in Japan of all Xbox LIVE indie games. Our game engines have been awarded for technical excellence. And we, the developers, have placed #1 in competitive gaming competitions -- relating to the games we make. Read about our story, our awards, our games, and view our blog.