Score Rush Extended: 80% on GameSpew
Thursday, June 9, 2016
By: Matthew Doucette


GameSpew reviewed Score Rush Extended.
Westy of GameSpew reviewed Score Rush Extended and rated it 8 out of 10!
Here is his full review:
SCORE RUSH EXTENDED REVIEW

WESTY x 9 JUNE 2016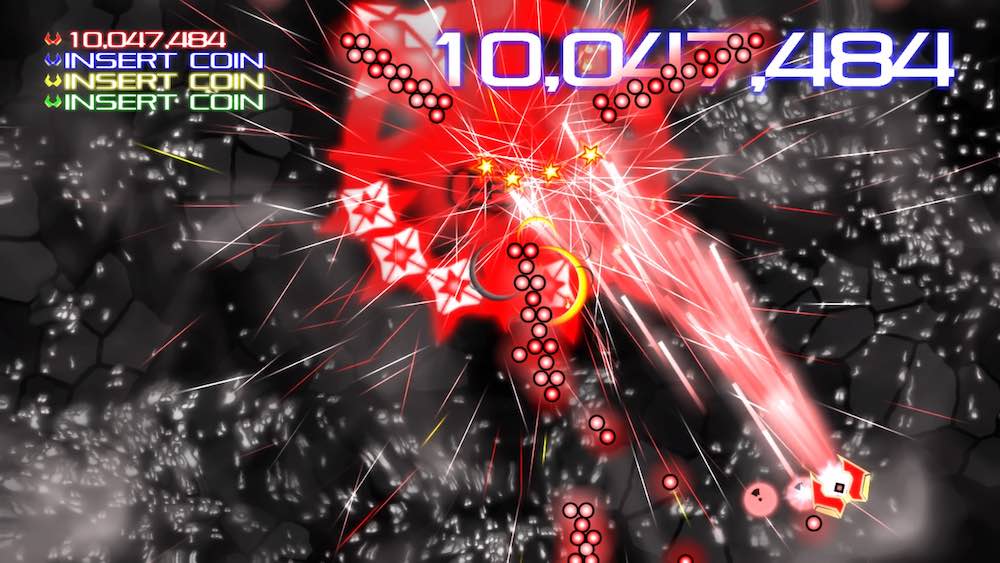 Score Rush seeks to be a fundamentally pure shoot'em up, the forefather to the FPS genre, in a game that tests your ability to multitask as you dodge, fly and shoot your way to glory.

Score Rush Extended, brought to us by developers Xona Games, identifies itself as an "intensified arcade-style" game – with plenty of emphasis on intensified. This is very clearly a shoot'em up, or "shmup" as Score Rush uses. There's no aiming device beyond "point and shoot" and the game strategy revolves around the principle of movement keeping you alive. You move with the left stick and shoot with the right, having three additional bombs that clear the screen and an unlimited bullet-time effect that slows gameplay enough for you to move out of game-ending scenarios, but not enough to slow the pacing. You have three lives regardless of what game mode you're playing, which will either be Score Rush – hence the name – or Boss Rush, both with single and multiplayer options.

"Score Rush Extended is awash with an arcade stylisation, down to the 'insert coin' flashing for multiplayers, the retro sound effects and the colour palette"

Going back to the "arcade style" described, Score Rush Extended is awash with an arcade stylisation, down to the "insert coin" flashing for multiplayers, the retro sound effects and the colour palette. Speaking of colours, not only is the game the closest you'll ever get to a fireworks display, it's so vibrant it lights up your face, the room and probably even the night sky. Score Rush is fantastically colourful, with options to customise the colours! It even comes with a soundtrack by Dragon Music, who also did the OSTs for Seeders and the Trailer Park King game series. The wailing guitars and rapid drum beats do get you in the mood for the fast nature of the game, plus you have the option to turn the music up to 200% – although the electro-rock sounds won't be for everyone. You also get noises coming out of the speaker on the controllers from collecting powerups and… dying. The sounds fit the classic feel of an arcade game but are much crisper in quality. It made a nice change to have these powerup sound effects coming through the controller.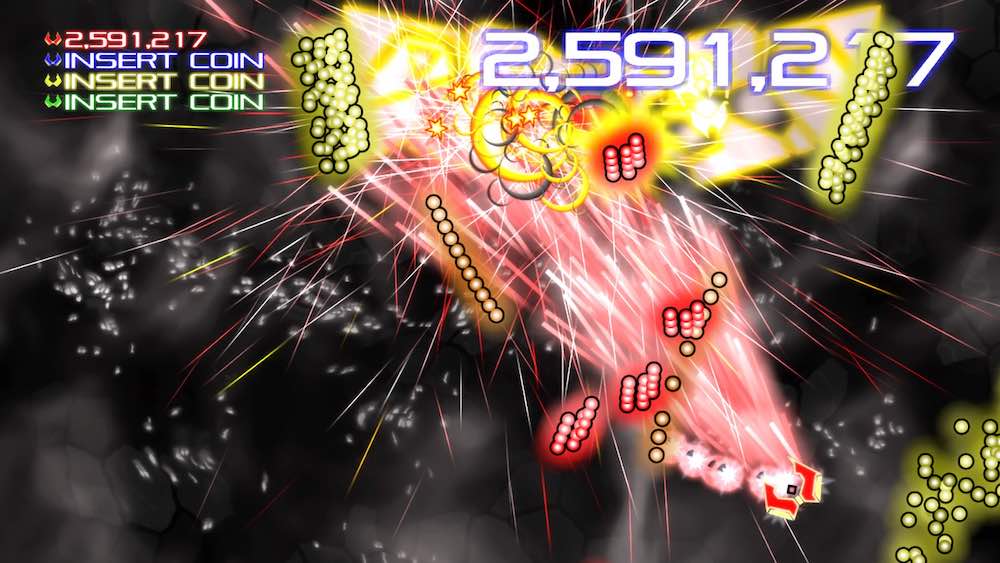 Whilst perhaps unknown to most, this is in fact the latest instalment in the Score Rush series, but the first to be available on the PS4. Originally starting way back in December 2010 on the Xbox 360, the original Score Rush has been #1 in Japan on the XBLIG chart, and ranked second in both the US and Canada. Play the game, and it's quite easy to see why. As noted earlier, there's two game modes: "Score Rush" is the game's version of a campaign where you defeat wave after wave of increasingly more powerful enemies, broken up by bosses with no saving in between. There's eight bosses in total, which might not sound like much, but it's enough given the game's intense pacing. Powerups become invaluable, with some increasing your rate of fire and damage and others giving you 'Orbs' that cannot be destroyed themselves but can fire upon enemies. In "Boss Rush", the same eight bosses aren't just plucked from the normal levels, they're actually harder to beat. Even the first pair you come across have an increased rate of fire and a (seemingly) larger health bar. There's just as many powerups up for grabs, and a scattering of low-level enemies to keep you wary.

"Thanks to the dual-stick system, movement is constantly fluid and you can pull off some wonderful dodges using the slow-motion ability"

Thanks to the dual-stick system, movement is constantly fluid and you can pull off some wonderful dodges using the slow-motion ability or just by keeping your eyes peeled. You'll never lose where you are either, mainly because the amount of firepower you can pack is bewildering, but also because you're never completely obscured form view. When it comes to firepower, the faster your rate of fire gets, the faster your score accumulates, but at the cost of faster enemies and quicker spawn times – so in the later levels you'll almost need eyes that can move independently. Having said that, the difficulty of the game is well balanced throughout, although respawning back in in the later stages can put you on the backfoot, but any powerups lost though death will be picked up again on the next life, thanks in part to them gravitating towards you. Even in multiplayer, you cannot steal powerups, so if you score it, it's yours. Score Rush makes multiplayer co-operative instead competitive.

Score Rush Extended might not put a lot on the table with only two game modes, but in the end it doesn't matter. Thanks to its ultra-colourful, fast-paced, high-octane action, this is a game you'll find hard to put down, playing to constantly beat your old score. And if you have a few friends around, make sure you try out the four player split-screen; it'll be one of the best gaming experiences you'll ever have… once you've all had new eyeballs.

SCORE RUSH EXTENDED IS AVAILABLE ON PS4.

SCORE RUSH EXTENDED REVIEW

- Fantastic styling
- Heaps of replayability
- Brilliant local multiplayer
- Repetitive soundtrack

8 Overall Score
That is all!
About the Author: I am Matthew Doucette of Xona Games, an award-winning indie game studio that I founded with my twin brother. We make intensified arcade-style retro games. Our business, our games, our technology, and we as competitive gamers have won prestigious awards and received worldwide press. Our business has won $190,000 in contests. Our games have ranked from #1 in Canada to #1 in Japan, have become #1 best sellers in multiple countries, have won game contests, and have held 3 of the top 5 rated spots in Japan of all Xbox LIVE indie games. Our game engines have been awarded for technical excellence. And we, the developers, have placed #1 in competitive gaming competitions -- relating to the games we make. Read about our story, our awards, our games, and view our blog.