Rehabilitation: Our Global Game Jam 2020 Entry
Wednesday, February 5, 2020
By: Matthew Doucette
Just a short blog post introducing Rehabilitation, our Global Game Jam 2020 entry!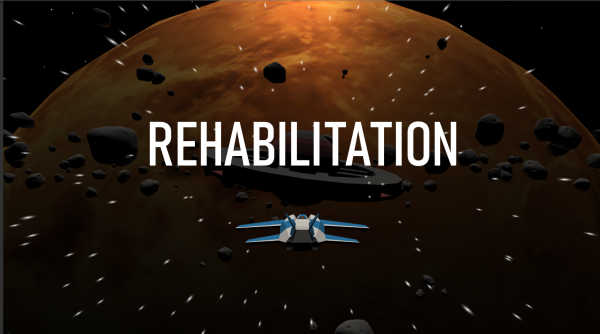 Rehabilitation, our Global Game Jam 2020 entry.
Global Game Jam 2020 Recap:
This was my most educational game jam in a long time. I worked in a team of 6. The other 5 were all NSCC Game Development students or alumni. One of them, Myke Wills, just released his first game on steam today: Devastation - Annihilate the Alien Race. I learned so much from working on a large team. The largest team I have worked on so far. I believe game jams to be among the best things you can do to learn how to make games -- because you are actually making a game. The key piece that we did was to assign responsibilities to our roles and to have a project manager.
Team Rehab:
Lead Responsibilities:
Additional Responsibilities:
Sound Designers: Esam Mahmoud-Ahmed + Myke Wills + Matthew Doucette
Musician: Myke Wills
See Also:
See our other game prototypes, including other game jam games.
That is all.
About the Author: I am Matthew Doucette of Xona Games, an award-winning indie game studio that I founded with my twin brother. We make intensified arcade-style retro games. Our business, our games, our technology, and we as competitive gamers have won prestigious awards and received worldwide press. Our business has won $190,000 in contests. Our games have ranked from #1 in Canada to #1 in Japan, have become #1 best sellers in multiple countries, have won game contests, and have held 3 of the top 5 rated spots in Japan of all Xbox LIVE indie games. Our game engines have been awarded for technical excellence. And we, the developers, have placed #1 in competitive gaming competitions -- relating to the games we make. Read about our story, our awards, our games, and view our blog.