Hal-Con 2022
Sunday, November 6, 2022
By: Matthew Doucette
It's been a long time since Xona Games has had a physical presence at a game conference. Last weekend, we made it to Hal-Con 2022! It lasted for three days, from Oct. 28-30, 2022.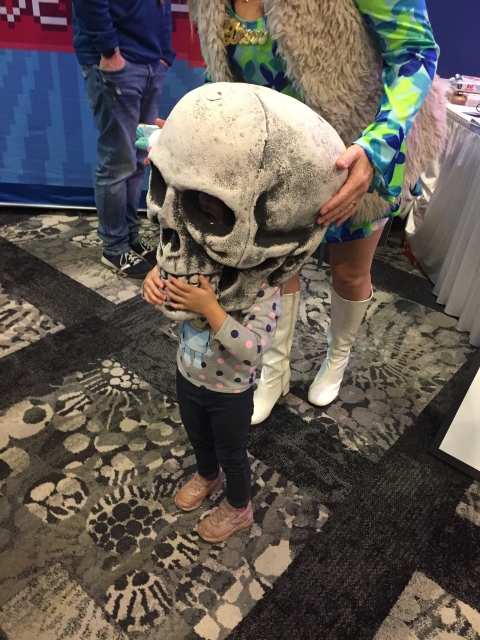 One cute Hal-Con'er, testing out Crystal Marshall's costume.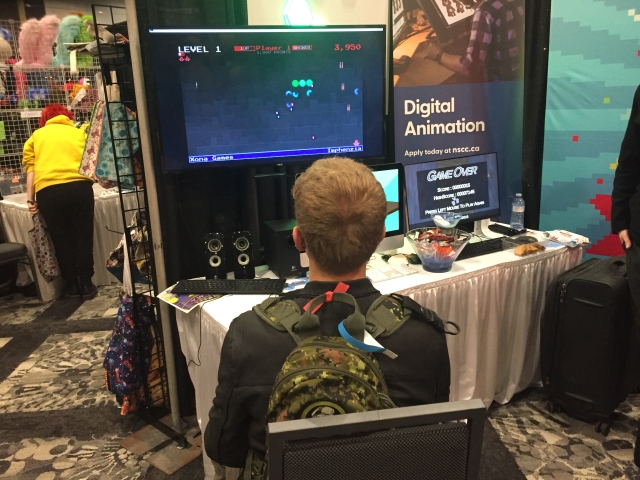 Tyler Kasper testing out Decimation X3.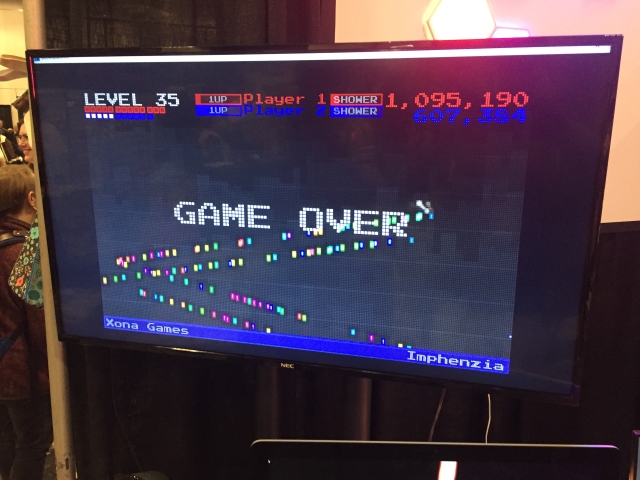 End reuslts of 2-Player Decimation X3.
This game still kicks ass.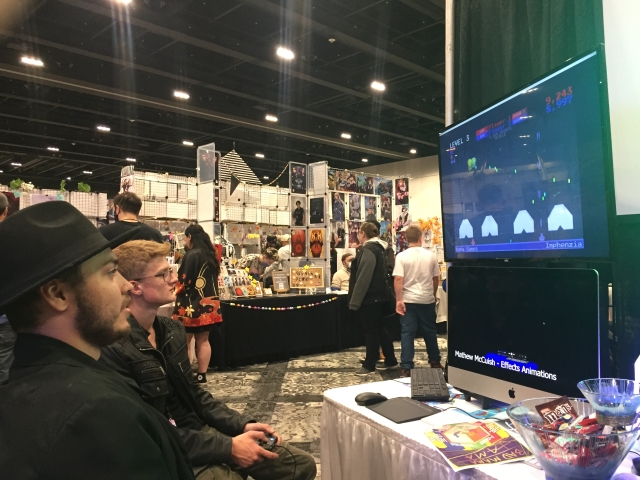 Tyler Kasper and Tobias Gagnon playing Decimation X3.
This is the most fun they had at Hal-Con 2022 for sure. :)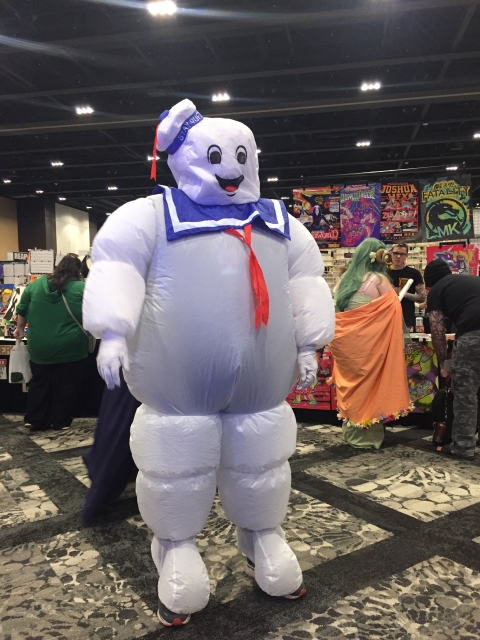 Stay Puft Marshmallow Man aka Mr. Stay-Puft.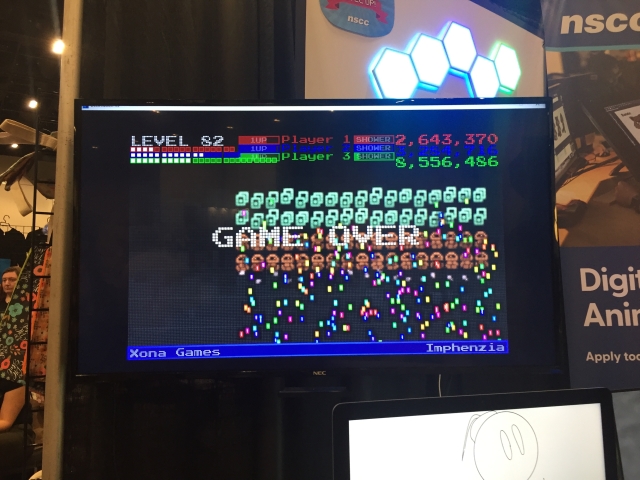 3-Player Decimation X3 end results.

3-Player Decimation X3 scores taking over the local leaderboards.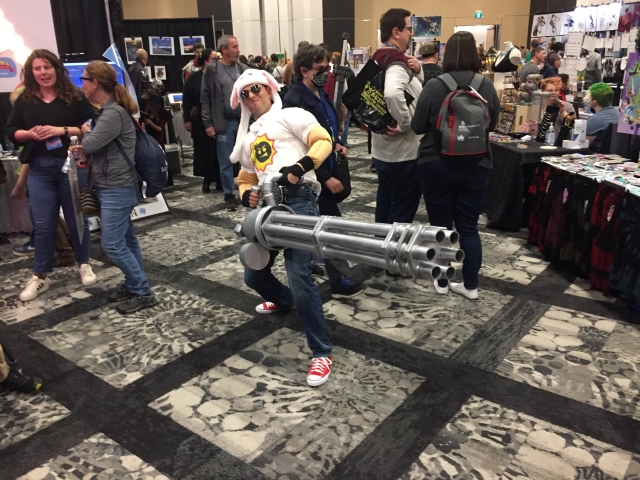 John Laska aka Serious Sam with an XM214-A Minigun!!!
My favourite Hal-Con costume of all time!
See more of his work at: instagram.com/cafeoctanecosplay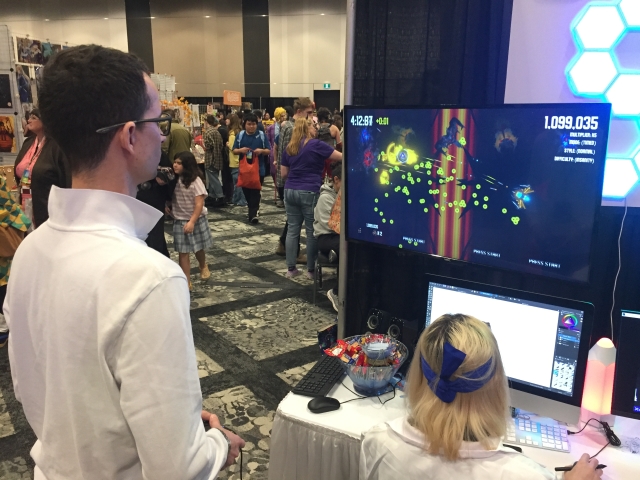 Myke Wills of Enfenxy Gaming demonstrating his first game release:
Devastation - Annihilate the Alien Race.
There was a fan who play through the entire game three times in a row!
P.S. It was inspired by our own Score Rush series.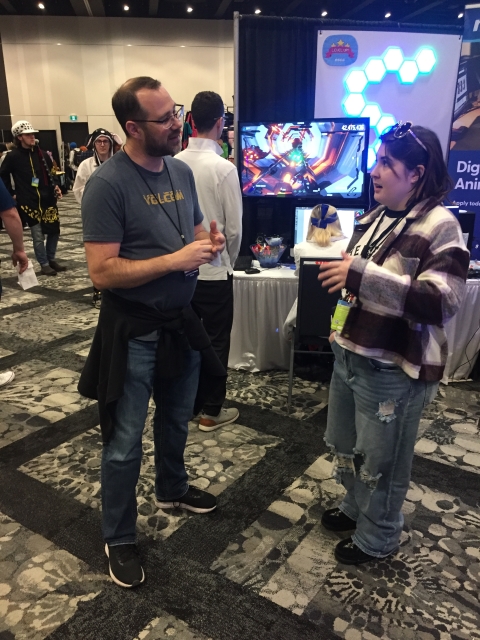 Sam Robichaud and Abby Evans, discussing very cool things.
Background: Myke Wills of Enfenxy Gaming
demonstrating his second game release: Devastation 2 - Repatriation.
Decimation X3 Videos:

Decimation X3 gameplay at Hal-Con 2022!
The Booth:
The NSCC booth represents Game Development and Digital Animation programs. Game Development is further composed by Game Programming and Game Art programs starting Sept. 2023! The booth showcases program content, student work, and faculty work. It is via the showcasing of faculty work that Xona Games receives a small piece of this booth.
Special Thanks:
Much thanks to John Laska for the design, setup, and teardown of our Hal-Con booth!
That is all!
About the Author: I am Matthew Doucette of Xona Games, an award-winning indie game studio that I founded with my twin brother. We make intensified arcade-style retro games. Our business, our games, our technology, and we as competitive gamers have won prestigious awards and received worldwide press. Our business has won $190,000 in contests. Our games have ranked from #1 in Canada to #1 in Japan, have become #1 best sellers in multiple countries, have won game contests, and have held 3 of the top 5 rated spots in Japan of all Xbox LIVE indie games. Our game engines have been awarded for technical excellence. And we, the developers, have placed #1 in competitive gaming competitions -- relating to the games we make. Read about our story, our awards, our games, and view our blog.