2008 Saturn Sky Redline
Friday, August 31, 2012
By: Jason Doucette
(For all cars, visit Our Cars.)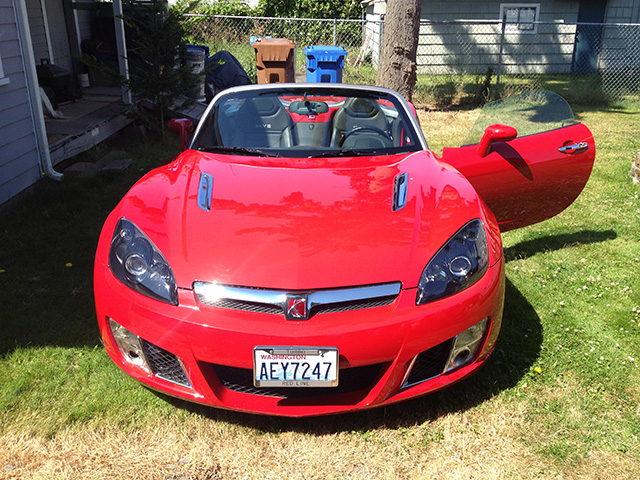 Jason's 2008 Saturn Sky Redline

At Bell Neck.

Description:
2008 Saturn Sky Red Line.
Rear-wheel drive, 5-speed manual, 2-seater roadster. Weighs 2,940 lbs, with an inline-4, 2.0L turbocharged engine making 260 hp / 260 ft-lbs of torque. 0-60 mph in 5.2 seconds.
The Saturn Sky Red Line is identical to the Opel GT Roadster in every way except for badging. It uses the GM Kappa platform which is shared with the Pontiac Solstice, but has an improved exterior design (based on the Vauxhall VX Lightning Concept) and suspension. Only ~34,000 Skys have been made; a small percentage of them are Red Lines.
I fell in love with the Opel Speedster and Vauxhall VX220 (based on the Lotus Elise) in a Need For Speed video game. The Opel GT Roadster / Saturn Sky Red Line is their successor: more power: 197 hp to 260 hp, but heavier: 2,050 lbs to 2,940 lbs, and a lower top speed: 150 mph (242 kph) to 141 mph (227 kph).
My Sky only has 19,000 miles on it, with two prior owners that took exceptional care. It was kept it in a garage with a custom cover, and waxed every few months. It is super fun to drive, even with the terrible traffic in Seattle. Luckily, the country roads aren't too far away.
Modifications:
Modifications include:
DDM Works:
DDM Works: Kappa-Brace Bundle ($639.00)

Pro-Beam
Backbone Brace (Race/Track ½") ($85.00)
Cross Bay Brace (Red)
Power Steering Relocation kit ($199.00)

DDM Works: Kappa-Z0K Sway Bar Solstice/Sky FE3 ZOk Sway Bar Package ($349.00)
Solstice/Sky KW Variant 1 Coilovers ($1300.00)
Strictly Aftermarket:
Roadster Wind Restrictor Ver.2, Etched, Lit up, Custom Laser Artwork (autobot symbol), Red ($286.00), with Universal Remote on/Off kit.
SKY LIGHTED DOOR SILLS, Custom Logo (SKYFIRE), Red ($264.00)
SKY Logo Door Lights, Logo (autobot symbol), ($150.00)
SKY Fender Light Kits, Single Color, RED ($59.00)
Side Marker Turn Signal Kit ($65.00)
Scanning Third Brake Light Module, Lens Color: Red ($85.00)
It actually cost more than the above, since I had to pay for shipping, and installation charges, and alignment charges. But all in all, this isn't terribly expensive... considering I could've gotten a lot better coilovers for $3,000+ instead of just $1,300, which is pretty much the price of all of this.
Trifecta Tune:
260 hp -> 330/340 hp
260 ft-lbs -> 400/410 ft-lbs
Source: https://www.trifectaperformance.com/forums/page/index.html
"The GMPP gave the car the added torque and grunt it feels like it should have had stock and the boost at near sea level for me rose from around 12-14psi to 16-18psi. The Trifecta tune pushed the car a good solid chunk higher by bringing the boost up to 22-26psi and gives the car a much larger punch and really puts you in your seat. Where the GMPP brought you to just below a C5 Corvettes performance, the Trifecta pushes you right past a stock C6. The car is a whole new beast with the Trifecta and it is fully worth every penny. Next up is the E85 upgrade which is held as the same size of performance step over the normal Trifecta as it was going from stock to the Trifecta. Looking forward to it." - https://www.trifectaperformance.com/forums/store/product/629-2007-2009-saturn-sky-20l-turbo/
GMPP = the normal tune you get from Saturn.
More Pics: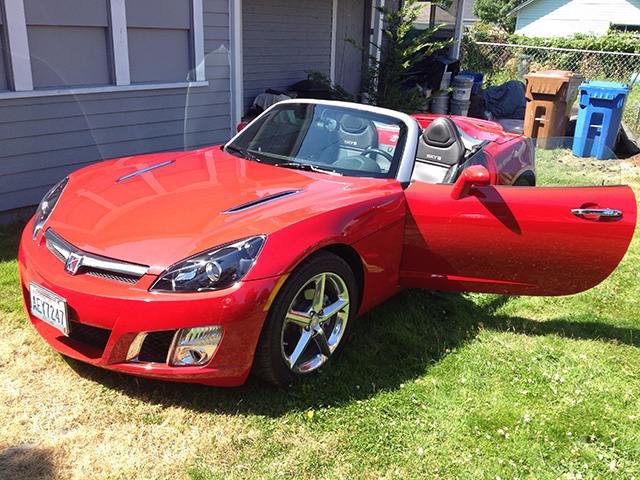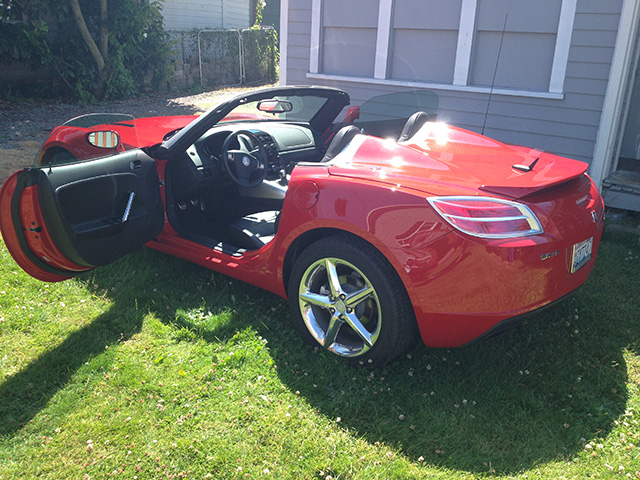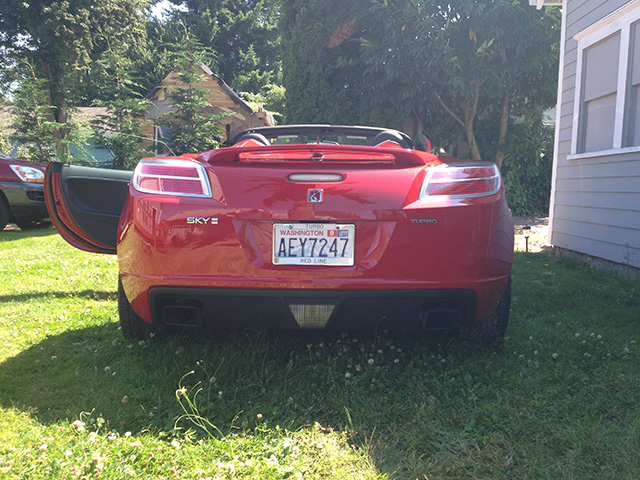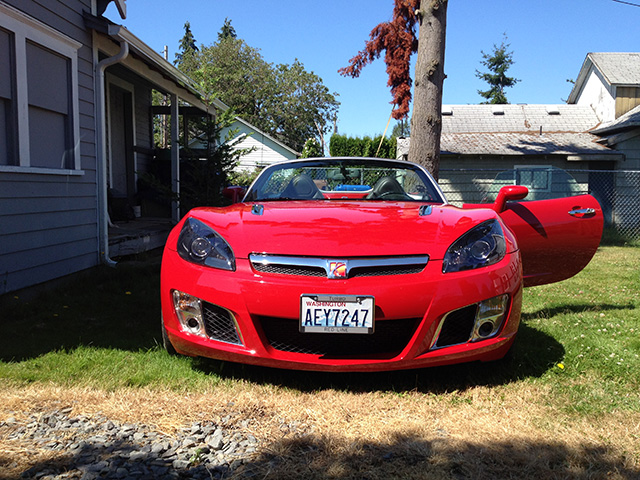 Vanity Plate: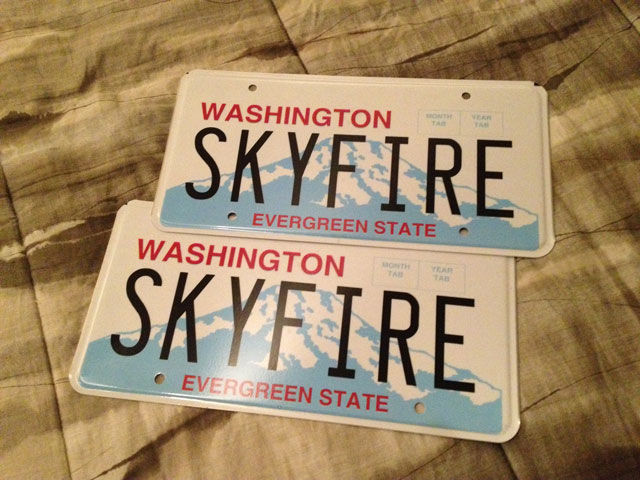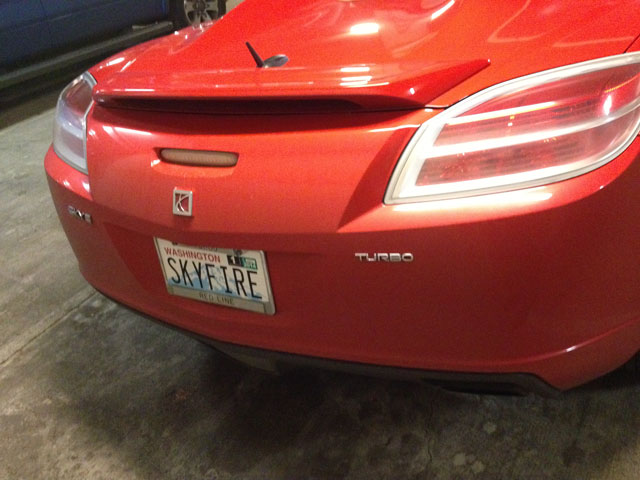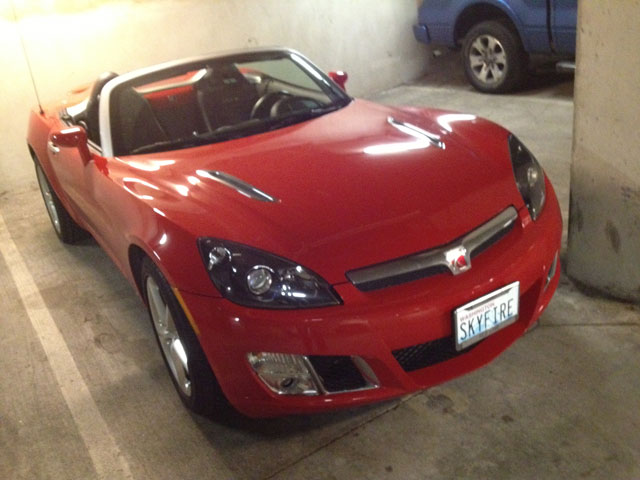 About the Author: I am Jason Doucette of Xona Games, an award-winning indie game studio that I founded with my twin brother. We make intensified arcade-style retro games. Our business, our games, our technology, and we as competitive gamers have won prestigious awards and received worldwide press. Our business has won $190,000 in contests. Our games have ranked from #1 in Canada to #1 in Japan, have become #1 best sellers in multiple countries, have won game contests, and have held 3 of the top 5 rated spots in Japan of all Xbox LIVE indie games. Our game engines have been awarded for technical excellence. And we, the developers, have placed #1 in competitive gaming competitions -- relating to the games we make. Read about our story, our awards, our games, and view our blog.