Random
Monday, January 12, 2015
By: Matthew Doucette
Random is an experiment game I coded for the Atlantic Lottery Hackathon.001: Probability and Randomness.

Matthew Doucette presenting Random at Volta Labs.
The purpose is to be as random as possible, even though random is defined as having no purpose. You type in codes with the A, B, X, Y buttons on the gamepad and you get points for each sequence you type in. You only have so much time. If you type in the same sequence twice, you get half the points, and this halfing continues on forever.
The game ends by showing a histogram of your randomness.
Gameplay:

Matthew Doucette scoring over 20,000 points in Random.
Screenshots: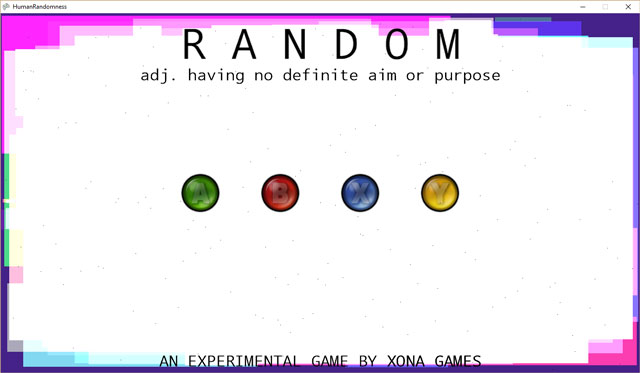 A screenshot showing randomly typed in values.
Awards:
Placed 3rd at the Atlantic Lottery Hackathon.001: Probability and Randomness hackathon event at Volta Labs, winning $850.00!
Music:
Music by Imphenzia!
Pitch:
Here is a portion of the pitch recorded on Volta's Twitter feed:
https://twitter.com/voltaeffect/status/784187143103062016
History / Trivia:
It was originally titled Human Randomness as it tested human randomness.
Random, the game and idea, was originally conceived in Global Game Jam 2015 on the last day, but no functionality was developed and the (non-existing) game was never submitted. The Atlantic Lottery Hackathon.001: Probability and Randomness hackathon inspired me to begin to develop and complete the game. It is one of the few games I actually completed for a hackathon or game jam.
Inspiration:
Random, the game, was inspired by Hack This Games series on Xbox 360 (Xbox LIVE Indie Games), when I could not hack a five digit long ABXY code and decided to randomly attack it, unsuccessfully. I wondered just how random I was being, and constructed the idea of a "Human Randonmess" app to test it out.
More Prototypes:
Check out our other game prototypes!
That is all!
About the Author: I am Matthew Doucette of Xona Games, an award-winning indie game studio that I founded with my twin brother. We make intensified arcade-style retro games. Our business, our games, our technology, and we as competitive gamers have won prestigious awards and received worldwide press. Our business has won $190,000 in contests. Our games have ranked from #1 in Canada to #1 in Japan, have become #1 best sellers in multiple countries, have won game contests, and have held 3 of the top 5 rated spots in Japan of all Xbox LIVE indie games. Our game engines have been awarded for technical excellence. And we, the developers, have placed #1 in competitive gaming competitions -- relating to the games we make. Read about our story, our awards, our games, and view our blog.