Duality ZF: 98 Percentile Rank on GameTrailers.com
Thursday, May 28, 2009
By: Matthew Doucette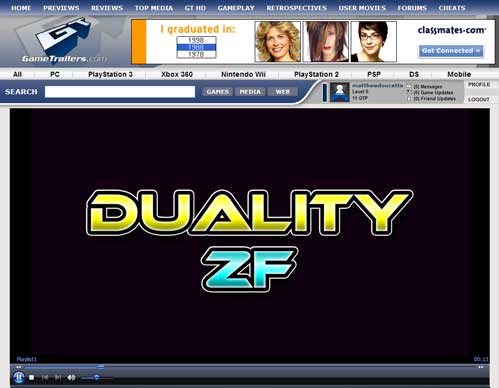 Duality ZF 98 percentile rank and
#1 Xbox LIVE Community Game on GameTrailers.com.
Our April 2009 Trailer of Duality ZF has finally made it to GameTrailers.com. The HD version has a rating of 8.9 with 17 votes and the SD version has a rating of 6.7 with 23 votes. Our average rating is 7.5 with 36 votes with an overall rank of 179 out of 8,649 game trailers, a 98 percentile rank. This means 98% of the game trailers are rated lower or equal to ours. Our overall Xbox LIVE Community Game rank is #1 of 26, or 100 percentile rank. As good as it gets! (These stats were updated on May 29th, 2009.) Feel free to rate our video appropriately.
This is our first mainstream game marketing. Our previous marketing has targeted Xbox LIVE Community Games (XBLCG) and indie games fans. The typical "gamers who love to hate games" have started to comment. We will deal with such negativity as it comes, and listen closely to not miss hidden gems in the voices of the critics. Some of the ignorance, such as comparing Duality ZF to a flash game, may be a fault of our presentation. It may also be a fault of low frame rates and resolutions of online videos. Our HD trailer received a much higher score than our SD trailer (8.9 vs. 6.7) and even the HD trailer fails to convey the smooth 60 frames per second action of our game. 2D games suffer more from low frame rates in trailers than 3D games. I think the human mind is more capable of filling in the missing details in a 3D game because they closer match reality.
I challenge anyone to show me a flash game comparable to Duality ZF. The most amazing flash shoot'em up game that comes to mind is Raiden X by Go0gley, a remake of Raiden II. Is there one better than this? If I receive enough submissions, I will post a list of the most comparable flash shoot'em up games to Duality ZF.
Also See:
External Links:
About the Author: I am Matthew Doucette of Xona Games, an award-winning indie game studio that I founded with my twin brother. We make intensified arcade-style retro games. Our business, our games, our technology, and we as competitive gamers have won prestigious awards and received worldwide press. Our business has won $180,000 in contests. Our games have ranked from #1 in Canada to #1 in Japan, have become #1 best sellers in multiple countries, have won game contests, and have held 3 of the top 5 rated spots in Japan of all Xbox LIVE indie games. Our game engines have been awarded for technical excellence. And we, the developers, have placed #1 in competitive gaming competitions -- relating to the games we make. Read about our story, our awards, our games, and view our blog.