Score Rush: 97% Review from Game Vortex
Wednesday, December 15, 2010
By: Matthew Doucette


Score Rush is a Game Vortex "Top Pick".
Starscream, AKA Ricky Tucker, of GameVortex Communications gave Score Rush a 97% review score and a Top Pick award.
Here is the review in full (links added by us):
Score Rush

Score: 97%
ESRB: Not Rated
Publisher: Xona Games
Developer: Xona Games
Media: Download/1
Players: 1 - 4
Genre: Action/ Shooter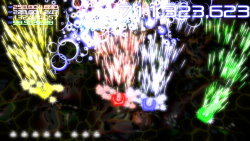 Graphics & Sound:
Score Rush is a fast-paced "bullet hell" shooter. For those not familiar with the term, it basically means you're tossed into levels filled with bullets and somehow expected to survive the onslaught. It's challenging and a bit daunting, but a hell of a lot of fun.

Score Rush looks just as good as it plays. Although the visuals are really nothing more than odd shapes, dots and lines, it's clear that a lot of work went into finding just the right balance of visual sparkle and playability. Just looking at a screenshot, it's easy to tell there's a lot going on at any one time. It's bright and colorful with lots of flashes, but never gets to the point where its obnoxious and hard to tell what's going on.

Dragon Music's soundtrack perfectly compliments the visuals and gameplay. The soundtrack is fast and reminiscent of something you'd expect to hear in a Genesis-era Sonic game. Dragon Music has a few sample tracks available on its website, and though it loses something without the visuals, I highly recommend checking it out.




Gameplay:
Score Rush takes its core gameplay from dual-stick shooters, primarily Geometry Wars, and ramps it up. You're dropped into a level with only three lives and three bombs and the will to survive. What follows is a fast-paced experience where enemies enter from the top of the screen and unload volleys of bullets at you. The trick is to navigate your small craft through the swarms of bullets while unleashing your own barrage of shots. Space is limited, so quick-thinking is vital.

Every enemy you kill increases your score. Some will drop red orbs that either multiply your score or provide you with a wingman orb, adding additional firepower to your attacks. Each wave of enemies is bookended by boss encounters (nine in all), that will do their best to fill the screen with even tougher bullet patterns for you to dodge and weave between.

As is the case with Decimation X3, Score Rush lacks any sort of online co-op play (though up to four players can join in local play) or leaderboards. No online co-op is understandable, but the lack of a leaderboard is a major loss. I understand there are issues when trying to implement one on the Indie Channel, but they're not unheard of.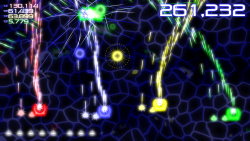 Difficulty:
Bullet hell games are notoriously difficult and Score Rush does its very best to follow suit without becoming cheap in the process. It's hard, but in a fun, challenging way. There's no "Easy" mode; instead, the game takes its time slowly ramping up the difficulty while also teaching the mechanics in the process.

As with Decimation X3, Xona's other Indie shooter, the basic mechanics behind Score Rush are mind-numbingly simple. One stick moves your ship, the other shoots in whatever direction you're pointing it. Each wave introduces a new concept (shooting enemies, collecting orbs, dodging bullets...) until you're trapped in a screen full of projectiles, explosions and enemies. Bombs provide a "nuclear option" if you find yourself in a situation you can't escape, but you only have three.

The "trick" to success in Score Rush depends on two things. First, you need to learn when to move and when to stay still. It's tempting to keep moving, but sometimes its better to just stay put. Also, the key is to pay attention to the small dot in the center of your ship, not the "wings" around it. The dot is the only part that can take damage, making you just small enough to scoot around and between enemy shots.

Game Mechanics:
Similar to Decimation X3, Score Rush is an incredibly intense adrenaline rush. Whether you decide to play for a few minutes or a few hours, you're always guaranteed a fun time. There's just something about the gameplay that makes you want to jump right back in after losing.

The end game score tally is a major motivational factor. In addition to displaying your score, it also shows how many of the nine bosses you were able to escape. Just seeing a huge score is enough to make you want to try and top it, but then you see that evil "Escaped" next to a boss's name, taunting you to come back in for another go. This sets up a vicious replay cycle where you're constantly trying to go back just to topple another boss.

Really, that's all Score Rush is about, constantly trapping you in small motivational cycles. Kill an enemy, get a shot power-up and watch as the sparks fly all around the screen. The moment you zigzag though one complex pattern of bullets, you'll instantly want to pass through another. Score Rush constantly feeds you these tiny victories, enticing you to keep playing and try something else. Of course, you'll eventually try to push the limits a little too far, but even in death, it's hard to shake off the desire to keep playing.

Adding three players changes the in-game dynamics just a bit. Cooperation is key to survival, but when everyone has their own point tally, they're going to want to gobble up as many bonuses as possible. It's the same competitive principal I mentioned in my Decimation X3 review; the opportunity to be on top does strange things to alliances.

Score Rush is a great game. It's incredibly simple to pick up and impossible to put down, even after repeated deaths. Best of all, it's only a $1, which isn't a bad price for what is easily one of the best shooters on the XBLA Indie Channel.

-Starscream, GameVortex Communications
AKA Ricky Tucker
Source: http://www.gamevortex.com/gamevortex/soft_rev.php/5308/score-rush-xbox-360.html
Online Leaderboards and XBLIG:
The issues with implementing online leaderboards on the indie channel is that online leaderboards do not exist on the indie channel. Any examples that are heard of are hacks, which share scores in the background via multiplayer connections. Ingenious idea, but there are cut-offs between Xbox LIVE servers -- one server does not connect to another -- as well if everyone stops playing Score Rush for even a second, then those scores will not share to new players. It is unfortunate that gamer reviewers and gamers are not made aware of these details and even more unfortunate that Xbox LIVE Indie Games never supported onlines leaderboards. It was such a bad decision to leave this out. XBLIG does not have a chance without leaderboards and achievements.
That is all!
About the Author: I am Matthew Doucette of Xona Games, an award-winning indie game studio that I founded with my twin brother. We make intensified arcade-style retro games. Our business, our games, our technology, and we as competitive gamers have won prestigious awards and received worldwide press. Our business has won $180,000 in contests. Our games have ranked from #1 in Canada to #1 in Japan, have become #1 best sellers in multiple countries, have won game contests, and have held 3 of the top 5 rated spots in Japan of all Xbox LIVE indie games. Our game engines have been awarded for technical excellence. And we, the developers, have placed #1 in competitive gaming competitions -- relating to the games we make. Read about our story, our awards, our games, and view our blog.