Xona Games 10th & 11th Best Selling XBLIGs Worldwide

Friday, December 17, 2010
By: Matthew Doucette


Download: Decimation X3 (Xbox LIVE; 80 MSP)
Download: Score Rush (Xbox LIVE; 80 MSP)

According to Major Nelson's LIVE Activity for week report, Xona Games owns the 10th and 11th best selling Xbox LIVE Indie Games (XBLIG) worldwide, simultaneously! Both games were released mid-week too. Decimation X3 was released on December 7th, 2010. Score Rush was released on December 9th, 2010. Here's the chart: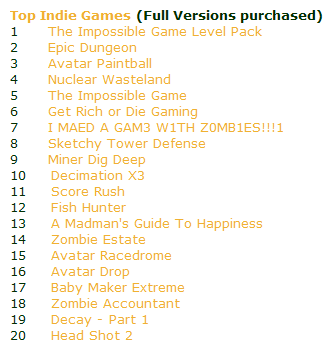 Decimation X3 and Score Rush 10th and 11th best selling XBLIG games worldwide.
Source: http://majornelson.com/archive/2010/12/17/live-activity-for-week-of-nov-dec-6.aspx
More Score Rush and Decimation X3 Articles:
External Links:
About the Author: I am Matthew Doucette of Xona Games, an award-winning, indie game studio I run with my twin brother. We make arcade-style intense retro games. Our incorporation, our games, our game engines, and we as gamers have individually won prestigious awards and received worldwide press. Our incorporation has won over $130,000.00 in contests. Our games have won cash contests, have ranked from #1 in Canada to #1 in Japan, and have become #1 best sellers in multiple countries. Our game engines have been awarded for their technical excellence. And we, the developers, have placed #1 in competitive gaming competitions relating to the genre of games we make. Read about our story, our awards, our games, and our blog.