Xona Games 2 of Top 3 Picks in #1 Japanese Gaming Magazine, Famitsu

Sunday, January 2, 2011
By: Matthew Doucette


Update: Turns out the original Decimation X was also featured in Famitsu too!

Japanese monthly magazie "Famitsu Xbox 360" picked Score Rush and Decimation X3 as two of their top three indie game pics! They might have spelled our name wrong (Xnoa instead of Xona), but this is an honor!

"...the original Famitsu publication, is considered the most widely read and respected video game news magazine in Japan" - http://en.wikipedia.org/wiki/Famitsu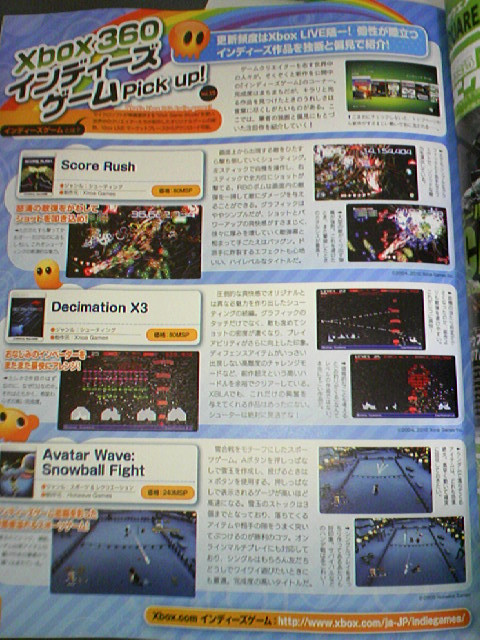 Famitsu Xbox 360 picks Score Rush and Decimation X3 for there top three indie picks!
Translation:
Here's the Famitsu article as text. If you can translate this for us, please let us know!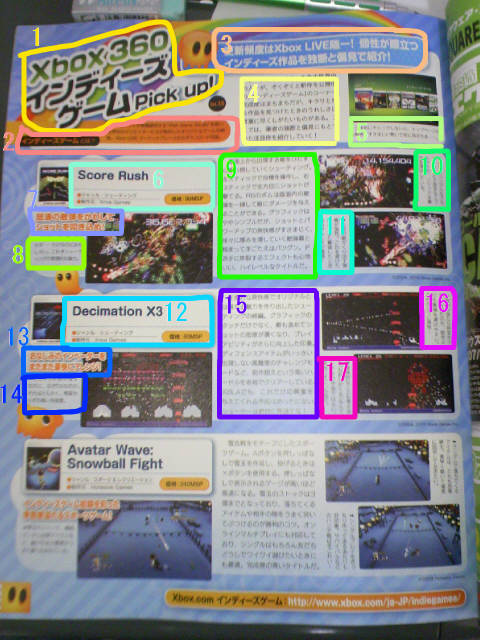 Zoomed in: 0001.JPG, 0002.JPG, 0003.JPG, 0004.JPG, 0005.JPG, 0006.JPG
1
Xbox360 インディーズ ゲーム Pick up!

2
インディーズゲームとは?

マイクロソフトが無償提供する"XNA Game Studio"を使い、世界中のクリエイターたちが制作したオリジナルゲームの総称。Xbox LIVE マーケットプレースからダウンロード可能。

3
更新頻度はXbox LIVE随一! 個性が際立つインディーズ作品を独断と偏見で紹介!

4
ゲームクリエイターを志す世界中の人々が、ぞくぞくと新作を公開中の『インディーズゲーム』のコーナー。完成度はまちまちだが、キラリと光る作品を見つけたときのうれしさは言葉に尽くしがたいものがある。ここでは、筆者の独断と偏見にもとづいた注目作を紹介していく!

5
こまめにチェックしないと、トップページから新作がすさまじい勢いで右に流される……。

6
Score Rush
ジャンル : シューティング
制作元 : Xnoa Games
価格 : 80MSP

7
怒涛の敵弾をかわしてショットを叩き込め!

8
ただひたすら撃ってかわす……だけなのにおもしろい。これぞシューティングの根源的な魅力。

9
画面上から出現する敵をひたすら撃ち倒していくシューティング。左スティックで自機を操作し、右スティックで全方位にショットが撃てる。RBのボムは画面内の敵弾を一掃して敵にダメージを与えることができる。グラフィックはややシンプルだが、ショットとパワーアップの爽快感がすさまじく、徐々に厚みを増していく敵弾幕と相まって手ごたえはバツグン。ド派手に炸裂するエフェクトも心地いい、ハイレベルなタイトルだ。

10
とてもシンプルなグラフィックとド派手なエフェクトで、ソリッドな魅力を演出している。

11
大型の敵がくり出す弾幕が強烈。これを避けたとき、また撃破したときのカタルシスが最高!

12
Decimation X3
ジャンル : シューティング
制作元 : Xnoa Games
価格 : 80MSP

13
おなじみのインベーダーをまたまた豪快にアレンジ!

14
たしか2作目のはずなのに、なぜ『3』なのか。それはともかく、相変わらずの高い完成度。

15
圧倒的な爽快感でオリジナルとは異なる魅力を作り出したシューティングの続編。グラフィックのタッチだけでなく、敵も含めてショットの密度が濃くなり、プレイアビリティがさらに向上した印象。ディフェンスアイテムがいっさい出現しない高難度のチャレンジモードなど、前作超えという高いハードルを余裕でクリアーしている。XBLAでも、これだけの興奮を与えてくれる作品はめったにない。シューターは絶対に見逃すな!

16
自機の当たり判定が小さくなったのか、前作よりも敵弾を避けやすい。これがじつに爽快!

17
価格的なことも考えると「お釣りがくる」なんてレベルの作品ではない。本当にすごい作品だ。
Again, if you can translate this for us, please let us know!
Original source: http://twitpic.com/3llebe. Thanks to A47A47 (website, twitter) for bringing this to our attention!
More Score Rush and Decimation X3 Articles:
About the Author: I am Matthew Doucette of Xona Games, an award-winning indie game studio that I founded with my twin brother. We make intensified arcade-style retro games. Our business, our games, our technology, and we as competitive gamers have won prestigious awards and received worldwide press. Our business has won $180,000 in contests. Our games have ranked from #1 in Canada to #1 in Japan, have become #1 best sellers in multiple countries, have won game contests, and have held 3 of the top 5 rated spots in Japan of all Xbox LIVE indie games. Our game engines have been awarded for technical excellence. And we, the developers, have placed #1 in competitive gaming competitions -- relating to the games we make. Read about our story, our awards, our games, and view our blog.