Saturday, October 18, 2014
By: Matthew Doucette


The first Lake Doucette Street Car Challenge event.

Lap Times:

Fastest to slowest (+/-0.05s accuracy):
POS.
DATE
LAP
COLOR
YEAR/MAKE/MODEL
DRIVE-
TRAIN
HP
MODS / DETAILS
DRIVER
NOTES
1
2014‑10‑18
21.41s
Black
2013 Subaru BRZ
RWD
200
Randy Carston
2
2014‑10‑18
21.98s
Black
2006 Nissan 350Z
RWD
305
- 70 lbs weight reduction
- K&N air filter
Matthew Doucette
3
2014‑10‑18
22.16s
Black
2014 Scion FR‑S
RWD
200
Matt Challoner
4
2014‑10‑18
25.05s
Blue
2013 Mazda 3
FWD
155
Billy Upton
5
2014‑10‑18
25.10s
Green
2000 Volkswagen Beetle
FWD
237
- R32 engine
Jordan Langille
Also see lap times of all events combined.
Fastest Lap:
Randy Carston records the fastest lap today, with a 21.41s lap in his 2013 Subaru BRZ.
Videos:

2000 Volkswagen Beetle (R32 engine) - Jordan Langille

2014 Scion FR-S - Matt Challoner

2013 Mazda 3 - Billy Upton

2013 Subaru BRZ - Randy Carston
(Apologies for the wind noise in this one.)
Original Records:
Note: These records cover both the Annual Thanksgiving Weekend SmokeFest 2014 and Lake Doucette Street Card Challenge #1.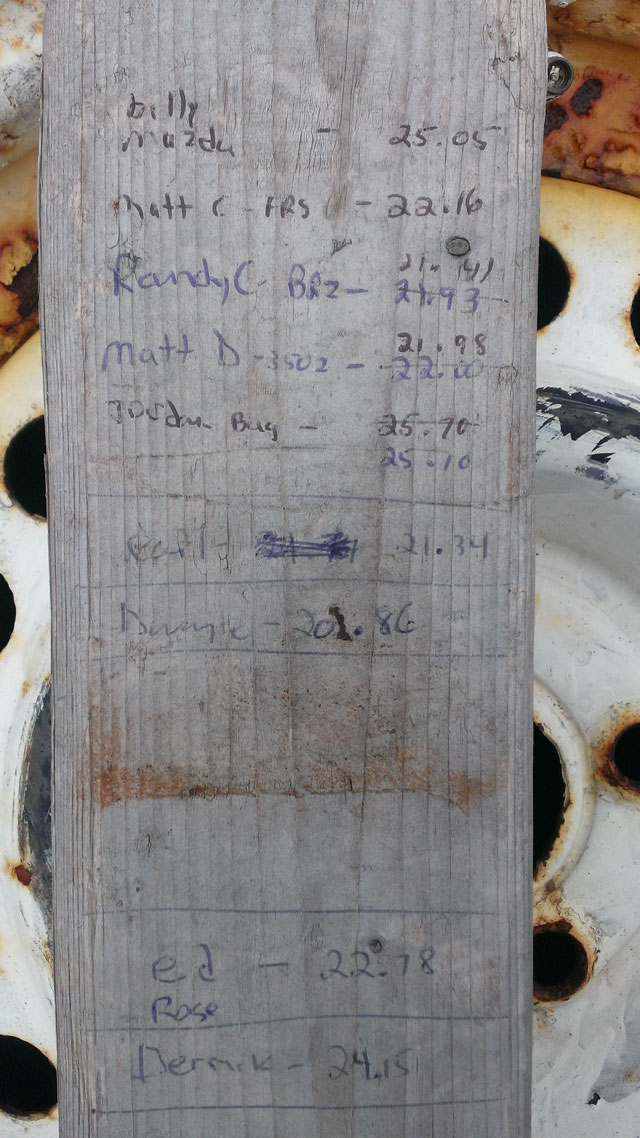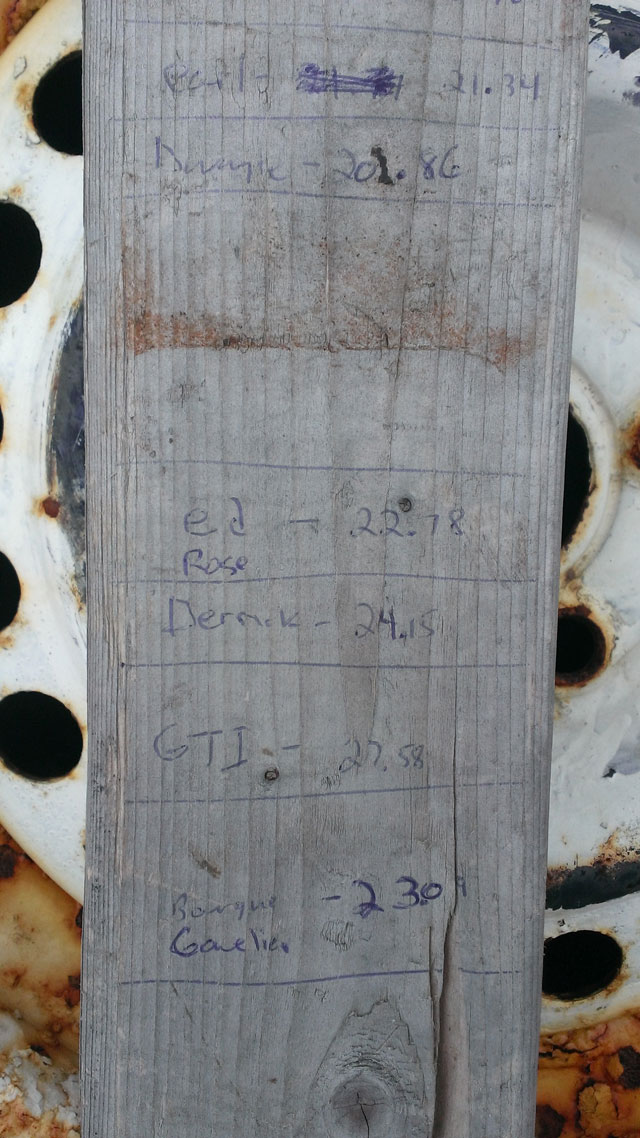 Special Thanks:
Thanks to Randy Carston for putting this on. Thanks to Gaston Comeau for letting us use his track, the Lake Doucette Motor Speedway.