Wednesday, July 1, 2015
By: Matthew Doucette


Our third Lake Doucette Street Car Challenge event, marking the first event in 2015:

Lap Times:

Fastest to slowest (+/-0.05s accuracy):
POS.
DATE
LAP
COLOR
YEAR/MAKE/MODEL
DRIVE-
TRAIN
HP
MODS / DETAILS
DRIVER
NOTES
1
2015‑07‑01
22.13s
Black
2006 Nissan 350Z
RWD
305
- 70 lbs weight reduction
- K&N air filter
Matthew Doucette
best is 21.59s
2015‑07‑01
22.40s
Camo
2000 Pontiac Sunfire (#20)
FWD
115
- stock car***
Travis LeBlanc
2
2015‑07‑01
22.60s
Green
2014 Ford Mustang GT
RWD
500
- GT Track Package
- rebuilt upper motor
- Cobra Jet intake plenum
- Cobra Jet 124mm throttle body
- JLT race intake
- custom tune (Lethal Performance)
- exhaust mods
Greg Murphy
new best; was 23.12s
2015‑07‑01
22.61s
Black
??? Pontiac Sunfire (#25)
FWD
115
- stock car***
Micheal Power
2015‑07‑01
22.63s
Black/Green
2000 Chevrolet Cavelier (#66)
FWD
115
- stock car***
Chris Hicks
3
2015‑07‑01
22.99s
Red
2013 Honda Civic Coupe (base)
FWD
145
- Tein lowering springs
- K&N air filter
Brad Deveau
4
2015‑07‑01
23.05s
Black
2006 Mazda RX-8
RWD
232
Andre Thibeau
5
2015‑07‑01
23.10s
Silver
2001 Audi TT Coupe
AWD
180
- cold air intake
Jonathan Surette
6
2015‑07‑01
23.16s
Blue
2014 Lexus IS250
AWD
204
- cold air intake
Logan Redfurn
7
2015‑07‑01
24.13s
White
2013 Mazdaspeed 3
FWD
263
Dylan Deveau
8
2015‑07‑01
30.07s
Black
2012 Hyundai Genesis Coupe
RWD
210
- strut bar
- K&N air filter
- Eibach Sportline lowering springs
- ~40 lbs weight reduction (removed spare tire, tools)
Amanda Kane
We also post lap times from all events combined.
Fastest Lap:
Matthew Doucette records the fastest lap today, with a 22.13s lap in his 2006 Nissan 350Z.
Videos:
Travis LeBlanc captured these two videos of Greg Murphy:

2014 Mustang GT - Greg Murphy

2014 Mustang GT - Greg Murphy
Also see our videos from all events.
Improvements:
Here are improvements within the day:
Andre Thibeau improved his lap time from 23.97s to 23.05s on his second run.
Jonathan Surette improved his lap time from 23.74s to 23.10s on his second run.
Logan Redfurd improved his lap time from 24.81s to 23.76s on his second run, and again to 23.16s on his third run.
Amanda Kane improved her lap time from 35.31s to 30.07s on her second run.
Original Records: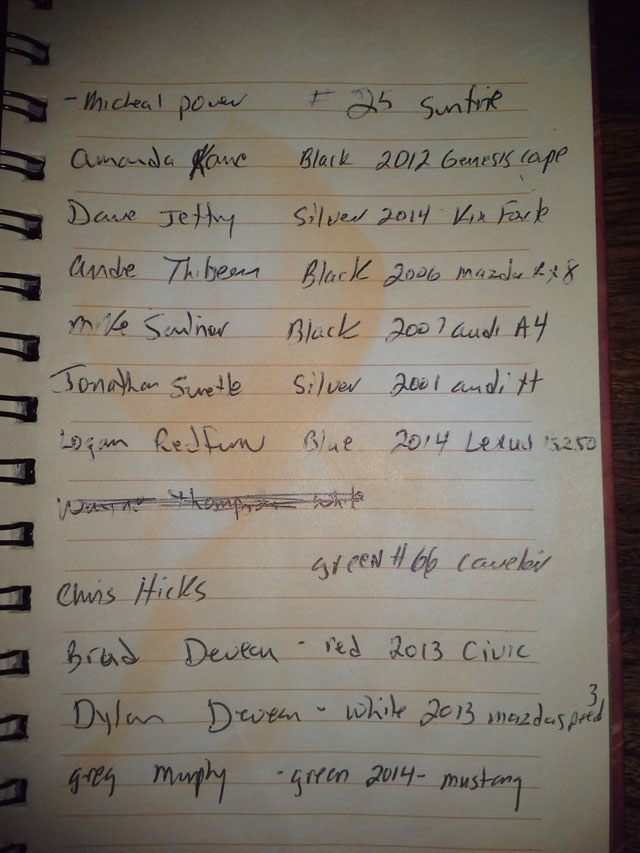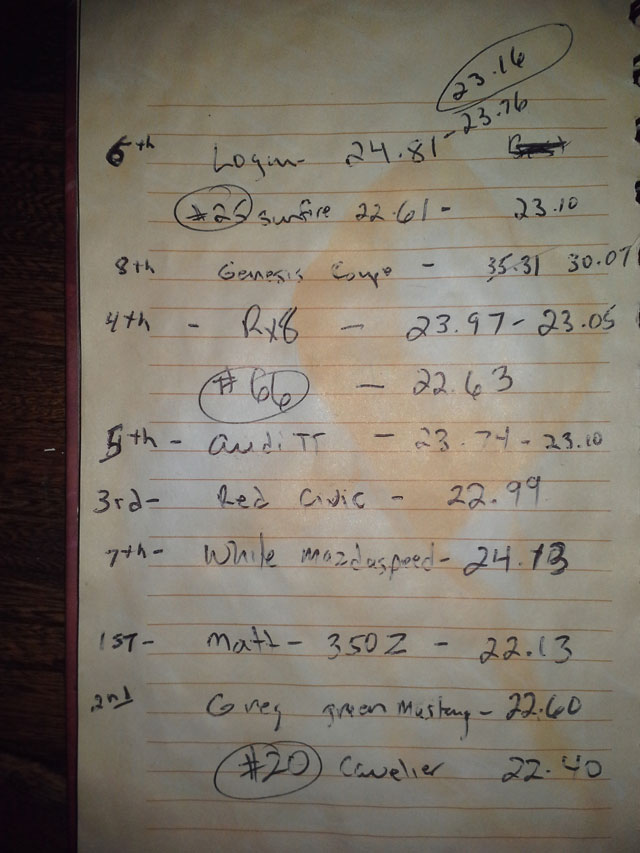 Special Thanks:
Thanks again to Randy Carston for putting this on. Thanks again to Gaston Comeau for letting us use his track, the Lake Doucette Motor Speedway.