Braid Explained
Thursday, February 28, 2013
By: Matthew Doucette
SPOILER WARNING: Do not read this article until you have play through Braid (which we've wrote about before), and done so without help. If you do, you are missing the experience of Braid, and skipping by the entire content of the game. The experience *is* the content.
The Xona Games geniuses (aka genii) have been known to explain complicated universal concepts in glorious detail via MS Paint... and here we are again explaining Braid: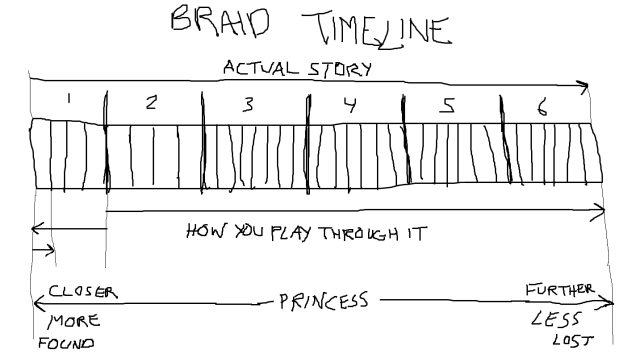 And, now you know... Braid.
That's it. Look at the diagram. It explains itself.
More Detail:
In all seriousness, for a truly glorious breakdown of Braid, read Braid, Life, Obsession, and the Dark Side of Ambition by 0verhyped. It's the best I've ever read.
2020-JUL-01 UPDATE:
Find Braid, Life, Obsession, and the Dark Side of Ambition on Web Archive: https://web.archive.org/web/20161003202358/https://0verhyped.com/2012/05/18/braid-life-obsession-and-the-dark-side-of-ambition/
That is all.
About the Author: I am Matthew Doucette of Xona Games, an award-winning indie game studio that I founded with my twin brother. We make intensified arcade-style retro games. Our business, our games, our technology, and we as competitive gamers have won prestigious awards and received worldwide press. Our business has won $190,000 in contests. Our games have ranked from #1 in Canada to #1 in Japan, have become #1 best sellers in multiple countries, have won game contests, and have held 3 of the top 5 rated spots in Japan of all Xbox LIVE indie games. Our game engines have been awarded for technical excellence. And we, the developers, have placed #1 in competitive gaming competitions -- relating to the games we make. Read about our story, our awards, our games, and view our blog.