Why Braid Has a Speed Run
Wednesday, December 19, 2012
By: Matthew Doucette
I've always been curious why Braid, with all its depth, has a "Speed Run" achievement which requires you to complete the game in under 45 minutes. Speed runs appear to be appreciation towards arcade-style gameplay and less towards the depth of the game as complex as Braid.
Braid's "Speed Run" achievement is not only the most difficult achievement in the game, it's far harder than all others. According to TrueAchievements stats today, "Speed Run" is achieved by only 4% of those on the site compared to the second hardest achievement, "Closure", which is achieved by 59%. You win "Closure" by completing the game. Keep in mind that TrueAchievements is biased towards gamers who care about achievements, so in reality far less than 4% have accomplished the speed run in time. Raptr shows that only 2.5% have achieved "Speed Run", in the XBLA version of the game, versus 46.3% who have achieved "Closure".
So, why did Jonathan Blow decide to put a Speed Run in Braid?
I asked him:
"Jonathan Blow, it always puzzled me why you did a speed run mode in Braid. Please share the link if you've ever detailed why online." - Matthew Doucette (1)
He graciously replied: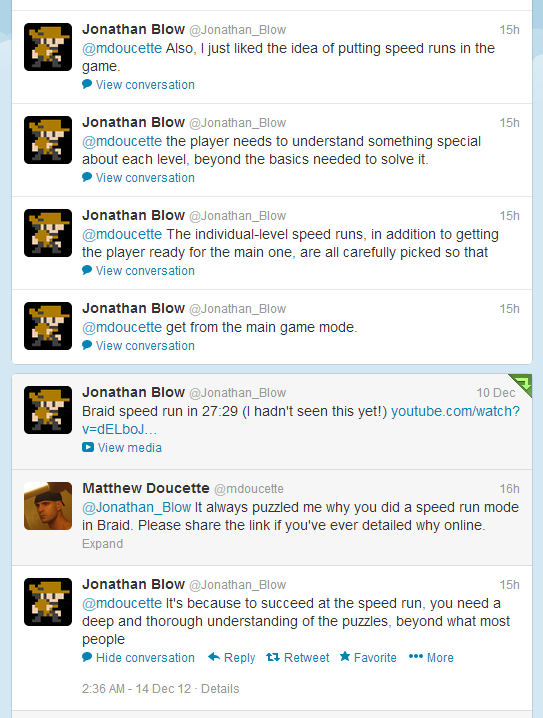 Spelled out:
"It's because to succeed at the speed run, you need a deep and thorough understanding of the puzzles, beyond what most people get from the main game mode. The individual-level speed runs, in addition to getting the player readt for the main one, are all carefully picked so that the player needs to understand something special about each level, beyond the basics needed to solve it. Also, I just liked the idea of putting speed runs in the game." - Jonathan Blow (1)(2)(3)(4)(5)
Well, in hindsight, I shouldn't have expected anything less. I am glad I asked. Thank you, Jonathan Blow.
Braid Speed Run 27:29:
And, here's a speed run that Jonathan Blow posted that started off this whole conversation:

Braid Full Game Speed Run 27:29 - Part 1

Braid Full Game Speed Run 27:29 - Part 2
For more information on Braid and Jonathan Blow, I *highly* recommend watching Indie Game: The Movie, which we backed on Kickstarter.
Download Braid (Xbox 360 & PC):
Download Braid from the official site: braid-game.com.
More Indie Articles:
About the Author: I am Matthew Doucette of Xona Games, an award-winning indie game studio that I founded with my twin brother. We make intensified arcade-style retro games. Our business, our games, our technology, and we as competitive gamers have won prestigious awards and received worldwide press. Our business has won $190,000 in contests. Our games have ranked from #1 in Canada to #1 in Japan, have become #1 best sellers in multiple countries, have won game contests, and have held 3 of the top 5 rated spots in Japan of all Xbox LIVE indie games. Our game engines have been awarded for technical excellence. And we, the developers, have placed #1 in competitive gaming competitions -- relating to the games we make. Read about our story, our awards, our games, and view our blog.