We're featured in Yarmouth Vanguard
Tuesday, July 23, 2013
By: Matthew Doucette
Xona Games has been featured in our local newspaper, The Yarmouth County Vanguard, again! This time for being a part of Nova Scotia's ICT 2013 Sector Report.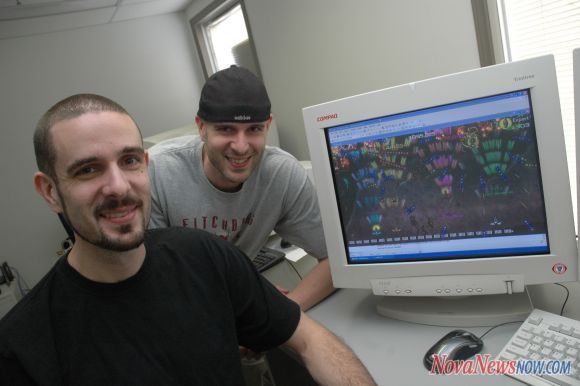 Jason (l) and Matthew Doucette (r) featured in The Yarmouth Vanguard.
Quote (links added by us):
Xona Games of Yarmouth is one of Nova Scotia's many small successful start-up companies. Twin brothers, Matthew and Jason Doucette, develop internationally recognized video games for Xbox, PC, and Android devices.

"Nova Scotia is a competitive player in the gaming sector due to its skilled workforce and provincial support," says co-owner, Matthew Doucette in a media release. "We started Xona Games in our hometown of Yarmouth because we were born and raised there. However, the provincial support has equipped us with as many, if not more, opportunities than anywhere else in the world. It has helped us, even pushed us, to participate in top international gaming conferences which puts our company and games on the world map."
Read the full article on thevanguard.ca or dailybusinessbuzz.ca. See our past features in The Yarmouth Vanguard.
About the Author: I am Matthew Doucette of Xona Games, an award-winning indie game studio that I founded with my twin brother. We make intensified arcade-style retro games. Our business, our games, our technology, and we as competitive gamers have won prestigious awards and received worldwide press. Our business has won $190,000 in contests. Our games have ranked from #1 in Canada to #1 in Japan, have become #1 best sellers in multiple countries, have won game contests, and have held 3 of the top 5 rated spots in Japan of all Xbox LIVE indie games. Our game engines have been awarded for technical excellence. And we, the developers, have placed #1 in competitive gaming competitions -- relating to the games we make. Read about our story, our awards, our games, and view our blog.