Matthew Doucette: Guest Speaker at Entrepreneurship Seminar
Thursday, November 7, 2013
By: Matthew Doucette


The Université Sainte-Anne Entrepreneurship Seminar.
Matthew, I guess that's me since I'm writing this, was invited as a guest speaker at the Université Sainte-Anne's Entrepreneurship Seminar (French). The point of the seminar is "Capturing the spirit of entrepreneurship amongst youth in rural areas." It ran on November 6, 7, and 8, 2013.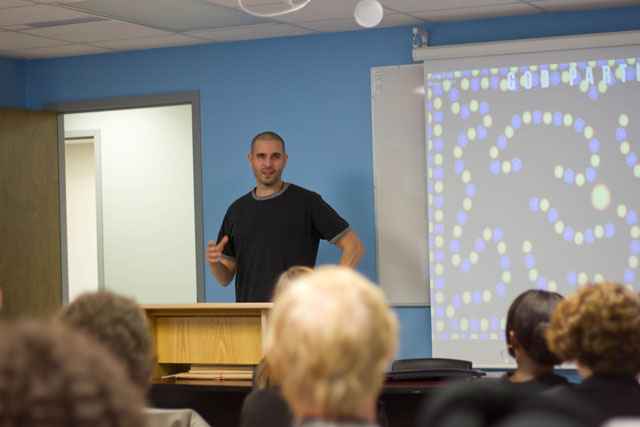 Matthew speaking at Université Sainte-Anne Entrepreneurship Seminar, showing off God Particle.
Xona Games was used as an example of a successful company in a rural area. I showcased the God Particle prototype I developed a few weekends early at the Halifax Game Jam 2013, as an example of how we develop games from scratch. I think my speech was well received. People enjoy seeing facts and figures, but it really hits home when you see an actual example.
Specifically, here's the section I participated in:
Promoting the pioneers of a knowledge-based economy

At the dawn of a new economy, young creative and persevering entrepreneurs are eyeing the potential of Internet based technologies. Panelists will discuss the innate appeal, the harnessing of talent and the financing of this type of enterprise.
The full list of participants is this workshop were:
Thanks so much to Angélique LeBlanc for the invitation and helping me prepare. It was also great to meet and follow the speech of Suzanne Fraser of NSBI. It is incredible the amount of tech companies in Nova Scotia at the moment. The total is over 700!
About the Author: I am Matthew Doucette of Xona Games, an award-winning indie game studio that I founded with my twin brother. We make intensified arcade-style retro games. Our business, our games, our technology, and we as competitive gamers have won prestigious awards and received worldwide press. Our business has won $190,000 in contests. Our games have ranked from #1 in Canada to #1 in Japan, have become #1 best sellers in multiple countries, have won game contests, and have held 3 of the top 5 rated spots in Japan of all Xbox LIVE indie games. Our game engines have been awarded for technical excellence. And we, the developers, have placed #1 in competitive gaming competitions -- relating to the games we make. Read about our story, our awards, our games, and view our blog.