Xona Games Shmup Tournament
Friday, February 14, 2014
By: Matthew Doucette


We held a Xona Games shmup tournament at the Halifax Scramble!
So, we decided to join the Halifax Scramble shmup tournament with our own Score Rush and Decimation X3 tournaments!
Here are the scores:
158,235,263 - Ty Smart (All Clear)
88M - Code Freeman*
83,988,112 - Shaun Bader
67.2M - Tenasitee
64,172,090 - Deepshock
49,875,828 - Skaz
40,827,651 - Kas
23,289,895 - Real
12,156,340 - Slane
9M - Wayne
5.7M - Alex
*New entry. Code Freeman's score was recorded on another piece of paper. Verified by Shaun Bader.
Unfortunately, Decimation X3 was barely played as Score Rush was left running almost all of the time.
Here's photographic proof: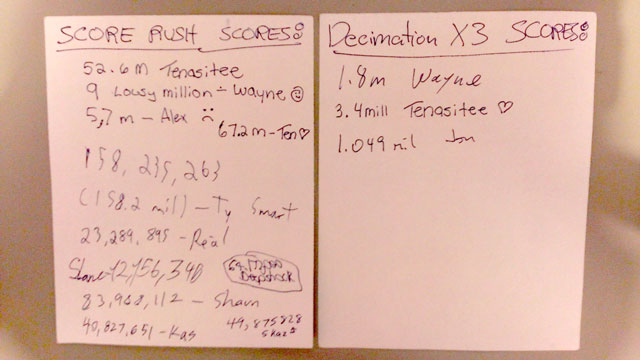 Xona Games Shmup Tournament results.
Score Rush ran most the time. Decimation X3 had barely any playtime.
Congrats to Ty Smart for winning the Score Rush tournament and winning a copy of Raiden IV for the Xbox 360. Congratulations for Tenasitee for winning the Decimation X3 tournament and winning a copy of Raiden Fighters Aces for Xbox 360!
Amazingly, Tenasitee places 1st and 3rd in both competitions! Very well done! :)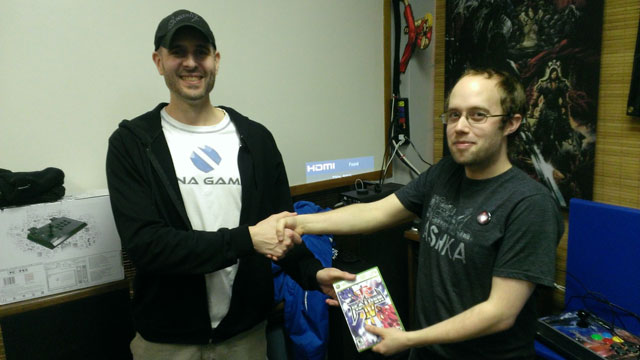 Matthew Doucette awarding Ty Smart, winner of the Score Rush tournament, a copy of Raiden IV!
That is all!
About the Author: I am Matthew Doucette of Xona Games, an award-winning indie game studio that I founded with my twin brother. We make intensified arcade-style retro games. Our business, our games, our technology, and we as competitive gamers have won prestigious awards and received worldwide press. Our business has won $190,000 in contests. Our games have ranked from #1 in Canada to #1 in Japan, have become #1 best sellers in multiple countries, have won game contests, and have held 3 of the top 5 rated spots in Japan of all Xbox LIVE indie games. Our game engines have been awarded for technical excellence. And we, the developers, have placed #1 in competitive gaming competitions -- relating to the games we make. Read about our story, our awards, our games, and view our blog.