Halifax Scramble Wrap Up
Monday, February 17, 2014
By: Matthew Doucette
Just getting back from the first Halifax Scramble, the first shmup event in Nova Scotia!


Halifax Scramble, a shmup event in Halifax, Nova Scotia.
Here's the breakdown from the Halifax Scramble Facebook page:
On February 15th we'll be having the first (of hopefully many) major shmup-fest HRM has seen in years! Come on out and dodge intricate bullet patterns as we band together to shoot the core.

Among setups displaying the best the genre has to offer for everyone to play, there will also be a Raiden Fighters Jet Score Attack tournament on Xbox 360. Prizes will be given out for top three so practice up and go for the high score!

With multiple sponsors, prizes, a wide selection of games and even a little something for the first 20 people to show up this day is sure to be a blast. See you all there!
We at Xona Games are based out of Yarmouth, Nova Scotia which is a 3.5 hour drive to Halifax, but it was worth the trip! I got to meet a lot of shmup fans and won the Raiden Fighters Jet - Score Attack tournament and held a Score Rush and Decimation X3 tournament of our own!
I'll be updating this blog soon with more details.
More on Raiden Fighters Jet - Score Attack:
Amazingly, on the Raiden Fighters Jet - Score Attack Xbox LIVE leaderboards, we had players #3, #4, and #5 (myself) in the world in attendance. Had Johnny Jerkweed made it, also from Nova Scotia, we would have also had #7! P.S. I know JJ very well and he can do much better than 7th place!
Here are the leaderboards the day after the event, Febrary 16th, 2014: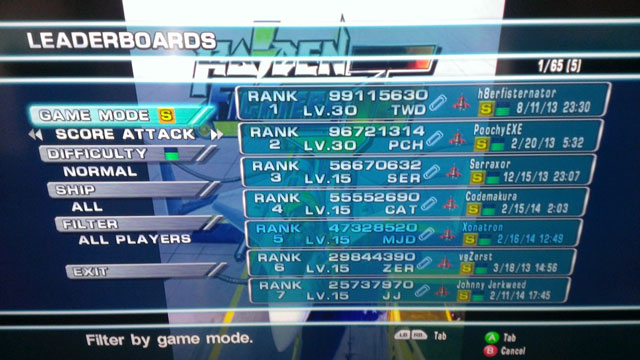 Raiden Fighters Jet - Score Attack - Leaderboards (2014-FEB-16).
Serraxor, Codemakura, Xonatron, and Johnny Jerkweed all from Nova Scotia, Canada.
Please read my "Raiden Fighters Jet Tournament" article for details on the Raiden Fighters Jet Score Attack tournament.
Parking Fines:
And $50 is parking fines is always a nice touch! So welcoming you are, Halifax!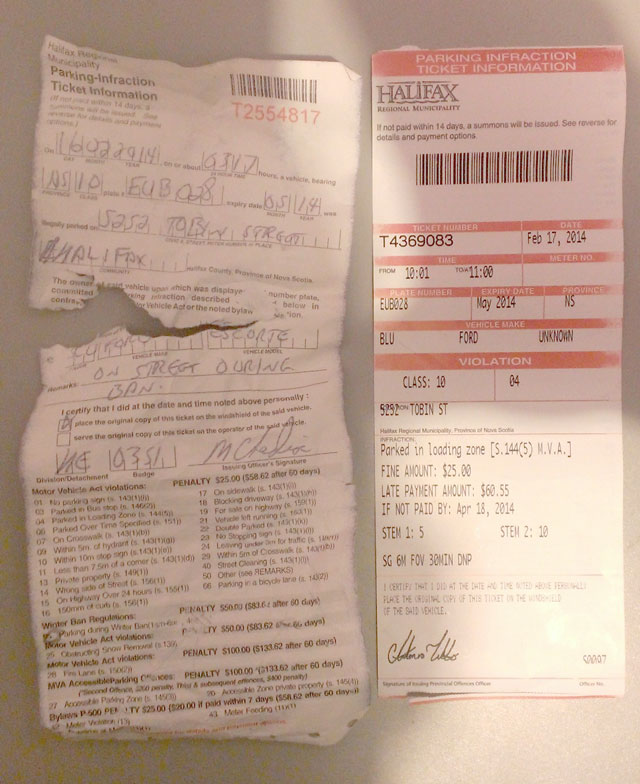 Stay in Touch:
Please join the Maritime Space Defense Force Facebook group to stay in touch, make new shmup friends, and hopefully join the next shmup event/tournament. We hope to keep doing Xona Games tournaments, so practice up!
2014-MAR-15 UPDATE:
Here's a video re-cap of the Halifax Scramble:

Video re-cap of Halifax Scramble.
2014-AUG-16 UPDATE:
A sequel to this event has been held: Halifax Scramble S.
That is all!
About the Author: I am Matthew Doucette of Xona Games, an award-winning indie game studio that I founded with my twin brother. We make intensified arcade-style retro games. Our business, our games, our technology, and we as competitive gamers have won prestigious awards and received worldwide press. Our business has won $190,000 in contests. Our games have ranked from #1 in Canada to #1 in Japan, have become #1 best sellers in multiple countries, have won game contests, and have held 3 of the top 5 rated spots in Japan of all Xbox LIVE indie games. Our game engines have been awarded for technical excellence. And we, the developers, have placed #1 in competitive gaming competitions -- relating to the games we make. Read about our story, our awards, our games, and view our blog.