Xona Games: Featured in Connected for Business
Tuesday, February 18, 2014
By: Matthew Doucette
A while back we won a $20,000 Rogers Small Business contest. For that, we've been featured in Connected for Business along with the other winners. Check it out: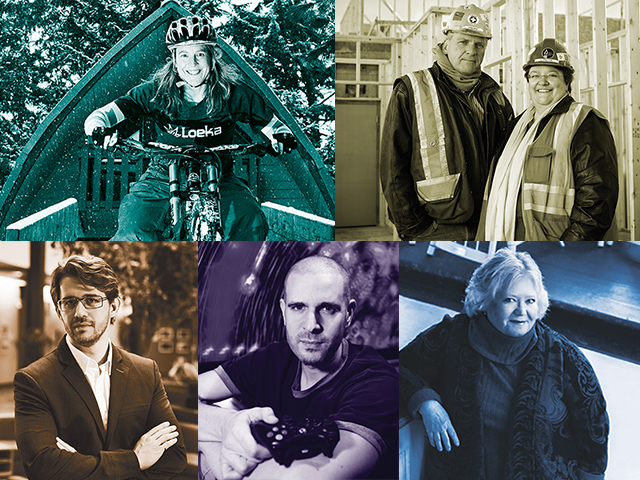 Top: Natasha Lockey (Photo by Bobbi Barbarich), Linda Anderson (Roth and Ramberg Photography).
Bottom: Michael Chrostowski (Photo by Chris Reardon), Matthew Doucette (Photo by Chris Reardon), Vel Evans (Photo by Greg Paupst).
The article reads (links added by us):
5. Matthew Doucette, Xona Games Inc.

Industry: Gaming
Location: Yarmouth, NS
Year founded: 2008
# of employees: 2

Based in Yarmouth, N.S., Xona Games Inc. is an independent game studio, founded by Jason Doucette, that creates arcade-style games true to the type of video games the duo enjoyed as kids. "The games that were coming out weren't as challenging as the ones we grew up with," explains Matthew Doucette. What started as a hobby in 2008 soon became a thriving business, especially with the popularity of their Decimation X and Decimation X3 Xbox LIVE games in Asia. "In Japan, they embrace the art of mastering each level of a game by experiencing it instead of playing on easy mode," says Doucette.

However, the brothers soon discovered that there's no easy mode for running a company. "We never approached Xona Games with a business mindset, but business is always in expert mode," explains Doucette. Balancing what they love to do with the necessities of administration and marketing is a constant struggle, and one shared by the like-minded individuals with whom they network at game-developer conferences.

His advice for entrepreneurs sounds like game-play instructions: "Go for it. Don't be afraid to create your own path." Xona Games are now official Xbox One developers through a first-wave acceptance into the ID@Xbox program. "We've created games that we want to play, and we can't wait to do the same for this new platform."
Source: http://www.connectedforbusiness.ca/business/winning-ideas/
Congrats to Natasha Lockey, Linda Anderson, Michael Chrostowski, and Vel Evans for winning as well!
That is all!
About the Author: I am Matthew Doucette of Xona Games, an award-winning indie game studio that I founded with my twin brother. We make intensified arcade-style retro games. Our business, our games, our technology, and we as competitive gamers have won prestigious awards and received worldwide press. Our business has won $190,000 in contests. Our games have ranked from #1 in Canada to #1 in Japan, have become #1 best sellers in multiple countries, have won game contests, and have held 3 of the top 5 rated spots in Japan of all Xbox LIVE indie games. Our game engines have been awarded for technical excellence. And we, the developers, have placed #1 in competitive gaming competitions -- relating to the games we make. Read about our story, our awards, our games, and view our blog.