Xona Games: Featured in Yarmouth Vanguard
Tuesday, June 10, 2014
By: Matthew Doucette
We have been featured in the Yarmouth Vanguard, our local newspaper, again! Much thanks to Sam Turpin for doing an excellent job with the article!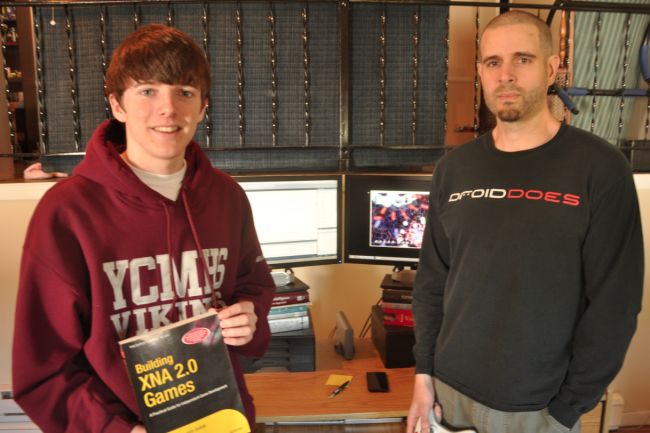 YCMHS co-op student Graham Rogers working with Matthew Doucette of Xona Games.
The independent game studio is looking to launch some games on next generation consoles. SAM TURPIN PHOTO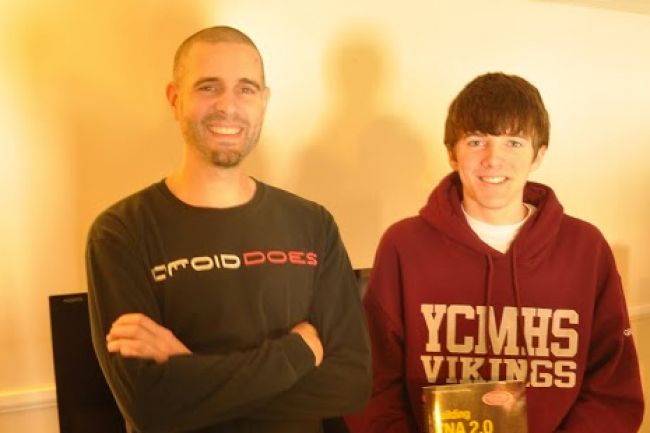 Co-op student Graham Rogers and Xona Games' Matthew Doucette. SAM TURPIN PHOTO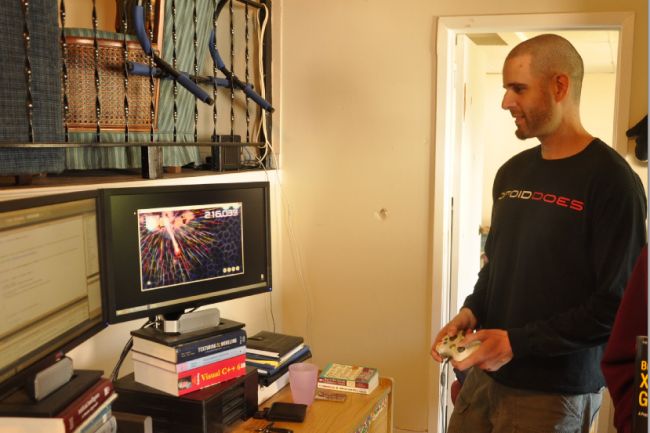 Matthew Doucette demonstrating one of Xona Games' titles, Score Rush. SAM TURPIN PHOTO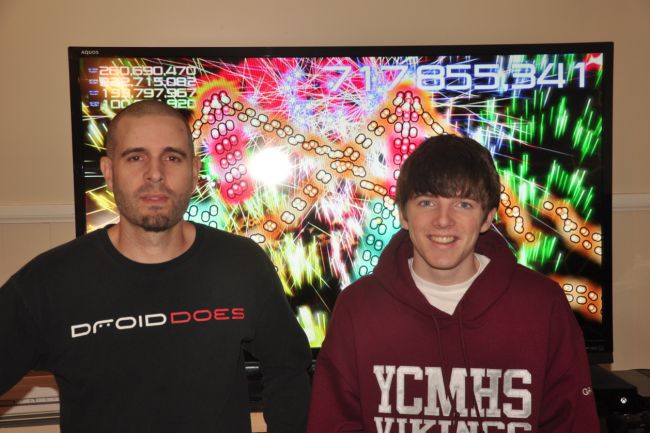 Xona Games' Matthew Doucette with Co-op student Graham Rogers in front of Xona Games' Score Rush. SAM TURPIN PHOTO
Read the original article at one of the following links:
The article reads (links added by us):
By Sam Turpin

FOR THE VANGUARD

www.thevanguard.ca

Yarmouth's Xona Games, an award-winning independent game studio, is planning to release several of its games on next generation consoles, specifically on Xbox One and PS4.

In doing so the company is hoping to gain much better visibility for the studio's games and increased sales.

Over the past year Xona Games received two large awards, winning $50,000 in February in the Tizen App Challenge with their submission Score Rush, and $20,000 in October in the Rogers Small Business Big Ideas contest. They were also officially announced as an Xbox One developer in February.

In an interview with the Vanguard, game producer Matthew Doucette – his twin brother Jason Doucette founded the company – described their games, such as Score Rush, Duality ZF, and Decimation X3, as arcade style "intense retro" games. He notes a core principle of their games is to place the player in control. In many games today, he says, the player observes things happening around them, but they feel removed from them. All Xona Games' productions place the player directly in control, giving them a feeling of involvement, not commonly found in games today, Doucette notes.

Two of Xona's games are being considered as candidates for release on PS4 and XBox One – Score Rush, and the upcoming Decimation X4. Xona's games are now found mainly on Xbox 360. Other platforms, such as Steam, the PC and Mobile devices are being considered. Doucette expects that making their games available on next generation consoles will bring many advantages. On Xbox 360, for instance, anyone could publish an Indie (independent) game with little to no quality assurance, often resulting in poor quality of offerings. Indie games were also relegated to their own section, resulting in low visibility. As well, indie developers were also not given access to frameworks and tools that AAA studios had access to, limiting room for innovation.

But on the new generation of consoles Indie game developers will have access to all the same frameworks as AAA studios and will be, in addition to residing in their own section, promoted in the same space as AAA titles. This will allow for far greater visibility than on the Xbox 360, and these games will be able to incorporate more features into their games.

But to compensate for these new tools and opportunities the acceptance process for games is much more difficult. This won't pose a problem for Xona Games since it is now an official Xbox One developer.

Xona Games has already met with considerable success with some of their previous titles: Decimation X, Decimation X3, and Score Rush were all among the #1 selling and #1 rated Indies games in Japan at different times. As well, all three were in the Top Five Indie Games list simultaneously at one point.

Doucette believes the increased visibility of the newer systems will be a massive advantage, in addition to the new tools that will allow him to create more advanced, full-featured games.

Meanwhile, he is also passing along some of his knowledge. He is hosting a co-op student, Graham Rogers, from Yarmouth Consolidated Memorial High School. When asked about his decision to accept a co-op student, he responds, "I wish I had someone when I was younger that knew what they were talking about, computer and development wise."

Doucette says he had been misguidedly discouraged from pursuing game development as a career when he was young, and that is partly what prompted him to accept a co-op student. Under his direction, Rogers is learning how to code and create games, with the eventual goal of attempting to create a basic game of his own. However far he may progress, however, Doucettes says, "I'll see this as a success if he answers the question of if he wants to do this or not."

He says no company that he has associated with has ever asked him about his education, rather they have enquired about his accomplishments in his field. His goal is to give Rogers a meaningful experience, not defined by a simple grade number.
That is all!
About the Author: I am Matthew Doucette of Xona Games, an award-winning indie game studio that I founded with my twin brother. We make intensified arcade-style retro games. Our business, our games, our technology, and we as competitive gamers have won prestigious awards and received worldwide press. Our business has won $190,000 in contests. Our games have ranked from #1 in Canada to #1 in Japan, have become #1 best sellers in multiple countries, have won game contests, and have held 3 of the top 5 rated spots in Japan of all Xbox LIVE indie games. Our game engines have been awarded for technical excellence. And we, the developers, have placed #1 in competitive gaming competitions -- relating to the games we make. Read about our story, our awards, our games, and view our blog.