Matthew Doucette: Featured in Canada Business Network
Tuesday, December 6, 2016
By: Matthew Doucette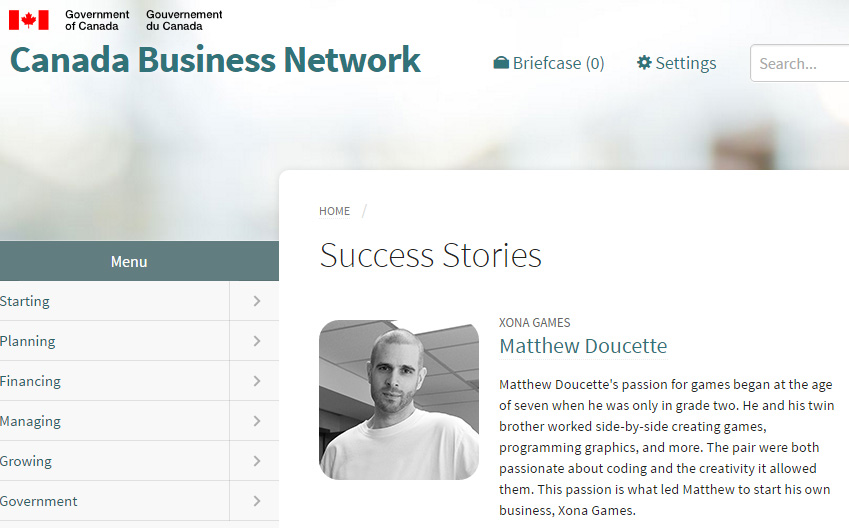 Matthew Doucette and Xona Games featured in Canada Business Network.
Much thanks to our work with Futurpreneur, we have been featured by the Canada Business Network as a part of their Success Stories:
Full text:
SUCCESS STORIES

Matthew Doucette

XONA GAMES

Matthew Doucette's passion for games began at the age of seven when he was only in grade two. He and his twin brother worked side-by-side creating games, programming graphics, and more. The pair were both passionate about coding and the creativity it allowed them. This passion is what led Matthew to start his own business, Xona Games, an indie game studio based in Yarmouth, Nova Scotia.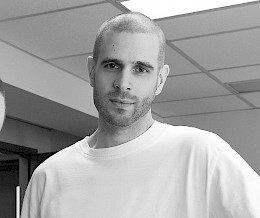 The inspiration for becoming his own boss came from the desire to be able to create his own games rather than be paid to make someone else's. "My life has been filled with working on my own projects," he explained. "It had nothing to do with financial gains and everything to do with using some of my creativity to serve my interests."

One of the initial challenges for Matthew was realizing that when you transform your passion into a business, you must sometimes put the business ahead of doing the thing you love (creating games). "I could easily spend all of my time on the business stuff, which defeats my initial purpose of starting a business to make games," he said. But despite this adjustment, Matthew has managed to grow Xona Games to garner international attention.

In particular, Xona Games has reached great success in Japan, where the gaming culture was essentially invented. "It remains one of the most hardcore skill-based gaming cultures," says Matthew. Xona Games has had many of their games reach number one in Japan based on user ratings and sales. Matthew mentioned that this has been one of the biggest milestones for him and his company.

Reaching a high popularity status in Japan isn't the only thing he's proud of. Earlier this year Xona released their game, Score Rush Extended on PS4, which is the sequel to their game, Score Rush, which they previously released on Xbox 360. "Releasing on consoles can be some of the most challenging releases of all," he explained. "Fortunately for us, Sony invited us on their PS4 platform and Microsoft accepted us as one of the first 50 studios worldwide on their Xbox One platform." Without getting into too much detail, Matthew describes how they put everything in motion to achieve this success and they are incredibly proud of their accomplishment.

Matthew describes that without the help of Futurpreneur Canada the launch on PS4 may have not happened. "Futurpreneur essentially protected and ensured the launch of the title," he explained. He also shared how valuable his mentor has been to Xona Games. "Xona Games would no longer exist without our mentor, and this is not an exaggeration."

If Matthew's story of building Xona Games isn't inspiring enough, he leaves other aspiring entrepreneurs with this advice: "Always take the business seriously. Have a business mentor and enact proper business decisions. Treat your business like a business. Positions within your company for friends and family should be created with contracts that would work for anyone, complete with exit strategies. Think of creating a business that can continue to survive if you or your partners left."

Xona Games

Xona Games is an Xbox and PlayStation indie game studio making arcade-style intense retro games.

This success story is provided by Futurpreneur Canada – helping aspiring business owners aged 18-39 launch successful businesses across Canada.
Source: http://canadabusiness.ca/success-stories/matthew-doucette/
That is all!
About the Author: I am Matthew Doucette of Xona Games, an award-winning indie game studio that I founded with my twin brother. We make intensified arcade-style retro games. Our business, our games, our technology, and we as competitive gamers have won prestigious awards and received worldwide press. Our business has won $190,000 in contests. Our games have ranked from #1 in Canada to #1 in Japan, have become #1 best sellers in multiple countries, have won game contests, and have held 3 of the top 5 rated spots in Japan of all Xbox LIVE indie games. Our game engines have been awarded for technical excellence. And we, the developers, have placed #1 in competitive gaming competitions -- relating to the games we make. Read about our story, our awards, our games, and view our blog.