Xona Games Featured in Local Newspaper
Tuesday, January 26, 2010
By: Matthew Doucette
Xona Games, with their $100,000 I-3 Technology Start-Up Competition win, makes the local news: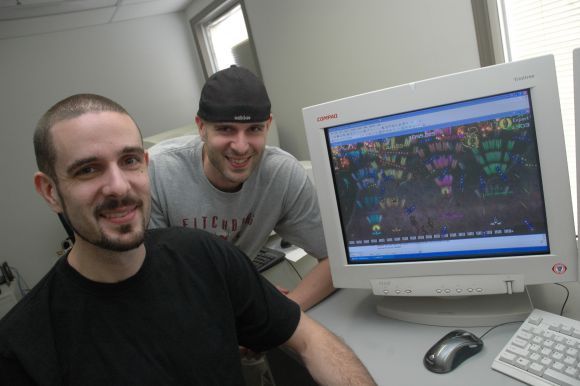 Xona Games featured in Yarmouth Vanguard newspaper.
Here's a quote (links added by us):
Some local businesses have come away big winners in the 1-3 Technology Start-Up Competition.

Yarmouth brothers Matthew and Jason Doucette and Xona Games won first place – which comes with an award package worth $100,000 – in Zone 2 of the competition, which took in Yarmouth, Shelburne, Queens and Lunenburg counties. They are also now one of five start-up businesses in the running for the overall provincial award in the competition.

Xona Games is an independent game development studio targeting Xbox 360 and PC gaming platforms. The company concentrates on intensifying retro-style games and has already gained international recognition, placing 7th in the world and 2nd in Canada in Microsoft's 2009 Dream Build Play competition. Xona's game Decimation X is the number one rated Xbox LIVE Indie Game in Japan. "It feels great winning the competition. It's good confirmation that we're moving in the right direction and getting things done," said Jason Doucette on Tuesday, Jan. 26 when the winners were announced. "The last few weeks putting Decimation X together from scratch was pretty hectic and I didn't get as much done as I wished, but I believe it made a significant difference to the judges and investors we pitched to, since it shows we can make good products and get them done. I knew we had a good chance of winning, since we had a solid foundation with Duality ZF, but to actually win confirms everything."
Read the full article here.
About the Author: I am Matthew Doucette of Xona Games, an award-winning indie game studio that I founded with my twin brother. We make intensified arcade-style retro games. Our business, our games, our technology, and we as competitive gamers have won prestigious awards and received worldwide press. Our business has won $180,000 in contests. Our games have ranked from #1 in Canada to #1 in Japan, have become #1 best sellers in multiple countries, have won game contests, and have held 3 of the top 5 rated spots in Japan of all Xbox LIVE indie games. Our game engines have been awarded for technical excellence. And we, the developers, have placed #1 in competitive gaming competitions -- relating to the games we make. Read about our story, our awards, our games, and view our blog.