Calculated Success
Friday, September 10, 2010
By: Matthew Doucette
The background story of Xona Games,"Calculated Success", featuring Xona Games Mom, Genesta Doucette! :)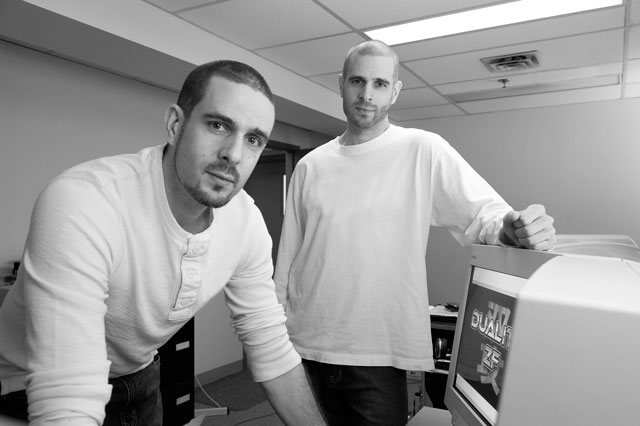 Jason Doucette (left) and Matthew Doucette (right), at the Xona Games office. Duality ZF on-screen.
Article quoted, links added by us:
What's the biggest challenge Genesta Doucette had in raising her technologically-gifted twin sons Matthew and Jason? "Figuring out how to keep the boys challenged when they are already multiplying, dividing and calculating square roots in Grade One."

Matthew Doucette, Game Producer of Xona Games, and his twin brother Jason built their first game on their brand new Texas Instruments computer when they were eight years old. Growing up, the twins showed not only an aptitude for math, winning almost every math competition they entered, but also for computer programming. For instance, in Grade 11, Jason Doucette developed a computer game to help high school students learn algebra. "I always knew what they were capable of achieving – the signs were there."

Twenty-six years later, Jason and Matthew Doucette are on the vanguard of North America's independent computer gaming scene.

Duality ZF, an intense, retro shoot 'em up game Xona developed for Xbox and PC, made waves when it placed first in Microsoft's illustrious Dream Build Play competition in Canada, and fifth in the world. Meanwhile Decimation X was the top selling Xbox LIVE Indie game in Japan in 2009.

Their success caught the attention of international game publishers, and with the help of NSBI, the brothers have attended international game development conferences in Montreal and California where they've made valuable connections.

The result of their networking? Contracts with Xbox LIVE Arcade, PlayStation Network, and Steam, a major PC game distributor, who will all release Duality ZF next year. And if Yarmouth feels a world away from the traditional gaming centres of San Francisco and Montreal, Doucette says location is what has given Xona Games its edge.

"In a larger centre, we'd be a drop in a pond. But by staying close to our roots, we've managed to stick out enough to get the attention, recognition and support that helped take us to the next level." Recently selected as winners of Innovacorp's prestigious I-3 Technology Start-Up competition, the brothers are using their winning capital – all $100 grand – to support the growth of a business they feel they were destined to launch.

While the boys were exposed to business early on – their parents operated a couple of successful businesses, Genesta Doucette says their creative and technical efforts have been empowered by a business climate that supports emerging entrepreneurs. "Living in Yarmouth, there are lots of individuals and organizations that are rooting for you to succeed," she says. "Getting that support – from someone other than their mother – has had a tremendous impact on their success."
- http://www.novascotialife.com/blog/calculated-success
Background to the Background Story:
Here's an interesting facebook comment I made on this article:
Matthew Doucette: It's also funny that the most impressive "successes" to us are generally missed or misunderstood by our friends, parents, teachers, schools, and (now) media. Unless there's an award for it, accomplishments go unnoticed. Which is why Jason is known for his grade 11 algebra teaching programming, something very low on his list of accomplishments.

It paled in comparison to his "invention" of the 3D formula in grade 8 which let him draw 3D graphics. We had no reference books back then, so he derived this formula on his own. It's really pretty crazy. I was the only one who knew of this accomplishment.

As well as his OutRun engine (remember that Sega arcade game?) also in grade 8. That technology didn't exist on the PC back then, only in arcades. Jason coded his own.

No awards, no recognition.

He also knew the fundamental properties of sine and cosine and how it relates to the unit circle, something beyond our parents and most people in general, and that was in grade 3... So, again, no connection, no understanding, no recognition. I remember being blown away that Jason could use sine and cosine to draw a perfect circle on our TI-99/4A back then. We were only 8 years old!

I'll label these "moral accomplishments". They are the best of all. Often in a video game developer's career, it's the moral accomplishments that are held most dear.

I don't think we'll ever be as talented as that again. Very sad!

*The algebra program won a science fair in our school, which explains why it was recognized.
That is all.
About the Author: I am Matthew Doucette of Xona Games, an award-winning indie game studio that I founded with my twin brother. We make intensified arcade-style retro games. Our business, our games, our technology, and we as competitive gamers have won prestigious awards and received worldwide press. Our business has won $180,000 in contests. Our games have ranked from #1 in Canada to #1 in Japan, have become #1 best sellers in multiple countries, have won game contests, and have held 3 of the top 5 rated spots in Japan of all Xbox LIVE indie games. Our game engines have been awarded for technical excellence. And we, the developers, have placed #1 in competitive gaming competitions -- relating to the games we make. Read about our story, our awards, our games, and view our blog.