Xona Games Featuered: Indie Games Counter Sequel-Driven Market
Tuesday, February 22, 2011
By: Matthew Doucette
In an insightful piece by Peja Bulatovic for CBC News, Xona Games was featured along side of the amazing indie studio The Behemoth! What an honor. The Behemoth has been a pure inspiration to us for years.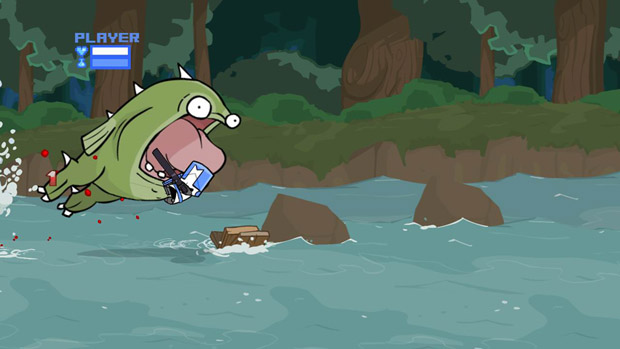 Xona Games featured along side of The Behemoth! (Castle Crashers screenshot above.)
Here's the quote from our piece (links added by us):
Grass-roots nostalgia

"It's kind of put on the indie guys to come up with new stuff in terms of the gameplay itself," said Matt Doucette, Game Producer of Nova Scotia-based Xona Games. "We don't feel pressure ourselves, but that is definitely the expectation."

Doucette and his twin brother, Jason, have published several award-winning games and have garnered recognition for their work in notable gaming publications like IGN and Gamastura.

The brothers decided against finding jobs at large video game corporations in favour of pursuing their personal passions as developers. By forming their own company, they were able to maintain creative control over the entire operation.

"We're huge fans of certain styles of video games that we know large companies are not going to tackle," said Doucette.

"They're kind of retro; they have a nostalgic feel to them, and those are the games we're most in love with. We're making games that we miss the most in the industry."

Though Xona Games has not yet experienced the level of success enjoyed by The Behemoth, it has excelled in niche digital marketplaces and with specific demographics. Its flagship titles, Duality ZF and the Decimation series both arcade-style top-down viewed-space shooters have ranked highly, and often first, in terms of sales in Canada and Japan within their genre.

However, limited market visibility within niche markets means Xona will struggle to reach mainstream availability until it catches the attention of a broader audience.

The brothers are currently preparing to pitch their games at the Game Developers Conference in San Francisco, which kicks off Feb. 28, with the hope of securing more support and exposure for their independent company.

"Financially, it can be very difficult," said Doucette. "Survivability is everything for indie developers. It's extremely competitive.

"But the potential is there. It's been great for a lot of people to get their foot in the door."
*A nitpick, but Duality ZF was first in Canada in Dream Build Play 2010, a global Microsoft Xbox 360 competition, not in sales as it has yet to be released! :)
This is not the first time CBC picked us up, we were featured on CBC TV News just over a year ago (vid), due to our success with Duality ZF in Dream Build Play 2009. Still makes me nervous watching it, it was our first interview!
Thanks so much for the coverage, Peja Bulatovic and CBC News!
About the Author: I am Matthew Doucette of Xona Games, an award-winning indie game studio that I founded with my twin brother. We make intensified arcade-style retro games. Our business, our games, our technology, and we as competitive gamers have won prestigious awards and received worldwide press. Our business has won $190,000 in contests. Our games have ranked from #1 in Canada to #1 in Japan, have become #1 best sellers in multiple countries, have won game contests, and have held 3 of the top 5 rated spots in Japan of all Xbox LIVE indie games. Our game engines have been awarded for technical excellence. And we, the developers, have placed #1 in competitive gaming competitions -- relating to the games we make. Read about our story, our awards, our games, and view our blog.