Xona Games Featured in Develop Magazine, Thrice!
Monday, March 25, 2013
By: Matthew Doucette
Once, twice, three times a lady! Not sure if that was the best opening, but for the third time Xona Games has been featured in Develop Magazine. Develop is the second largest video game development magazine in the world, based out of the UK. Each year they do a special on the Canadian gaming industry, and with it they focus on each province. We are lucky to, yet again, be a part of the Nova Scotian coverage. See our past features in Develop here: first and second.
The PDF:
Some pics:

Develop Magazine, March 2013 Issue, Cover.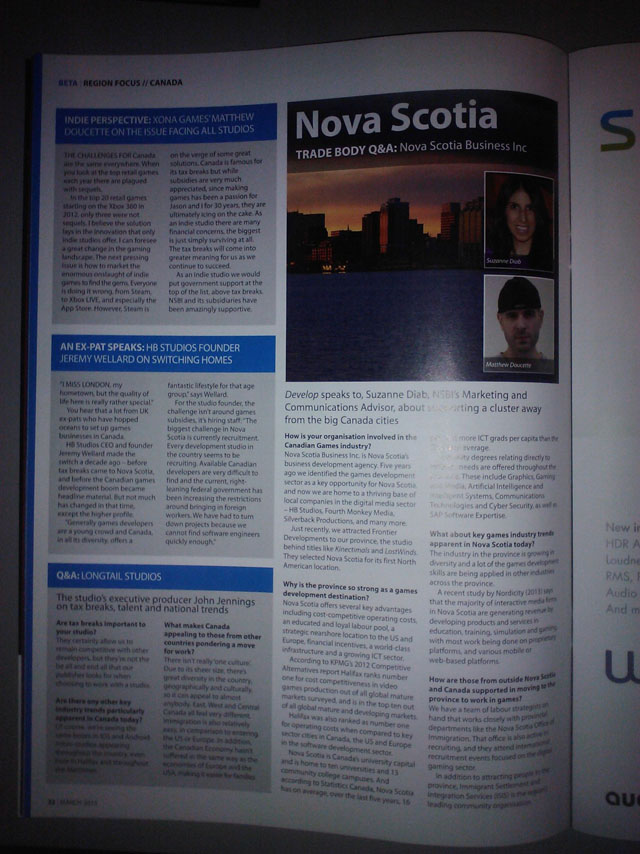 Develop Magazine, March 2013 Issue, page 32.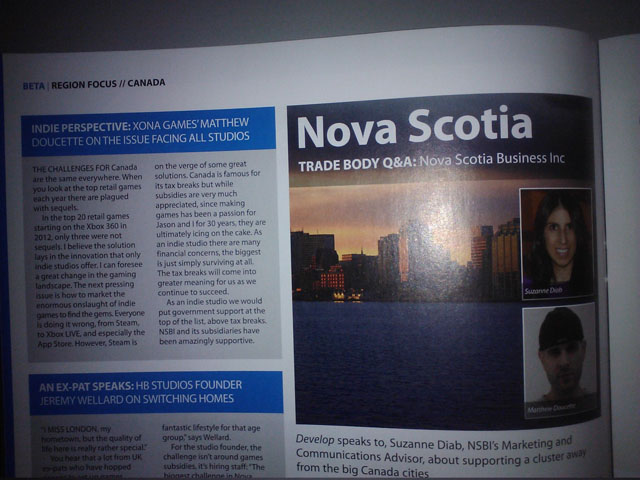 Develop Magazine, March 2013 Issue, page 32, zoomed.
That's my face, below Suzanne Diab's. Not the coolest pic of me. I look like a criminal! P.S. Suzanne helps us each year with attending GDC, so thanks very much to her and to her teammates at NSBI.
Anyways, it reads:
INDIE PERSPECTIVE: XONA GAMES' MATTHEW DOUCETTE ON THE ISSUE FACING ALL STUDIOS

THE CHALLENGES FOR Canada are the same everywhere. When you look at the top retail games each year there are plagued with sequels. In the top 20 retail games starting on the Xbox 360 in 2012, only three were not sequels.

I believe the solution lays in the innovation that only indie studios offer. I can foresee a great change in the gaming landscape*. The next pressing issue is how to market the enormous onslaught of indie games to find the gems. Everyone is doing it wrong, from Steam, to Xbox LIVE, and especially the App Store. However, Steam is on the verge of some great solutions.

Canada is famous for its tax breaks but while subsidies are very much appreciated, since making games has been a passion for Jason and I for 30 years, they are ultimately icing on the cake. As an indie studio there are many financial concerns, the biggest is just simply surviving at all. The tax breaks will come into greater meaning for us as we continue to succeed.

As an indie studio we would put government support at the top of the list, above tax breaks. NSBI and its subsidiaries have been amazingly supportive.
*I'm hinting at our Xona Proposal here.
About the Author: I am Matthew Doucette of Xona Games, an award-winning indie game studio that I founded with my twin brother. We make intensified arcade-style retro games. Our business, our games, our technology, and we as competitive gamers have won prestigious awards and received worldwide press. Our business has won $190,000 in contests. Our games have ranked from #1 in Canada to #1 in Japan, have become #1 best sellers in multiple countries, have won game contests, and have held 3 of the top 5 rated spots in Japan of all Xbox LIVE indie games. Our game engines have been awarded for technical excellence. And we, the developers, have placed #1 in competitive gaming competitions -- relating to the games we make. Read about our story, our awards, our games, and view our blog.