Score Rush (MP) (HTML5)
(For other versions of Score Rush, see our games.)
Play:
Description: Score Rush and Score Rush MP (multiplayer) are online versions of Score Rush (Xbox 360), a 4-player dual-stick shoot 'em up and spiritual prequel to Duality ZF. Features overwhelming firepower, trailing options, full screen bombs, tons of enemies, with an intimidating final boss and hundreds of bullet patterns to survive. The 60 fps adrenaline-rush experience is complemented by a hard-rocking Dragon Music Productions soundtrack. Designed by Xona Games "empower the player" philosophy.
HTML5 Enhancements: Based on the Xbox 360 version, Score Rush was ported to Turbulenz (HTML5) with global leaderboards and badges and allows usage of keyboard, mouse, or Xbox controller. Score Rush MP (multiplayer) version has online multiplayer!


Score Rush (Chrome Web Store) icon.
Awards: Powered by award-winning Duality Engine, Xbox LIVE Indie Game of the Week, #1 and #2 best seller in 3 countries, top 5 rating in Japan, 1 of 5 best indie games by Gamasutra, top pick in Famitsu the #1 gaming magazine in Japan, 11th best selling Xbox LIVE Indie Game worldwide, top 3 pick by Microsoft Japan, won a $50,000 Tizen contest, Bizzaro Games top 15 $1 Xbox LIVE Indie Games, Racketboy Best Beginner Shmups, great reviews (10/10, 9.5/10, 89%, 5/5 stars, 9.9, 97%, 8.7/10), made into a cake, Complex's #7 best XBLIG game, 4/5 Chrome Web Store rating (1,000+ users), and more.
Screenshots: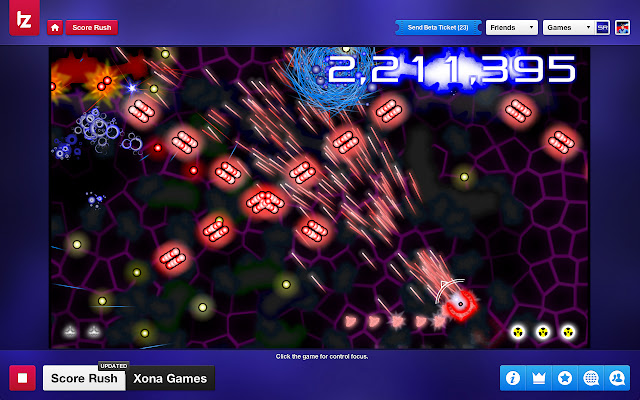 A couple of midbosses.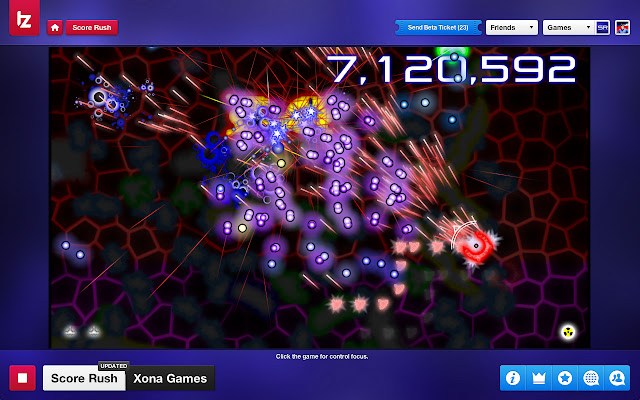 Midboss.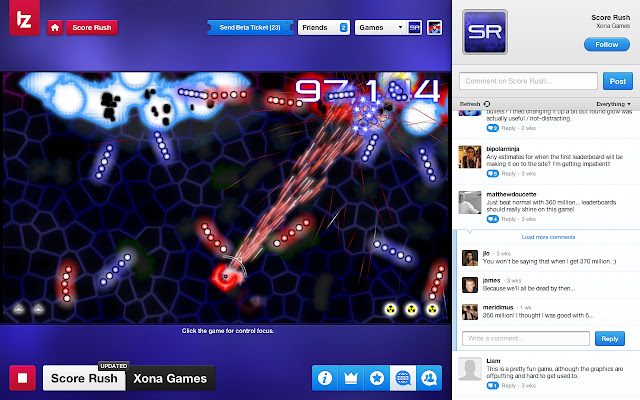 First dual-bosses and social chat -- a feature of Turbulenz.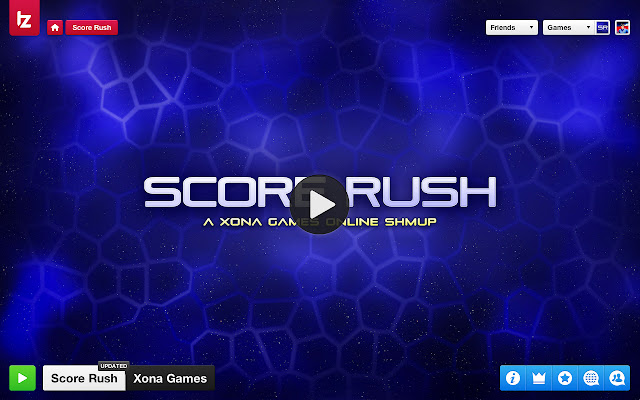 Title screen.
Testimonials:
(Testimonials are from the Chrome Web Store only; We did not record any from the Turbulenz platform.)
"so awesome! takes me back to the arcade days, keep up the good work and love it man. 5/5" - B Cross
"BEST GAME EVER!!!!!!!!!!!!!!!!!!!!!!!!!!!!!!!!!!!!!!!!!!!!!!!! 5/5" - not_eli
"An addictive shoot 'em up, I love it. 5/5" - Volong Tran
"Still not sure I actually understand all the rules, but it doesn't seem to make it any less fun to play! 5/5" - Colin Anderson
"If you like SHMUPS you'll definitely enjoy this! 4/5" - Romana Khan Ramzan
"Fun and fast paced SHMUP. Love it! 5/5" - Robert Wyle
"I have played this game on #XBLIG, the beta on PC and now this release directly through Chrome and I still can't get enough! Matthew and Jason of Xona Games really know their SHMUPS and it shows. Can't recommend enough!!! 5/5" - Malik Waters
"An excellent shoot-em-up with lots of subtle tactical depth that repeated play uncovers. 5/5" - Philip Atkinson
"Cool 5/5" - KrOnOs RO
"Awesome - so addictive!
I used to play this on my xbox 360 xD 5/5" - Tom Milson
"It melted my brain... awesome! 5/5" - James Austin
"Fantastic game 5/5" - Duncan Tebbs
"... a browser based port of their Xbox 360 original that rocked the Xbox Live Indie charts upon release." - Creative JS
"Xona are masters of the bullet hell shoot-em-up sub-genre and Score Rush is no exception." - Creative JS
"...it screams along at a blistering pace, with boss after boss to defeat and thousands of bullets delivered in lethal but mesmerising wave patterns to avoid." - Creative JS
"Although the on-screen action can get visually overwhelming it always feels fair, and there's no death-by-dodgy collision detection to be found." - Creative JS
"...something about the franticness of it kept me striving for the next achievement." - Creative JS
"... it may be "browser based" but you've still got to have the equivalent GPU horsepower of an Xbox under the hood to really appreciate it." - Creative JS
"Special note must be made to the soundtrack. Dragon Music Productions provide the audio that rocks along as your adrenaline flows as you desperately bid to clear just one more wave..." - Creative JS