Score Rush: Turbulenz Beta: Now With Leaderboards and Badges!
Monday, April 16, 2012
By: Matthew Doucette
Our Score Rush Turbulenz port (free beta) now has leaderboard and badges (similar to achievements on Xbox LIVE)! Play it right now: ga.me/scorerush!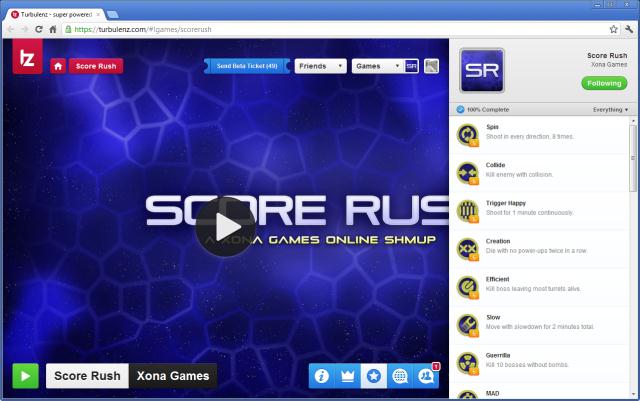 Score Rush on Turbulenz, now with leaderboards and badges (shown above)!

2012-May-31 Update:
Here's a full list of the badges:
Spin — Shoot in every direction, 8 times. (5 pts)
Collide — Kill enemy with collision. (5 pts)
Trigger Happy — Shoot for 1 minute continuously. (5 pts)
Creation — Die with no power-ups twice in a row. (5 pts)
Efficient — Kill boss leaving most turrets alive. (5 pts)
Slow — Move with slowdown for 2 minutes total. (5 pts)
Guerrilla — Kill 10 bosses without bombs. (5 pts)
MAD — Play 4 minutes without launching nuke. (5 pts)
Extra Life — Collect a 1UP. (5 pts)
Bomb — Drop 6 bombs in a single game. (10 pts)
Dismantle — Kill 25 bosses. (10 pts)
Quickie — Kill a boss in under 6 seconds. (10 pts)
Bullet Dodger — Dodge 100,000 bullets total. (10 pts)
Ammo — Shoot 1 million bullets total. (10 pts)
Zone of Fire — Kill 10,000 enemies total. (10 pts)
Invincible — Pass through 100 bullets via screen shake. (10 pts)
Max Power — Max out main gun firepower. (15 pts)
Squadron — Have 3 fighters in reserve. (15 pts)
Pacifist — 3 minutes of conscientious objection. (15 pts)
Coalesce — Coalesce 8 or more options together. (15 pts)
Decimate — 50 kills in 5 seconds without bombs. (15 pts)
Big Game — Kill boss for 20 million points. (20 pts)
Proximity — Kill 10 bosses up close and personal. (20 pts)
Annihilate — Kill 80 enemies in 1 second. (20 pts)
Erase — Erase 100 bullets with max-power wave. (20 pts)
Snake — Max out following options. (25 pts)
Bullet Hell — Witness a 1,000 bullet onslaught. (50 pts)
Conquer — Beat the game. (100 pts)
Mastered — Master the game in Hard difficulty. (100 pts)
More Score Rush Articles:
About the Author: I am Matthew Doucette of Xona Games, an award-winning indie game studio that I founded with my twin brother. We make intensified arcade-style retro games. Our business, our games, our technology, and we as competitive gamers have won prestigious awards and received worldwide press. Our business has won $190,000 in contests. Our games have ranked from #1 in Canada to #1 in Japan, have become #1 best sellers in multiple countries, have won game contests, and have held 3 of the top 5 rated spots in Japan of all Xbox LIVE indie games. Our game engines have been awarded for technical excellence. And we, the developers, have placed #1 in competitive gaming competitions -- relating to the games we make. Read about our story, our awards, our games, and view our blog.