Score Rush: Turbulenz Update: Xbox 360 effects in HTML5
Wednesday, July 18, 2012
By: Matthew Doucette
Score Rush, the HTML5 Turbulenz version, has just been updated with new visual effects, putting it on par with its Xbox 360 counterpart. Check it out: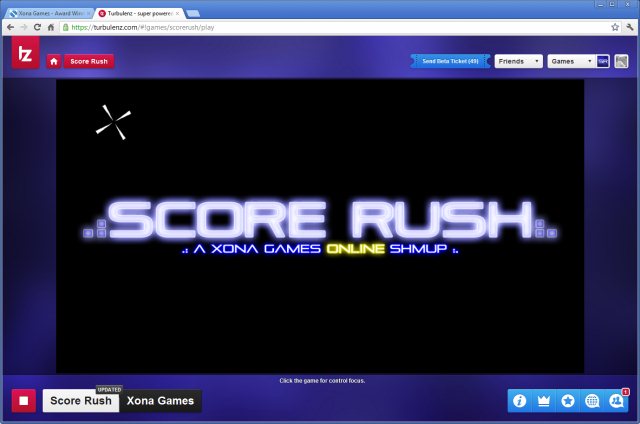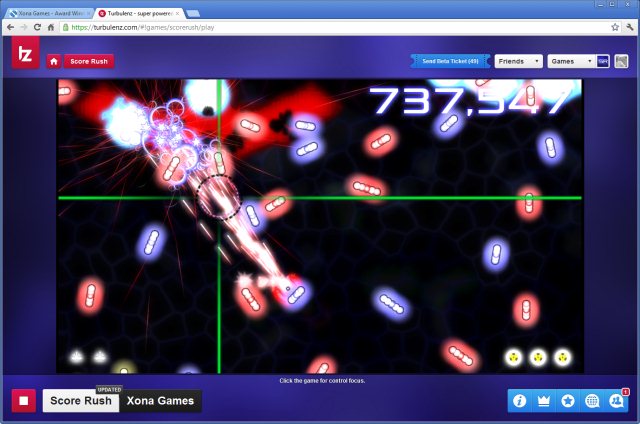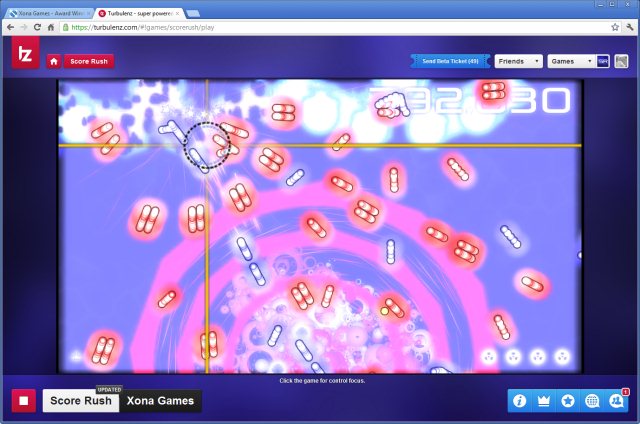 Score Rush's HTML5 version has been updated with new visual effects, Xbox 360 quality.
Here are the total list of high level changes:
Updated 18/07/12:
Graphical effects added
Added option to enable/disable effects
Loading bar added
Various performance improvements
Changed badge requirements:

Bullet Dodger (1 million bullets)
Zone of Fire (25,000 enemies)
Dismantle (50 boss kills)
Proximity Kill (25 bosses)
Bullet Hell (666 bullets)
Mastered (complete the game on hard)

Pacifism timer added
Fixed leaderboard switch (this was a bug that these leaderboards were swapped):

Most kills in 1 seconds <-> Most no bomb kills in 5 seconds

New icons/updated descriptions

Pacifism
Mastered
Conquer
Total Power-Ups

Orbit controls are disabled for canvas (Mouse locking issue)
There is one know issue: As the criteria to achieve some of the badges changed, if these badges were awarded in the previous version of Score Rush, it would be considered as unawarded visually. We are planning to fix this issue tomorrow.
More Score Rush Articles:
About the Author: I am Matthew Doucette of Xona Games, an award-winning indie game studio that I founded with my twin brother. We make intensified arcade-style retro games. Our business, our games, our technology, and we as competitive gamers have won prestigious awards and received worldwide press. Our business has won $190,000 in contests. Our games have ranked from #1 in Canada to #1 in Japan, have become #1 best sellers in multiple countries, have won game contests, and have held 3 of the top 5 rated spots in Japan of all Xbox LIVE indie games. Our game engines have been awarded for technical excellence. And we, the developers, have placed #1 in competitive gaming competitions -- relating to the games we make. Read about our story, our awards, our games, and view our blog.