Score Rush: Winner of Golden Dude Award for Best Graphics
Monday, June 20, 2011
By: Matthew Doucette
Who wins a Golden Dude award, anyway? Score Rush does! Specifically the "Best Graphics" in an Xbox LIVE Indie Game: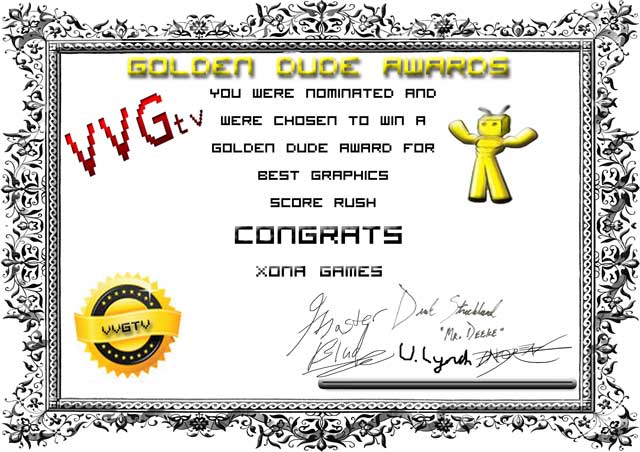 Score Rush wins Best Graphics in VVGtv's Golden Dude awards!
Golden Dudes are awards from VVGtv for indie games. Here is the full list of winners:
Best Other – Fortress Craft Chapter 1
Best Strategy/Simulation – Zombie Armageddon
Best Sports – Avatar Golf
Best RPG – The Avatar Legends
Best Racing/Flying – Toy Stunt Bike
Best Puzzle/Trivia – Avatar Quizcall
Best Platformer -The Impossible Game
Best Music – ezmuze+ Hamst3r edition
Best Fighting – Battle High San Bruno
Best Classic – Can you handle 2 at once?
Best Educational – Around the World
Best Card/Board – Duodecad
Best Action Adventure – Laser Cat
Best Shooter – Papercraft
Original Gameplay – Hyper Ship Out of Control
Best Graphics – Score Rush :)
Best Story – Cthulhu Saves the World
Here's the full article: http://vvgtv.com/2011/06/18/we-record-the-golden-dude-awards-for-ya/
Here's our award win on YouTube: http://www.youtube.com/watch?v=Yx5s8xum2iE#t=1m22s.
More Score Rush Articles:
About the Author: I am Matthew Doucette of Xona Games, an award-winning indie game studio that I founded with my twin brother. We make intensified arcade-style retro games. Our business, our games, our technology, and we as competitive gamers have won prestigious awards and received worldwide press. Our business has won $190,000 in contests. Our games have ranked from #1 in Canada to #1 in Japan, have become #1 best sellers in multiple countries, have won game contests, and have held 3 of the top 5 rated spots in Japan of all Xbox LIVE indie games. Our game engines have been awarded for technical excellence. And we, the developers, have placed #1 in competitive gaming competitions -- relating to the games we make. Read about our story, our awards, our games, and view our blog.